Commisions

So if you have a high-quality audience, email list, or website traffic, you will make more money with FortuneJack than any other casino, period.
And this is not by accident – this is by design. We did our homework… we checked all of our competitors' affiliate offers, and then we created an offer that beats all of theirs – not just by a little, but by A LOT… so you will clearly have the very best deal working with us.
Why would we offer you more money than any other casino out there?
It's actually for a selfish reason…
You see, unlike most online casinos, we understand that the affiliate game is all about quality.
We want to attract the highest-quality affiliates – like you… because we know you'll deliver the highest-quality players to us. High-quality players are more profitable to us, because they play more, lose more, complain less often, create fewer customer service requests, etc. And because you're referring players to us that are more profitable, we can afford to pay you higher commissions for them.
AND… our hope is that if you're making more money with us than anyone else, you'll want to keep referring your high-quality players to us..
and eventually, we'll develop a strong and long-term working relationship. The more high-quality affiliates we develop strong, long-term relationships with, the less effort and money we need to expend finding and managing new affiliates, and this is another way that we save and make more money, which again, allows us to pay you more!
It's very simple. Your commission increases as you refer more players. There are no revenue minimums here. So, the only thing you have to do is: focus on referring high-quality depositing players.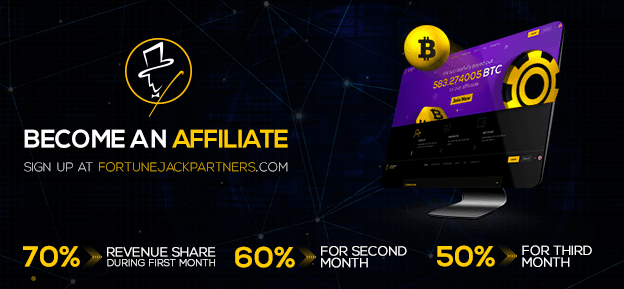 Here's how the commission tiers breakdown:
Number of New Depositing Players You Have Referred To FortuneJack per month: % Of Net Revenues You Receive:
0 – 19 20%
20 – 39 25%
40 – 59 35%
60+ 50%
So, in other words, once you've referred 60 new depositing players per month at www.FortuneJack.com, you'll be making 50% commissions for all of your players!
And… every time your number of active players brings you up to a new commission tier, you will immediately start being paid the higher commission rate on ALL OF YOUR PLAYERS.
For example, let's say you currently have 58 new depositing players that you've referred to FortuneJack and you're getting paid 35% commissions on all net revenues generated by those 58 players.
And then you refer 2 more new players, so your number of depositing players is now 60. As soon as you refer that 60th player, your commissions will be calculated as 50% of all net revenues generated by ALL 60 OF YOUR ACTIVE PLAYERS.
We think this is the best way we've ever seen to earn passive income!
Where else can you have someone else's work and money building your income with absolutely no effort on your part? For every 'sub-affiliate' you refer to us, we will pay you 2% of all net revenues generated by ALL of their referred players. SO… the more high-quality sub-affiliates you send us, the more you can effortlessly and exponentially grow your earnings.
This is where the REAL LEVERAGE is!
One thing that affiliates sometimes forget is that the higher your partner's conversion rates are, the more of your traffic, subscribers and audience will actually become players and actually start making you money… so conversion rates are very important.
We're proud to have one of the highest converting casinos on the Internet – in other words, we turn potential players into active players better than almost any other casino online…
Here are just a few of the reasons why:
We offer higher payouts and jackpots than other online casinos
We give our players instant withdrawals and deposits
We have the best selection and best quality of games anywhere online
Our games are provably fair
We offer our players total anonymity
We accept more cryptocurrencies than any other casino
We're always creating new and generous promotions and bonuses for our players
We're legitimate, reputable, and honest. FortuneJack.com was established in 2014 as one of the very first Bitcoin casinos. In just two years, we've already become one of the biggest and most popular Bitcoin casinos. And our company and team have more than 20 years experience in the gambling industry – we've started and operated leading online and brick and mortar casinos
And a lot more…
Apply now to become our newest affiliate, so you can SIGNIFICANTLY INCREASE the amount of money you make from every website visitor, email subscriber, and audience member you have
Promotions #1
Are you ready to make more money with FortuneJack in your first three months than you could in a whole year with any other casino on the Internet?
That's right – there are no new player minimums and no revenue minimums… you get 70% in your first month, 60% in your second month, and 50% in your third month, no matter what!
BUT… this is a limited time offer, so make sure you SIGN UP NOW while you can still take advantage of this.
We didn't do what most online casinos did – they put up their website and then immediately started offering an affiliate program. We waited to create our affiliate program until we had a few years of operation under our belt… so before we ever approached you, we could work out all the kinks first, we could make sure every player you referred to us would be properly taken care of and served, we could make sure we had the best offerings of any online casino… ultimately so more of the people you refer to us actually become players, and you make more money with us than anyone else!
This special promotion is a LIMITED-TIME, INTRODUCTORY OFFER, and it will be discontinued soon — so, sign up today while you can still get 70% revenue sharing in your first month, 60% in your second month, and 50% in your third month!
Promotions #2
What if you could get other people to work and spend their money to build your pool of active, referred players, so you could make even more money with FortuneJack?
It's easy.
All you have to do is refer new affiliates to www.FortuneJackPartners.com and you will earn 2% of all net revenues generated by all of THEIR referred players!
This is the easiest, fastest way to make passive income anywhere… and you'll be helping all the affiliates you refer to make more money themselves too!
To refer new affiliates, just invite your friends, family and colleagues to join you and sign up at www.FortuneJackPartners.com, or promote our site with one of our creative banners on your website!
To get started, contact our affiliate team at: affiliates@fortunejack.com