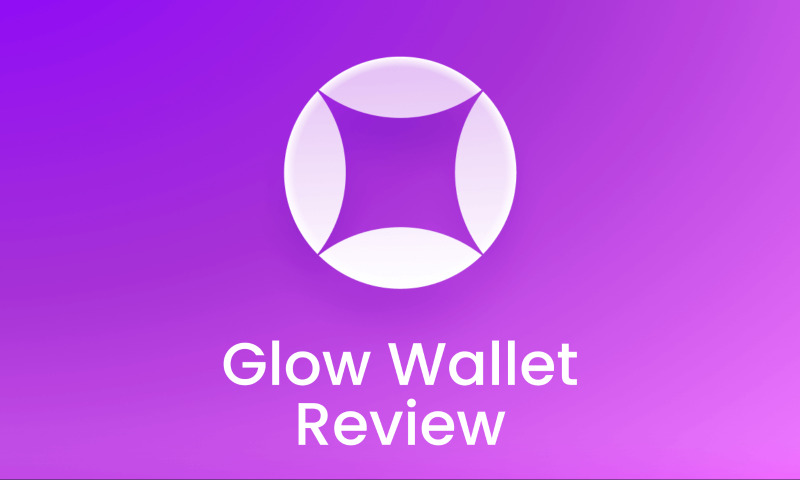 Glow is a cryptocurrency wallet built by Luma Labs, Inc. and released on mainnet in 2020. It is designed for compatibility with the Solana blockchain. It is compatible with a few cryptocurrency exchange platforms as well as decentralized applications (dApps) that have been built on the C-Chain blockchain, such as in-game digital assets from gaming dApps and collectible non-fungible tokens (NTFs). In our Glow Wallet review, you'll learn everything you need to know about Glow, as well as how to create a Glow wallet.
What is Glow Wallet?
The Glow wallet is a self-custody wallet used to store and transact Solana (SOL) and Solana-based altcoins and NFTs. It has a user-friendly interface and provides live updates on the price indexes of altcoins stored in your wallet, as well as enabling token swapping.
How does Glow work?
Glow is a self-custody wallet that stores the private keys for your SOL and Solna-based NFTs. It displays the real-time price and metadata for your SOL and NFTs based on data taken from other sources such as OpenSea and Solanart, while also allowing you to buy, swap and sell your Solana-based digital assets and stake your SOL.
It does this by connecting with certain platforms and integrating the data drawn from those sources into its platform. This makes it easier for you to check price updates at a glance without needing to manually open the various cryptocurrency exchanges and NFT marketplaces yourself.
Which cryptocurrencies is Glow compatible with?
The Glow wallet can be used to store any cryptocurrency or NFT that is built on the Solana blockchain. These include:
Solana (SOL)
USD Coin (USDC)
How to use Glow wallet
How to create a new wallet
Go to the Glow download page
Choose which version you would like to download
Once downloaded, click 'Create New Wallet'
Set a password
Click 'Show Recovery Phrase' and save it somewhere secure
How to deposit to Glow
You can buy tokens indirectly through your Glow wallet by first logging into your wallet.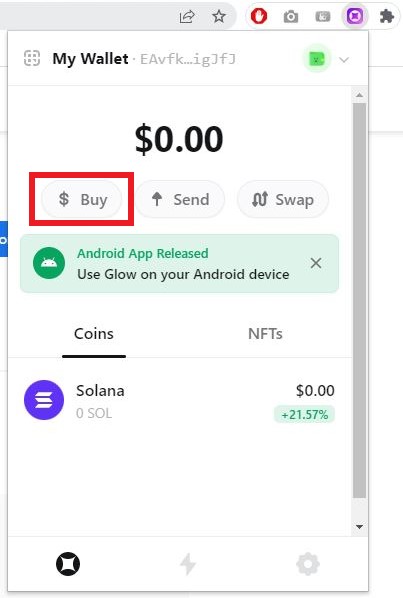 Then click 'Buy'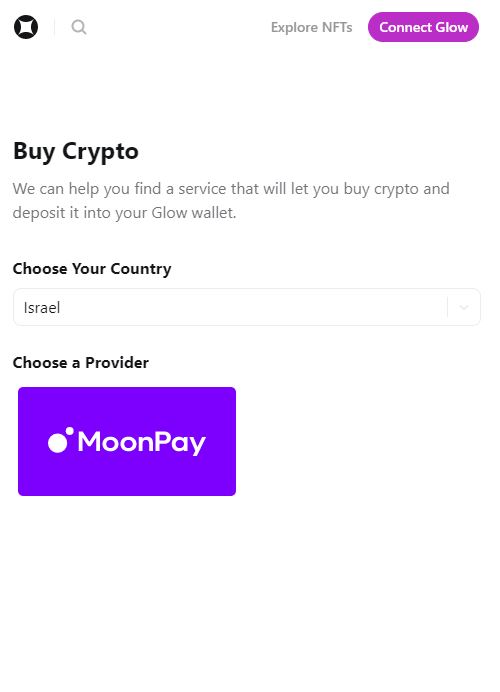 Then set your country and select one of the provider options, which are usually either MoonPay or Coinbase. If there is no provider listed, then that means that you cannot use the Glow wallet in the country that you are currently in. You will then be redirected to the provider's website. This means that you will need to create an account with that platform if you do not already have one.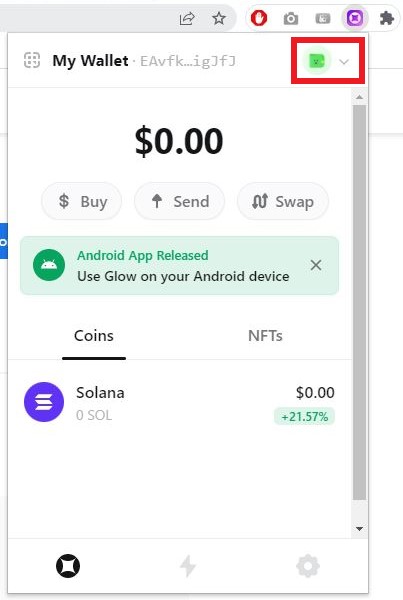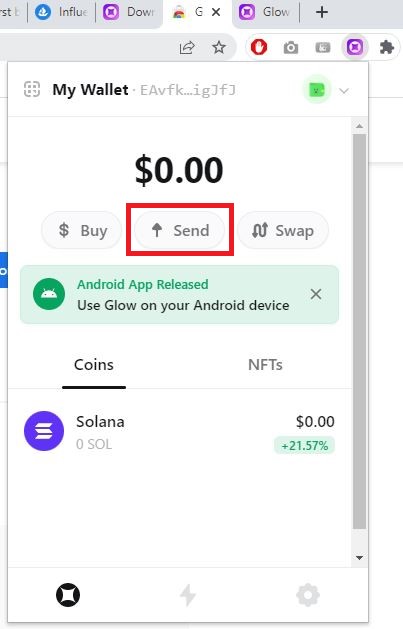 Copy your wallet address, which can be found by clicking the drop-down button in the top right corner of your Glow wallet. Then return to the provider's site and select the cryptocurrency that you would like to transfer from the list and then paste your address in the required field. You can also use your address to transfer funds between wallets.
How to withdraw from your Glow wallet
To withdraw crypto from your Glow Wallet, click the Send tab.
Select the asset that you would like to send and click 'Send'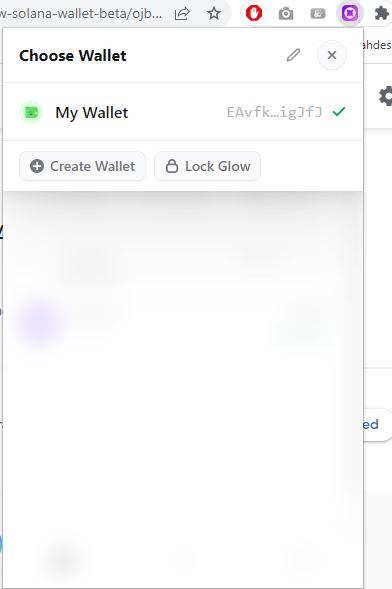 Paste the recipient's wallet address and the amount you would like to submit, then click 'Confirm Recipient'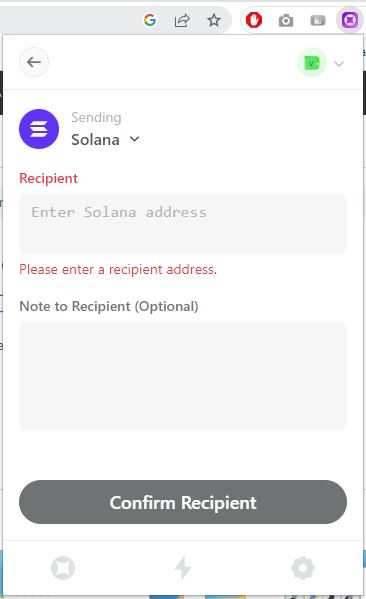 Then approve the transaction and transaction fees
Pros and cons of Glow
| Pros | Cons |
| --- | --- |
| Face and Touch ID security options | The web extension does not automatically log out |
| Hardware wallet compatible | Solana-only compatibility |
| NFT gallery display with live prices | |
| Spam token burner | |
Wallet features
| Feature | Yes/No |
| --- | --- |
| Secure | Yes |
| Customer support | Support is usually available within 15 minutes from 9 am to 9 pm Pacific Time, 7 days a week. |
| Mobile app | Yes |
| Desktop app | Yes |
| Cloud Storage | Yes, encrypted iCloud of secret keys |
| Cold storage | Yes |
| Account backup | Yes |
| Decentralized | Yes |
| Anonymous | Yes |
Fees
Creation cost: Free
Network fees: No swapping fees
Gas fees: Solana transaction fees are applied for off-platform transactions
Security
Connects to desktop and has an extension feature, which makes it easier to hack through phishing attacks.
The security measures are:
Password verification with each transaction
Password verification to connect with dApps
Two-factor authentication
Automatically logs out with inactivity
12-word Secret Recovery Phrase
Bug bounty program of up to $250,000
Accessibility
Glow wallet is available in most countries, except for territories that are restricted by the United States, and is available in ten language options, including English, French, Portuguese, Russian, Simplified Chinese, Spanish, Traditional Chinese, Ukrainian and Vietnamese. It is currently still in its open beta phase and is available on Google Chrome, Edge, Firefox, and Brave for desktop, as well as iOS and Android for mobile devices.
Average user ratings