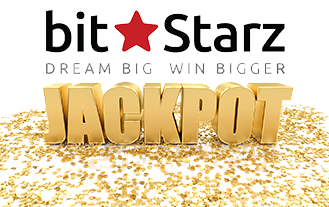 A jackpot party is taking place at Bitstarz. Players have been hitting jackpot after jackpot, breaking records at the casino and within the casino industry. Just a few days ago, a player broke his own previous jackpot record of 95 BTC, with a 150 BTC win! The secret: He switched from playing Lucky Coin – where he established the 95 BTC jackpot record – and started playing Diamond Wild. Well, it turns out that slot was loaded and ready for the taking!
Bitstarz just recently enabled iSoftbet games in May, becoming the first casino to offer iSoftbet slots for both fiat and Bitcoin players. This enabled the historic 150 bitcoin win on Tuesday, August 9th, 2016. Diamond Wild is one of the most popular iSoftbet slots, and it is known for its huge jackpots. This player is living proof with an unprecedented win, unique even by iSoftbet standards for fiat or bitcoin gaming.
What is more incredible about this story still, is that the same player, who had set a 95 bitcoin jackpot record at Bitstarz, broke his own record playing on a new slot game with the 150 BTC win. The player couldn't believe that he had just broken his previous record winning. After he did so, he offered the following remarks: "I was actually having the game on auto spin, but followed every spin on the screen, and when I hit multiple diamonds symbols, I couldn't believe my eyes and I wasn't sure if I had won or not. But when I saw the Big Win screen, I knew it was true!"
On its side, Bitstarz is joining the player in celebrating. This jackpot is proof that its players can make huge winnings in a great environment, while they have access to an ever increasing choice of games. This casino is an industry leader that understands the value of hybrid play, accepting multiple currencies and striking new deals with more software providers to give its players the kind of options they are looking for whether they want to engage in fiat or bitcoin gaming.
Now it is your turn to take advantage of the great gaming environment and jackpot opportunities that Bitstarz has created with its iSoftbet partnership and others, both on bitcoin and fiat gaming. You could be the next one to hit that huge jackpot and you could even be the one who beats that 150 BTC record. It is time to spin and win big with Bitstarz!