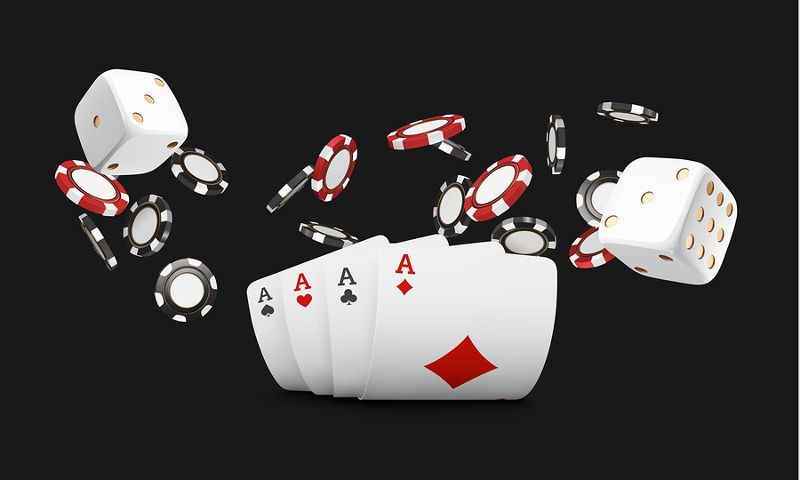 The introduction of casino tournaments into the online casino industry has created a fantastic opportunity for online gamblers to win big using Bitcoin and other Altcoins, in an atmosphere of competition and excitement. Online tournaments allows for players to feel connected to the broader gaming community, despite it usually being a solitary gaming experience.
Playing online tournaments creates the added excitement of looking at the tournament position table, knowing that you can hit a jackpot while playing, and then win another prize for participating in the tournament. This is why tournaments are becoming an increasingly sought-after feature at casinos, especially Bitcoin casinos. But which tournaments are worth your while and how can you join?
Table of Contents
What Are Bitcoin Casino Tournaments?
To answer that question, it is necessary to understand what kind of tournaments are available. The most popular type of tournament is the slot tournament. These attract a broad audience as it is easy and exciting to play. Slot tournaments also allow players to play a wide variety of games and still participate in the tournament with other players who may not be playing the same games. This is one of the main reasons why casinos hold more slot tournaments than any other kind of tournament.
Nevertheless, slot tournaments are not the only kind of tournament that casinos offer. Other types of online tournaments include Poker, Roulette, Bingo, and Blackjack. Poker is the most popular of those. The only difference between this card game tournament and a slot tournament is that you would be playing against online opponents as opposed to just the individual game you choose to play on.
How Can I Join a Bitcoin Casino Tournament?
After a brief overview of the type of tournaments that are available, the next step for you to be able to participate is to understand how to join your favorite tournament. The first step is to register at the online casino of your choice.
The next step is to sign up for the tournament. You will find access to the sign-up process on the Home page of the casino. Depending on the tournament in question there may or may not be an entry fee. In many cases, especially when it comes to slot tournaments, players don't need to register or pay any entry fees. They just need to play on their favorite slot, or on one of the participating slot games and they will automatically start competing in the tournament. Players must then be aware about the tournament's start date and its timeline. Playing within that time frame is necessary to compete for one of the prizes offered.
The Top 3 Bitcoin Slot Tournaments
Now that you know everything there is to know about Bitcoin tournaments, we have put a list of the top 3 slot tournaments out there for you to participate in:
1. BetChain's Slots Blitz tournament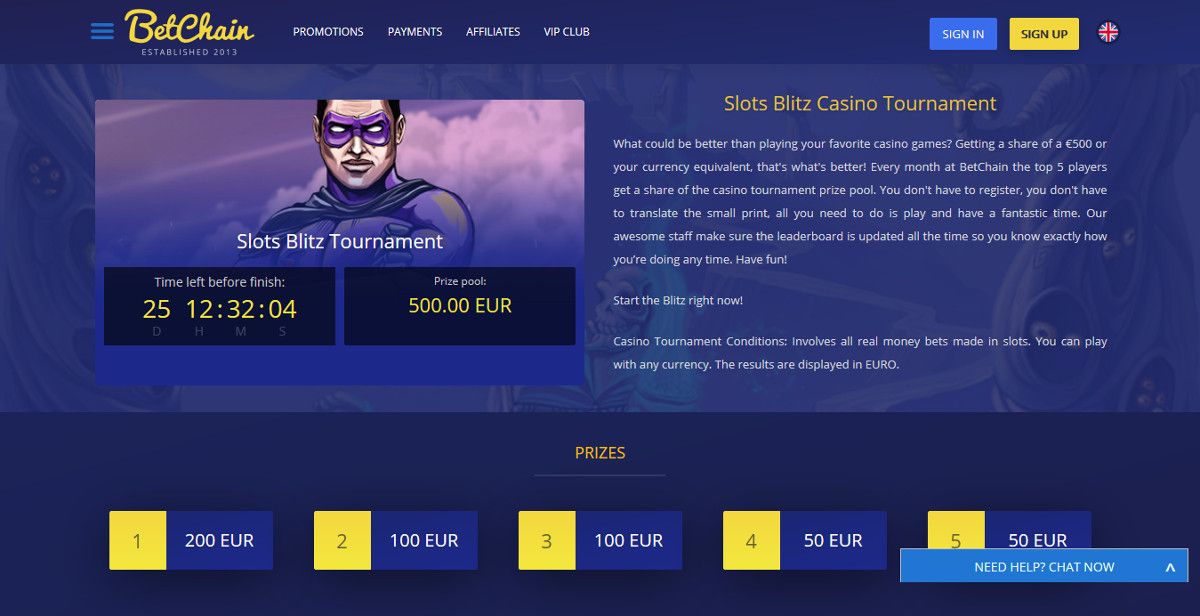 Each month BetChain hosts the Slots Blitz tournamnet. There is no need to register. All you have to do is play on your favorite slot from the list of participating slots on the tournament page to compete for an amazing prize pool of 500 EUR, with the top five players get a share the prize pool. The top prize is 200 EUR.
2. Bitstarz's Slot Wars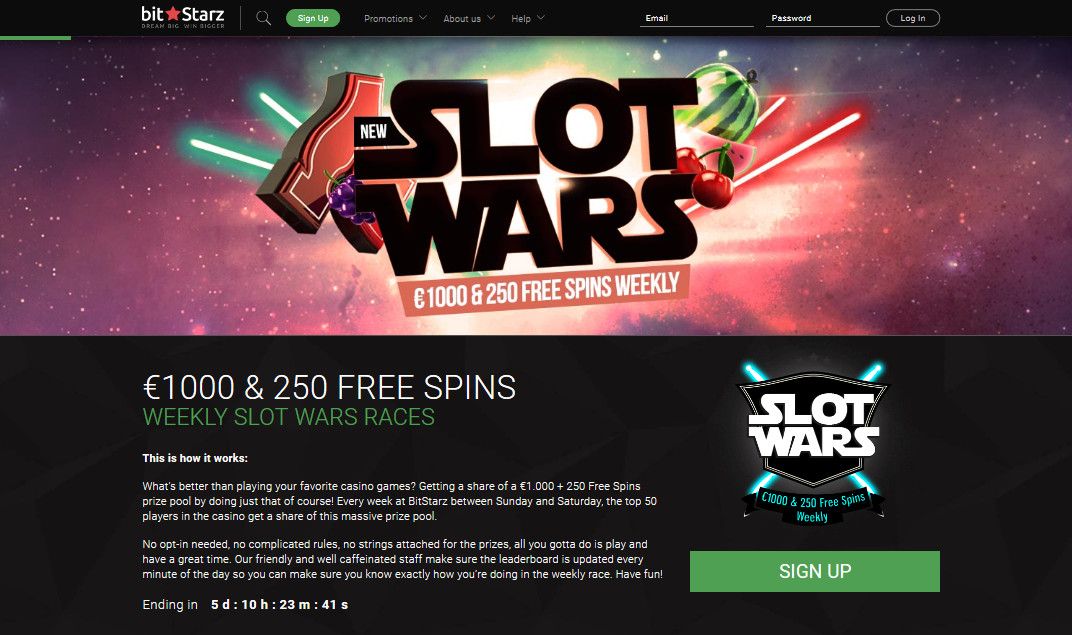 Bitstarz has upped the ante with Slot Wars. To take part in this weekly tournament, all you have to do is play at Bitstartz – there is special registration needed for the tournament. The BitStarz "friendly and caffinated" staff keep the leaderboard updated daily, so you can easily keep track of where you are among the top 50 warring it out.
3. CryptoWild's Slots Gone Wild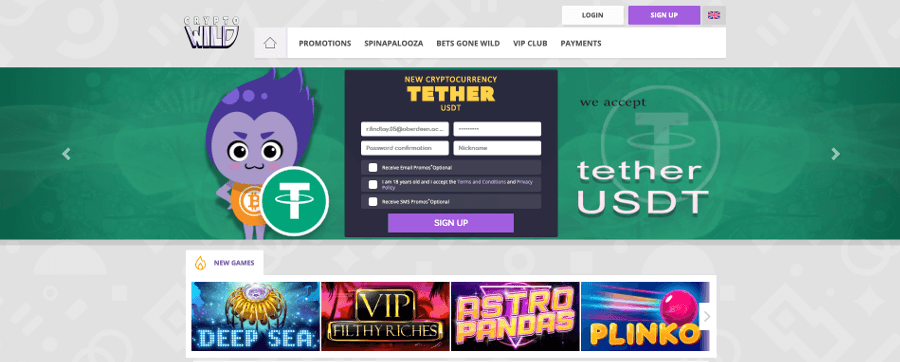 Each month CryptoWild goes crazy with its popular slot tournament. You can score huge wins with a jackpot that offers 0.16 BTC and 150 Free Spins. There are a wide variety of participating slots in this tournament. One of the most exciting features of this tournament is that the winner's table runs deep all the way to 10 prize positions.
CryptoWild Slots Gone Wild Tournament
Conclusion
Online casino tournaments are an excellent opportunity for players to win big. If the tournament is a slots tournament, then players will have the added excitement of competing for a prize while they can bring home those jackpots they hit within the games themselves. This is a great feature that makes slot tournaments so popular among seasoned players and beginners alike, but don't sleep on the other tournaments if you like card games, roulette or other casino games. There are some real gems on that side too.