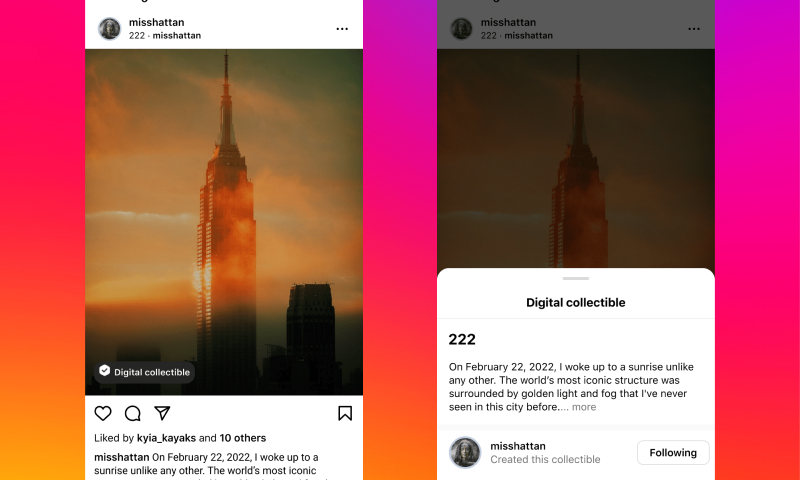 In May of 2022, Instagram head Adam Mosseri announced that the platform would be testing NFTs through a few US creators, allowing them to share their digital collectibles. The first wallets users could connect with on Instagram were Rainbow, MetaMask, and Trust Wallet. Users who connected their wallets would be able to share and verify ownership of the NFTs they shared. Now Instagram is back with another big update.
As announced by Meta CEO, Mark Zuckerberg, on August 4th, Instagram is beginning its global expansion of NFT support. This expansion will see more than 100 countries being able to share their NFTs on Instagram, above and beyond the USA.
Following this update, it was also announced that wallet support would be expanding too. Users can now connect with Coinbase and Dapper wallets to Instagram, allowing them to share those wallet-specific NFTs on top of the previous options. They continue to strive for satisfaction as they also announced additional blockchain support, including Ethereum, Polygon, and Flow.
This is Metas way of embracing web3, on top of the Metaverse they plan on building, but there is more to the story. Meta is also exploring the possibilities of AR NFTs, otherwise referred to as 3D NFTs. With this development they hope to see users display and share their NFTs as AR stickers within Instagram stories. This function will be facilitated through Spark AR, a partnered software augmented reality platform.
This news is exciting for both Instagram, and its users, as well as NFT artists. This shift in innovation has been a long time coming. There are expected to be no fees associated with the posting or sharing of NFTs on Instagram, and Meta is taking precautions to ensure this process is eco-friendly.
"We understand that blockchain technology and NFTs raise important questions on sustainability. Meta will help reduce the emissions impact that might be associated with the display of digital collectibles on Instagram by purchasing renewable energy."
Meta is trying to lead the web3 race, but their news comes after Twitter announced NFT profile pictures for premium users, a mechanic Reddit is also exploring. Even YouTube CEO, Susan Wojcicki, is finding ways to embrace NFT technology. All of this is incredible news for the cryptocurrency community, as well as mainstream users who will be funneled in through this widespread adoption. Only time will see how blockchain technology changes the world around us.
Stay updated on cryptocurrency news, learn about blockchain technology, and more when you sign up to the Bitcoin Chaser newsletter.