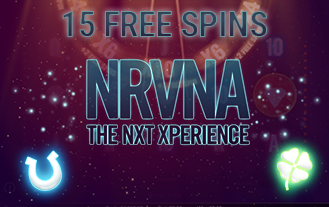 NetEnt has done it again. This time with an incredible 5 reel, 30 pay-line game that is pure food for the soul and money for your pocket! BetChain is opening up to the Nrvna spiritual mood, and it is ready to offer you an experience after the NXT. Get caught up in the celestial sounds that soothe the mood, while you get a chance to hit those jackpots using your 15 Free Spins.
Yes, you read that right! Get 15 Free Spins from BetChain to play on Nrvna The NXT Experience, and elevate your soul together with your winnings. All you have to do is relax, breathe deep, get in touch with you soul on the screen, and make a deposit of just €30 between July 15th and July 17th. You will be credited with free spins on this relaxing new game, and hopefully its soothing tones will bring about the sound of money hitting your pocket!
Come and take part in this novel spiritual experience. Enjoy the launch of this amazing slot that has out of body jackpots awaiting for the right player to claim. With BetChain's bonus on Nrvna The NXT Experience, you will be able to elevate your spirit on the house, while your body plays to the tune of 15 Free Spins.
The only thing you need to do is get into the mood of looking for a higher spiritual connection, make your deposit between July15th and July 17th, and you will get your Free Spins on July 18th, to finish the weekend on a spiritual note. Hopefully you will be able to satisfy your soul, and your pocket as well with a huge jackpot. That experience will surely elevate you beyond the NXT, and BetChain is more than happy to provide you with a chance as free as the air we breathe, and as free as your soul will feel. So are you ready to reach Nrvna?