BetMoose is a unique Bitcoin gambling site that has a potential to start a trend for the cryptocurrency. While the site is most certainly a gambling site, it is not a casino, and while it includes betting on sporting events it also wouldn't be classified as a sportsbook. What the BetMoose team has designed is a completely innovative method of Bitcoin gambling and it appears to be a major pioneer of a new Bitcoin space.
BetMoose has a very clean and fun website that works very well with their new idea for Bitcoin gambling. The site is very simple to use, and although it is still in BETA, there are improvements being made all the time. The people behind BetMoose certainly have a great personality that they have instilled into the site giving players the ability to bet on anything they could think of and have fun while doing so. A quick read-through of the site's FAQ page (where the site's name is traced back to the founders' Canadian roots as well as their belief in the epic nature of moose) shows that BetMoose has a light and fun vibe while also presenting a very inventive Bitcoin gambling experience.
Betting
BetMoose has implemented an entirely innovative form of Bitcoin wagering that covers everything from Bitcoin itself to sports to politics. The site boasts an infinite amount of wagering possibilities and considering the bets are pooled together there is also a fun peer-to-peer gambling experience as well. You could wager Bitcoins on anything you could imagine, and if other people around the world are willing to bet on it as well, then the experience grows with each new wager.
Each user may either place a bet on an existing user's bet, or host their own. The beauty of BetMoose is how users can bet on actual competitions such as sporting events like the Super Bowl or entertainment events like the Academy Awards.
BetMoose becomes a greater experience as more users bet on a specific event. This broadens the scope of the peer-to-peer experience, gives the bet better odds and of course a much larger pot of Bitcoins for the victor.
There is also an added incentive for hosting bets as opposed to simply wagering on other's bets. The more successfully resolved bets you host, the more commission you make as your rise up BetMoose's hosting levels.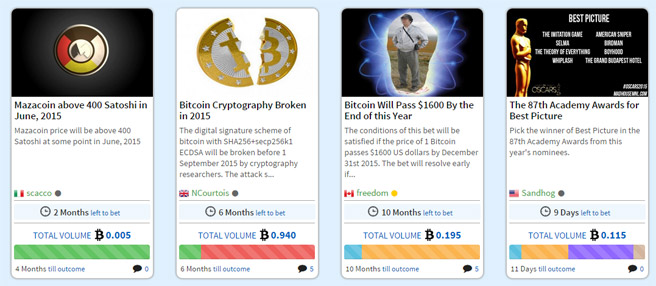 Security
BetMoose's security begins with its two-part authentication system when registering for the site. The funds collected from every made to BetMoose are stored offline for better security, and the same goes for bigger deposits from its users.
Other Features
While the site doesn't offer bonuses or promotions, there is one major aspect that stands out for BetMoose – the Hall of Fame. Not only is a ranking system a great way to retain users, it also is a fun feature that undoubtedly many BetMoosers are proud of.
The rankings are based on a rather substantial formula as follows: TP + (ROI x TW) + (Accuracy2) x (TW/10) (where TP = total profit, ROI = return on investment, TW = total wagered and accuracy is expressed as a decimal). The table fully expresses each of these categories and players are ranked with their usernames, hosting levels, avatars and nationality flags presented for all to see.
Conclusion
The bottom line is that BetMoose is not only a fun and interesting new method of Bitcoin gambling but it is also a step in the right direction for the entire Bitcoin space. Giving users the ability to wager Bitcoin on anything they can come up with is a great way to help Bitcoin integrate into the mainstream and make it more than just about casinos when it comes to gambling.
The site is simple and easy to use without seeming being lacking and has a fun vibe to it overall. The security measures will help retain players and the infinite betting possibilities will make sure they tell their friends about BetMoose.