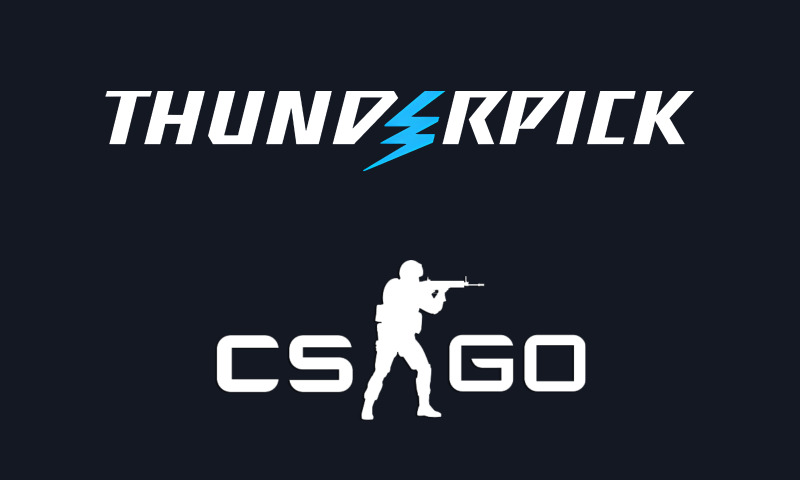 Thunderpick has taken esports gambling to a new level. This leading gambling platform has introduced a CS:GO world championship featuring a Bitcoin prize pool of $600,000.
The Thunderpick World Championship 2023 started on the 10th of July 2023 and will run until the 5th of November 2023. With more than 60 teams competing for first prize, this championship promises to bring excitement and brilliant betting potential. There will be 20 teams competing in the NA Series, and 40 teams will be competing in the EU Series.
It will be an exciting opportunity for teams brimming with potential, such as our partners and 'home team' Evil Geniuses, to face off against perennial powerhouses in both North America and Europe. This competition will feature some of the greatest to ever play the game, all vying for a monumental Bitcoin prize.

Kelly Sanders, Head of Strategy at Thunderpick.
Thunderpick has signed the esports and gambling industries up for an exhilarating 5 months of CS:GO.
The competition is just getting started
With the NA series #1 concluded, you can catch all of Thunderpicks favorite moments in their blog: Thunderpick NA Series 1 – The Best Moments. The incredible plays, the clutches, and a last-bullet no-scope kill that rocked the competition.
Viewers and bettors can follow the championships as it works their way through the qualifying stages towards the final on November 5th. The dates are as follows:
NA Series #1: 10 July – 18 July
EU Series #1: 27 July – 13 August
NA Series #2: 21 August – 29 August
EU Series #2: 4 September – 18 September
Championship Final: 27 October – 5 November
There are tons of reputable and upcoming teams taking part in this massive tournament. Viewers will not only be able to keep up with the thrilling gameplay but also bet on who they think will win each match. Some teams competing are:
Evil Geniuses
Snakes Den
Party Astronauts
Nouns
Limitless
Fluffy Aimers
Strife
9INE
EPIC DUDES
Singularity
Lazer Cats
Anonymo
MASONIC
And more
Thunderpick CS:GO Championship and sponsorship 
Thunderpick has always been a force to be reconned within the sports and esports betting industry, but this championship may have just put them at the top of the leaderboard.
It all started on May 23rd, 2023, when Thunderpick took to Twitter to announce their official partnership with Evil Geniuses and their CS:GO division. Not only did Thunderpick become the sponsor of a great CS:GO team, but they also solidified themselves as one of the first gambling sites to sponsor an all-female and non-binary esports team too.
Featuring exclusive merch, giveaways, live streams, and so much more. We were stocked to see Thunderpick enhancing the esports gambling industry, but the news just got bigger and better.
Thunderpick CS:GO Championship betting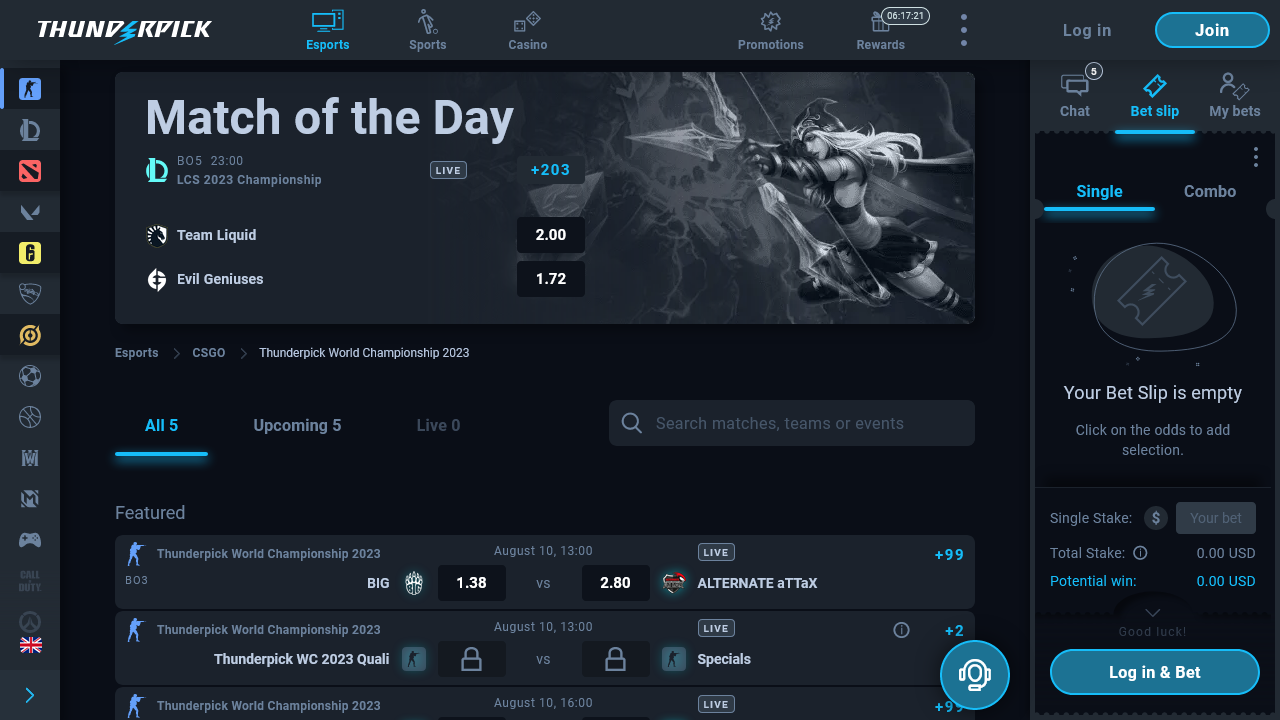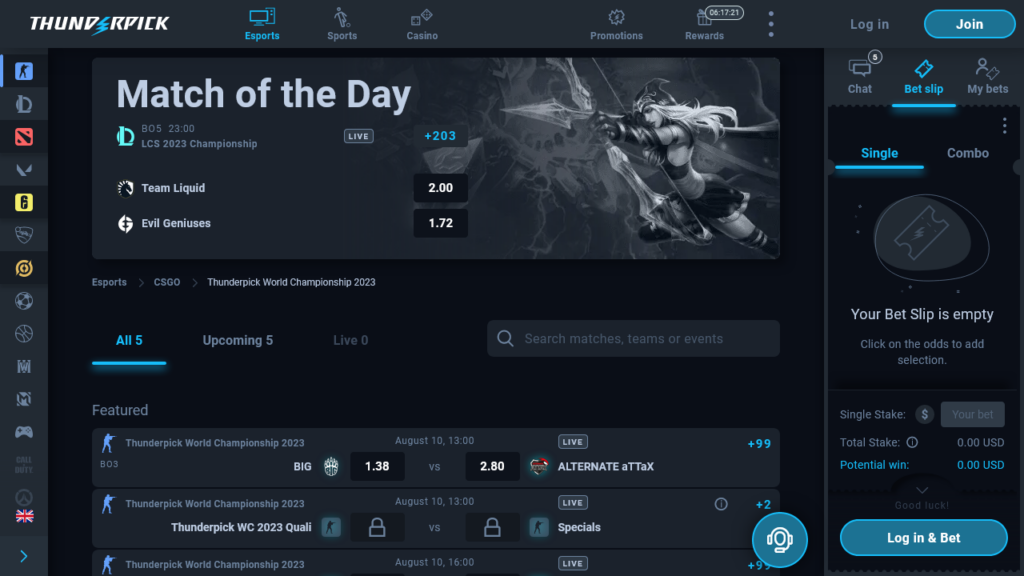 While this is great news for Thunderpick, CS:GO players, and the game overall; it is even better for us esports gamblers. If you would like to learn more about the CS:GO competitive scene, Thunderpick has some great beginner guides.
There are still 4 action-packed months of CS:GO qualifiers and games to go, and that means plenty of winning potential for gamblers who know the game and teams. So buckle up and get ready for some incredible gameplay and even better wins.
Whether you are a gambler or gamer, or both, there is no denying Thunderpick is dominating the industry with this tournament, proving yet again they are a top esports betting contender. As much as we love Thunderpick and all they are doing, it is our responsibility to clarify there are tons of great CS:GO betting sites out there.
Now get out there and get gambling. We will be sure to inform you of everything to do with the Thunderpick CS:GO Championship 2023 as updates become available.