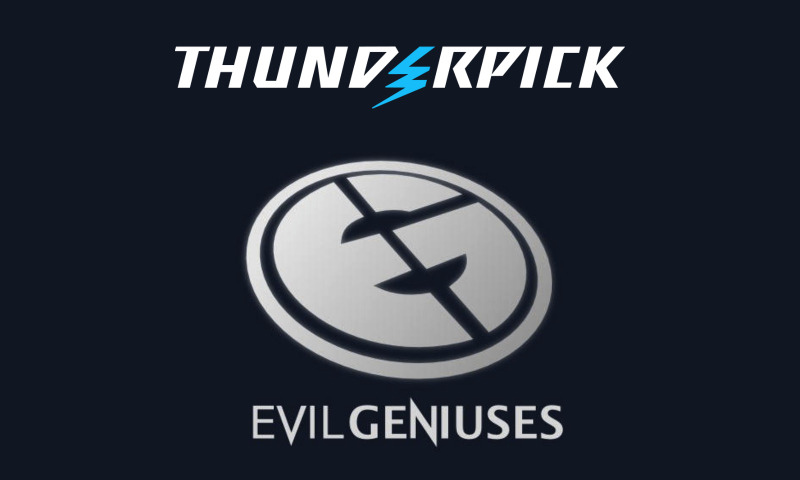 Thunderpick has made a name for itself in the gambling industry by bringing the best sports and esports betting options, odds, and promotions. As esports and crypto see significant growth, it only makes sense that these two industries join forces.
Thunderpick continues to solidify its high-ranking position in the esports betting scene with the announcement of its latest partnership. Thunderpick took to Twitter on May 23rd, 2023, to welcome the world to their newly found and confirmed partner, the Evil Geniuses. More specifically Thunderpick is sponsoring the CS:GO Evil Geniuses team. As an overall organization, they claim to have more than 180 championships under their belt, having launched in 1999. 
Thunderpick is also one of the first gambling sites to sponsor an all-female and non-binary esports team. Known as the gold team, the players within the team are recognized as lovergirl, m1lky, 7licious, jesscas, and PiggyKiki. There is also a blue team consisting of players such as Brehze, autimatic, neaLaN, wiz, and refrezh. And last but not least, there is the black team, featuring players like Walco, RUSH, Jeorge, junior, and HexT. You can learn more about the teams here.
This partnership will see exclusive merch giveaways, exciting live streams, meet and greets, as well as custom content. Bettors can also enjoy boosted bet odds and new markets for Evil Genius matches. This partnership will also see Thunderpick branding on the CS:GO team shirts, blasted center stage across the chest.
It is always exciting to see sports, esports, and gambling collide in partnerships, but this feels especially thrilling. Not only is Thunderpick funding an all-women team, alongside two other teams, but they are also bringing their players unique experiences within these partnership parameters. Thunderpick is a leading gambling provider and we are stoked to see them continuing to strive in the industry. Congratulation to both Thunderpick and Evil Geniuses on an incredible partnership, we wish both the best of luck in their future endeavours.
Learn more about Thunderpick in our comprehensive Thunderpick Casino Review.
Visit Thunderpick