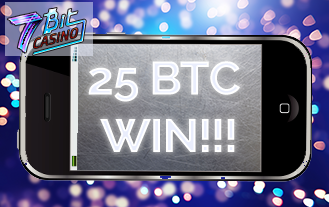 A player just hit a very special 25 BTC win at 7Bit Casino. A player from Sweden named Gunther, was on his way back from work playing on his mobile device when the screen lit up. It is one thing to play on the bus, but it is quite another to hit a huge 25 BTC win while you do so. Just imagine the reaction of the people on the bus when Gunther stood up from excitement and started to do his victory dance! So in order to celebrate with Gunther, and for all those people riding the bus who were looking at him in a weird way, 7Bit has decided to issue a special bonus: Get a 100% bonus on your first deposit plus 100 Free Spins in instalments of 25 spins.
This is a limited time bonus only, so make sure you go ahead and take advantage of it. We are sure there are plenty of Gunthers out there who will hit their wins on the house with their bonus! And if you were wondering what to do with your win once you hit it, Gunther has a great idea: use it to fund your own business!
Yes, that is exactly what Gunther told 7Bit that he would do with his bonus! The best part of it is that he will be able to do so immediately. Gunther thanked 7Bit Casino for its incredible withdrawal policy. He was able to make an immediate withdrawal for the whole amount. So if you want to open your own business when you hit your win, or if you want to splurge, you will have your money in your wallet instantly.

So go ahead, take advantage of the special Gunther bonus. Take your 100% deposit bonus and a whopping 100 Free Spins and become the next big winner! Shatter that 25 BTC win, and remember, it can happen at any time. So by all means, go ahead, indulge, and spin while you commute