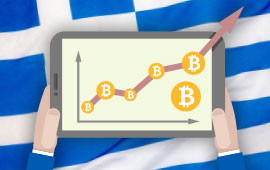 The financial issues that have plagued Greece in recent years are finally coming to a head as the country has declared that it will attempt to remove itself from the European Union and default on its loan. In the wake of this decision, all banks in Greece have officially closed so many Greeks are flocking towards Bitcoins.
Several European Bitcoin payment sites have seen their traffic explode in the past few days as Greeks appear to be attempting to access the digital currency in hopes of not being entirely cut off from payment options.
So, just how dire is the situation in Greece? Bitcoin.de – a German Bitcoin marketplace has seen ten times (!) more registrations from Greece over the past week and Bitcoin transactions registered in Greece have increased by 79% over the average from the past ten weeks according to Bitstamp.
Greeks have been faced with a few issues, however, as many Bitcoin payment companies require an initial wire transfer from one's bank – which is currently unavailable in Greece. There is also the option of withdrawing from a Bitcoin ATM, but there is only one in the entire country. For those residents who have access to online banking, there is a much easier route to obtain the Bitcoins as sites like Bitcoin.de and LakeBTC are online exchanges for purchasing Bitcoins.
Even if someone in Greece manages to get hold of Bitcoins, there aren't a whole lot of options to use them. Only a handful of merchants in Greece accept Bitcoin – one of which is a yacht company… We've seen just how difficult it can be to live off of Bitcoins, and I'm sure Greece is no exception.
However, this could be a pivotal point in both Greece's financial landscape as well as Bitcoin's history as the sudden influx of Bitcoins into the market could cause a number of outcomes. Firstly, Bitcoins' price could rise due to the demand – which is something that will benefit Bitcoin users all over the world. Secondly, the push for Bitcoin as a mainstream financial medium within a European country could make headway and further prove the cryptocurrency's worth. Finally, European Bitcoin companies will likely benefit from the Greek Bitcoin rush, which will help them regardless of what's to come in Greece.
It remains to be seen in the coming days and weeks just how many Greeks will move towards Bitcoins and what they will be capable of doing with them if that's the path they choose.