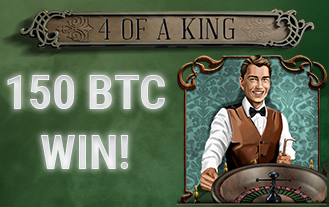 150 BTC in a single day! There are no decent expressions to convey our amazement at this huge win! The details of the jackpot are coming in and it seems that as much as we are amazed by this 150 BTC win, we are seeing more and more 100+ BTC wins on a wide variety of games all around. In this case the jackpot came mostly from some bonus rounds on an Endorphina game called '4 of a King'. There are clips out there showing how parts of this huge win on 4 of a King came about.
This is clearly one of the biggest wins any player has seen at mBit Casino, and it would probably make it to the top 50 in BTC wins ever. However it is not the biggest win registered at mBit. Just a year ago, a player scored a staggering 260 BTC win in a single day! This puts the 150 BTC win in perspective. Although it was a huge win by any standards, more and more people are scoring those 100+ BTC wins, and as they do, more and more people are encouraged to try.
Then why is this 150 BTC Win so Important?
Apart from that monster 260 BTC win last year, mBit had a player hit a 100+ BTC jackpot just a few months ago, and this casino is not alone. Many other have reported recently huge wins, including 150 BTC wins or even more, in a single day. When these wins become more commonplace across various casinos and through a wide variety of games – not just the ones from Endorphina – then it signals that the industry is tipping towards a place in which there are more winning opportunities for players.
What does a 150 BTC Win buy you these days?
As more players pour in looking for their own shot at a legendary win, it is great to put this 150 BTC win at mBit in perspective. With the price of bitcoin showing signs of strengthening lately, we wanted to give our readers a sense of what this jackpot could buy them. Here is a short list of goodies you could get with 150 BTC at today's exchange rates.
Bitcoin is trading at roughly $630 USD. Therefore the 150 BTC jackpot is now worth about $94,500 USD.
Your very own Porsche 911 Carrera, with a few nice upgrades.
If you are talking about sports cars, this jackpot can also buy you a Tesla model S, for which you can pay using bitcoin!
You can take an exclusive cruise vacation for a week, the kind only the mega rich can, and still have about $20,000 dollars to spare!
So what are you waiting for? The next 150 BTC jackpot is out there waiting for you on Endorphina's 4 of a King. Just take your pick from our list of trusted casinos, and you can be the next one to win big playing this exciting game!