Cloudbet separates itself from the flock of Bitcoin gambling sites by providing an excellent betting platform that puts sports ahead of its casino. The site covers every sport you could imagine betting on, adds the appeal of live sports betting, and still manages to offer hundreds of casino games and live dealer interfaces. Cloudbet also offers a wide variety of events to bet on, like political events, putting it ahead of its competitors within the bitcoin casino industry. With a complete package and user-friendly interface, this casino is a very impressive Bitcoin gambling site. Here is our own Cloudbet review, in which we take a look at all these features in depth, along with bonuses and other advantages.
Pros
Multiple currencies accepted
Cons
Doesn't accept US or UK players
Cloudbet Overall Experience
Right off the bat it must be stated that this Cloudbet review will focus more on the sportsbook than other betting features. We will mention briefly every other feature available, in order to offer a more complete Cloudbet review, but we will not be going in depth into its casino.
Upon arriving at Cloudbet, you will find a sportsbook that's relatively easy to navigate with plenty of sporting events to choose from – more on that below. While the site offers information about the different gambling platforms and aids for an introduction to Bitcoin, there is one glaring hole in Cloudbet's sports betting site. Very simply, there is no guide to sports betting.
Cloudbet is very much geared towards experienced bettors, either that or they believe their players should dive straight into the world of Bitcoin sports betting. There is no guide on the homepage explaining how to bet and what all the different terms and numbers mean. The sports page offers nothing more than games, teams and betting lines – all of which will mean nothing to inexperienced or casual sports bettors.
This could be a major setback for some reviewers, but Cloudbet is still correct in directing its site towards the large amount of experienced sports bettors and does a good job of providing them with a clean and simple-to-use interface. This interface is one of the most impressive features we found while conducting our Cloudbet review.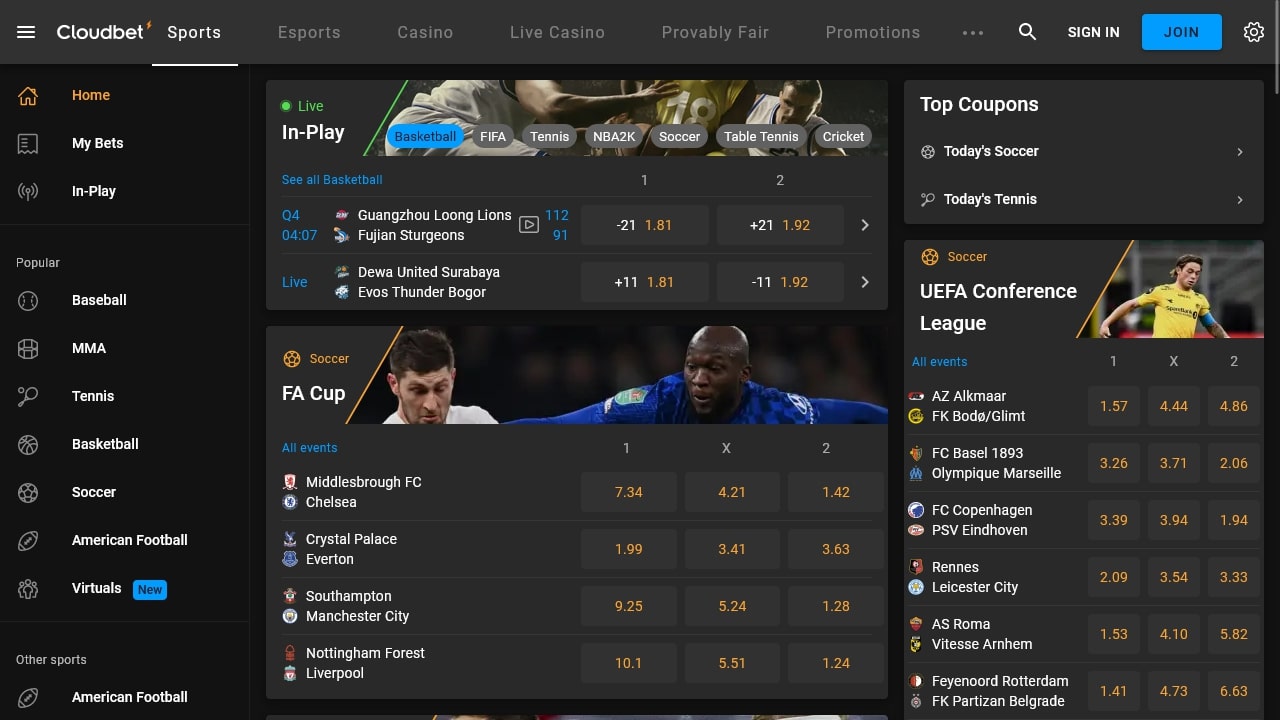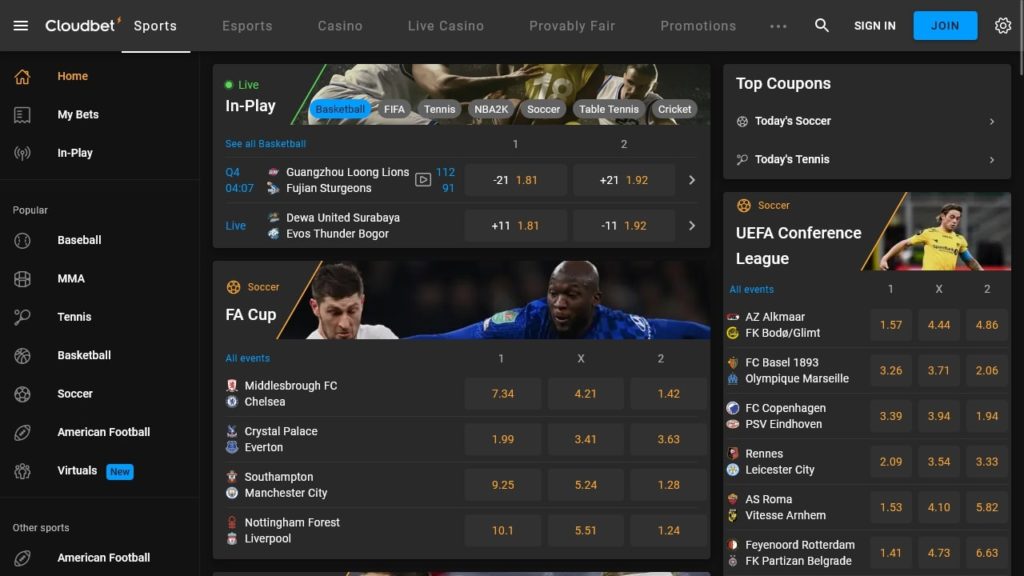 Event Coverage
There really is no shortage of sporting events that you can bet on when you visit Cloudbet, and let's be honest, that's what it's all about. The major gambling sports are all available – soccer, American football, rugby, ice hockey, etc. – and there are even events for the more obscure and less popular sports such as darts, snooker and handball. Of course, no sportsbook would be complete without the ability to wager on the Presidential elections. These special betting categories really impressed us while we were doing our Cloudbet review.
Lines and Spreads
To get a better idea of the lines that Cloudbet offers, the NFL Playoff and English Premier League lines were compared with other Bitcoin sportsbook sites. Cloudbet's lines were relatively on par with other Bitcoin sportsbooks, as well as regular sports betting sites.
Cloudbet also offers parlays for all of its various sports. This means that if you wager on several games at a time, you have to be bet correctly on all of them in order to win, but the payout is much higher.
Cloudbet also offers an array of betting capabilities known as proposition betting (or prop bets). Prop betting allows bettors to wager on more specific things such as a certain player scoring more than X amount of points, or betting that a specific team winning the championship before the season even starts. While the normal win/lose and over/under type of bets may suit most people, may be enough, the addition of props helps broaden the sports betting umbrella and certainly makes the betting experience more interesting.
Bonuses and Promotions
The only bonus or promotion that we found out about on our Cloudbet review, is a 100% first deposit bonus. The bonus has a limit of 5 BTC, and works in an interesting way, quite unlike other Bitcoin casino bonuses. 0.01 BTC of the totaly 5 BTC bonus will be released into a players balance for every 800 loyalty points they earn. There is also a minimum deposit of 0.01 BTC for this bonus. While that bonus is exciting, the fact that it is the only bonus or promotion on the site is a bit of a letdown.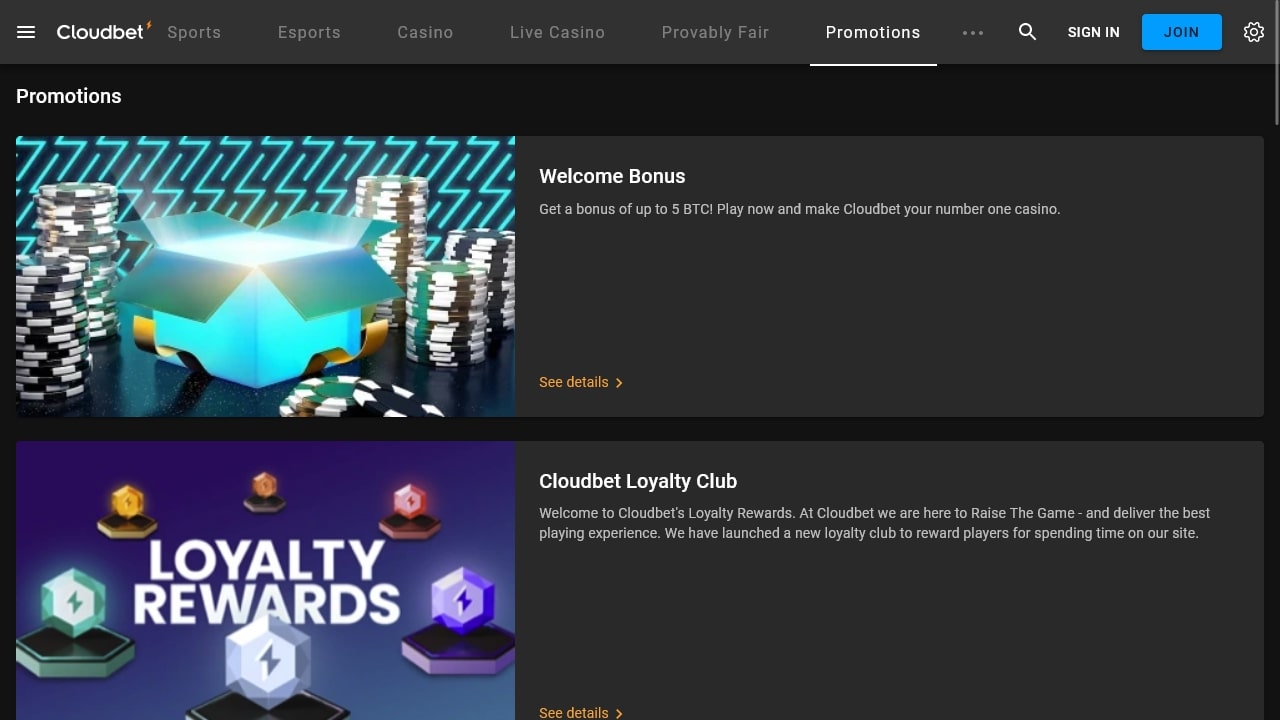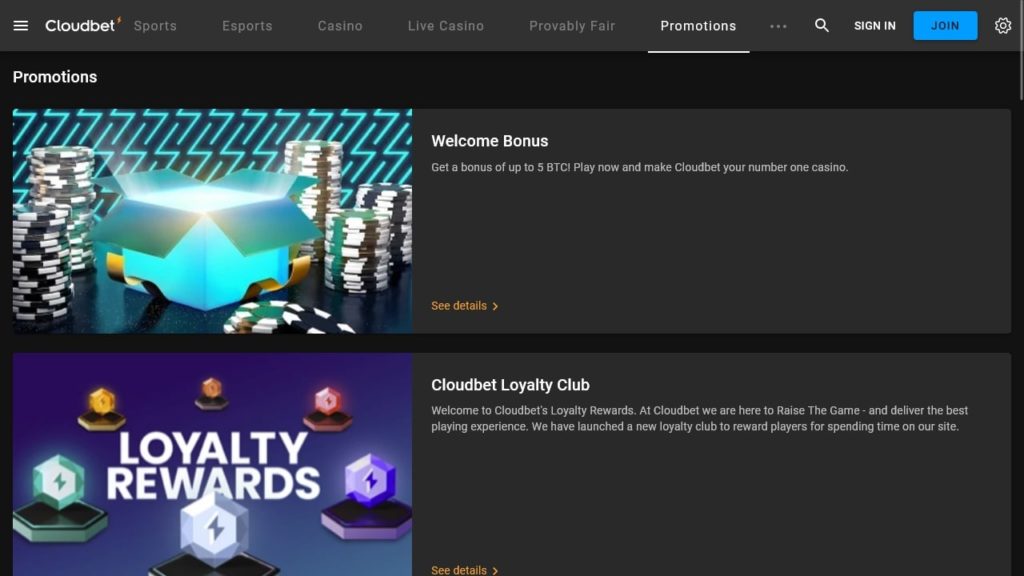 Other features
There are a few other features worth noting about Cloudbet and they are concerning security, which is always nice to see. Firstly, Cloudbet offers a two-step authentication for player accounts in order to beef up security and all of the site's bitcoins are held in cold storage in order to protect them. Cloudbet maintains that its wallet always has sufficient funds to pay players, so the cold storage will be maintained without a hitch.
Withdrawals and Payments
Cloudbet offers "lightning fast cash outs" that are generally processed within 24 hours. This time is due to the requirement of three confirmations for each deposit made to the player's account. This is another security feature that still manages to get withdrawals out within a reasonable time and is therefore a rather impressive feature.
In terms of currencies, Cloudbet works with Bitcoin, Bitcoin Cash, and a whole host of other cryptocurrencies. They are also constantly adding new coins, so the list of accepted cryptocurrencies at Cloudbet is growing all the time.


Conclusion
For experienced sports bettors looking to wager Bitcoin or Bitcoin Cash, Cloudbet offers a clean and simple sportsbook experience. Practically every sport imaginable is available for wagering and with the 100% first deposit bonus, players should have more than enough reason to spend their Bitcoins at Cloudbet.
There is some information lacking in terms of sports betting guides and in regards to other aspects of the site, but overall our Cloudbet review shows that this site is a user-friendly and easy to manage Bitcoin sports betting site.