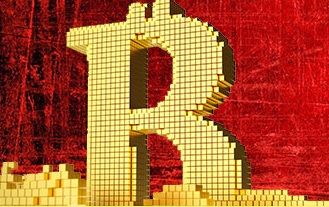 December 21st, 2016, marked the first time since February 2014 that bitcoin cracked the $800 USD mark. A lot has happened since 2014 that helped bitcoin restore most of the value it lost in the aftermath of the Mt Gox ordeal. Over this period of time, world politics became more turbulent, the economy in many key countries around the world faltered, and there were surprises like Brexit or Trump's US Presidential Election shock. On the other hand, there was the halving and the whole issue surrounding block size and transactions on the blockchain. Each of these factors had a distinct and in some cases diverging impact on the price of bitcoin.
Bitcoin started 2016 with a Downward Trend
Any analyst who thought that bitcoin could rise above the $800 USD mark in January 2016, would have probably been dismissed as overly optimistic. In fact, the price of a single coin dropped as low as $310 USD during that month, following fears about block size and transaction issues. Mike Hearn famously quit the project, sold all his coins and wrote an incisive piece about how the bitcoin experiment failed. It turns out that he was partially wrong. According to the markets right now, bitcoin is far from a failure. In fact it is the best performing currency of 2016. Nevertheless, it does face some challenges stemming from a lack of consensus on some technical issues going forward.

Bitcoin Profits from World Politics, while suffering from Internal Disagreements
There is no doubt that the Bitcoin Community could end up being bitcoin's worst enemy. It is ironic to think that a currency designed to overcome the pitfalls of international politics and the global economic architecture, could fall prey to internal politics. It is possible to think about a scenario in which prices could be way above the $800 USD mark if transaction and block size issues, along with the community's inability to stop the infighting, would not be an issue.
Bitcoin Bulls Beware
This is why despite cracking the $800 USD barrier, bitcoin still remains vulnerable. This amplifies the potential for volatility going into 2017, especially if demand for bitcoin keeps on growing fast. There are many possible solutions from SegWit to hard forks. 2017 however, does not seem like the year in which one of those solutions will generate the consensus necessary to break the deadlock and help bitcoin service increased demand.
Will Bitcoin continue to grow beyond the $800 USD mark?
This makes price predictions for 2017 trickier than those for 2016. A year ago there were many factors that pointed towards a positive trend in bitcoin prices for 2016. Now, with the next halving 3 and a half years away and a smaller chance of having pivotal political surprises next year, bitcoin might have less exogenous boosters left to keep on rising. There is no doubt that capital controls in China and elsewhere, coupled with demonetization in several countries and a few other black swans could propel bitcoin prices way beyond the $800 USD mark. Nevertheless, political infighting within the community as well as the lack of new global political or economic calamity, could put an end to this wonderful 2016 bitcoin price rally.