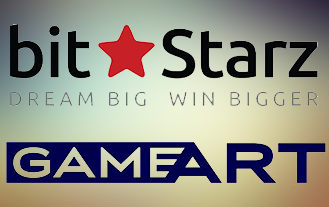 It pays to play at Bitstarz. Apart from the amazing jackpots and the exceptional customer service, Bitstarz now added yet another software provider to its list. Now you will be able to play 30 new games from boutique software provider Game Art. This is great news for all the players looking to mix it up while they spin, and spin on the go. Additionally the winnings on Game Art games are getting bigger by the minute!
Here are some of the advantages you will get when you play Game Art slots at Bitstarz:
Enjoy 30 unique new slots with the best bonuses and customer service you can get.
Spin on the go: Game Art specializes in HTML5 games, which are mobile friendly.
Take your chances on more jackpots.
Mix it up: Spin on these new slot games and make your gaming experience more varied.
Enjoy fresh graphics from the talented team of visual crafters at Game Art.
Play the highly acclaimed Dragon King slot with all the advantages that only Bitstarz can give you.
This is clearly a great opportunity for all the players out there to make their gaming experience truly unforgettable. Enjoy the best, most innovative casino games from Game Art on Bitstarz and be the first to hit a jackpot on their launch. There will be tons of new winners with these new games and this is your chance to be one of them.
Follow the Game Art launch at Bitstarz and take advantage of the best bonuses in the industry. It is time to spin and win whether you are sitting at home on your computer, or you are on the move. Game Art and Bitstarz will make sure you get the best gaming experience out there! Take your chances and take home that huge win with Bitstarz!