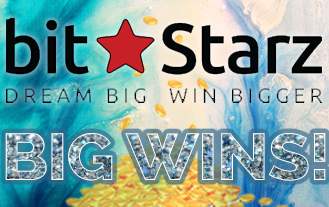 Two players, two jackpots on two different games from the same provider. That is the short version of what happened at Bitstarz last week. The players who hit the jackpots, were both playing on Amatic slots, which are part of Bitstarz' Extra Wars promo. This promo works with certain providers on any given month, and increases the potential for jackpots. Here is how both players hit their respective jackpots and the details of their wins.
With Bitstarz, you can Turn $50 into $50,000!
The first player who hit a huge jackpot and got a few more wins afterwards at Bitstarz, played on the "Book of Fortune" slot. In an incredible turn of events, the player managed to squeeze a huge win and a series of smaller wins after that, from an incredibly small deposit. These are the details of the win:
The players deposited $50 and started spinning on "Book of Fortune", an Amatic game.
After a few spins, he got into a winning streak which started with a $24,000 jackpot on a 2,400 multiplier.
This player didn't give up. He felt his luck was going to take him to greater heights and so it did!
With a few smaller wins after the first one, the player managed to take home a whopping $50,000. That is how he turned $50 into $50,000!
The Perfect Spin!
The second jackpot story is even more incredible! If you think that turning $50 into $50,000 is a remarkable feat, then when you hear about the story of the perfect spin, you will fall off your chair! These are the details of that second jackpot:
A player logs in and chooses to play on Amatic's "Lucky Coin".
Next thing he knows, he places the mouse on the spin button and clicks.
Suddenly his life changes. He hits a $47,473 jackpot with a single click. That is the perfect spin!
Jackpots Fall in Pairs!
There is no doubt that both stories are incredible! Who would have thought that jackpots fall in pairs? This must be some kind of anomaly, or maybe it is just how the odds play out at Bitstarz. One thing is certain: playing games from the provider of the month – Amatic – on that great Extra Wars promo at Bitstarz, gives you more chances to become the next one to turn $50 into $50,000 or maybe even score the perfect spin. Go ahead and try your luck. You might be the next one to hit a huge win at Bitstarz!