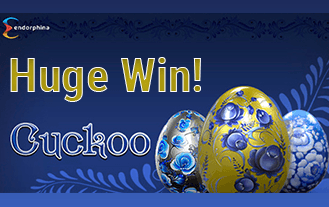 Endorphina games continue building on their tradition of making people rich. This time it was Endorphina's recently released game 'Cuckoo' that did the trick. Just one week after Endorphina released the game, the jackpots started falling out of the sky and landing on lucky players' laps. Of the many players who have scored great wins on this newly released game, 2 stand out. Both scored their huge wins during the special bonus game.
Cuckcoo Jackpots: How to Get Them
This new special bonus game feature that Endorphina came up with, is quite simple:
The bonus is triggered when a player hits 3 scatters on the reels.
When this happens, players will see a porcelain clock on their screen.
That clock will have an alarm time set and the player will have to guess the time of the alarm.
To do so, players must place the hour hand as close as possible to the actual alarm time.
The closeness of their guess will determine the multiplier.
Endorphina Delivers Thousands on Cuckoo
Both players got very close to the alarm clock hour on their bonus game estimates. This gave them the chance to win big, and Endorphina took care of the rest. The first player to hit a jackpot, got an incredible €40,000 out of his Cuckoo spin after he got a high bonus game multiplier. The second player chose to play a high stakes game that paid off because he got an eye popping x2,400 multiplier out of the bonus game! That is the highest multiplier that anyone can get playing Cuckoo!
This is how both players got 2 incredible jackpots out of Cuckoo which is promising to be one of the most generous Endorphina games of all time! Now you can try your luck on this game as well and benefit from its generosity while you try brand new gaming features. This exciting game has been shelling huge wins from the first week since its release, and it will not stop anytime soon. So, go ahead, enjoy Endorphina's Cuckoo on one of our great partner casinos, and make sure you win big!