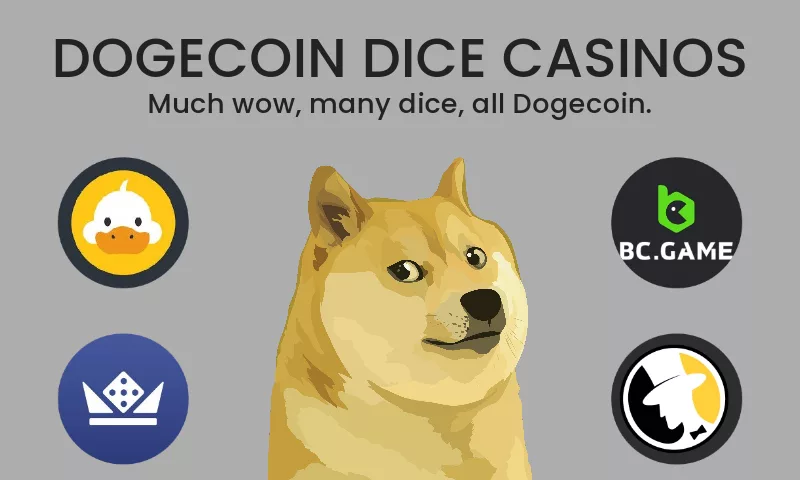 What started out as a simple joke based on a meme about a dog quickly escalated into one of the biggest and most well-known cryptocurrencies around today and that is Dogecoin, the grandaddy of meme coins. Most online casinos these days that accept cryptocurrencies as a payment method will almost always have Dogecoin listed in their crypto portfolio, even if that casino only accepts a handful of cryptocurrencies you'll most likely still see Dogecoin, a testament to how popular this coin is among crypto enthusiasts and gamblers alike.
Some of these crypto casinos that accept Dogecoin have exceptional dice games on offer and that is going to be our focus in this article. We'll be taking a look at the best Dogecoin dice casinos around, meaning the casinos will both accept Dogecoin and have a dice game(s) on offer.
BC.Game
BC.Game prides itself on being a crypto casino, accepting 18 cryptocurrencies and counting. Of course, one of those cryptocurrencies is Dogecoin.
BC.Game has two amazing dice games under their "Originals" game selection (all exclusively hand-crafted games that can only be found and played at BC.Game) which are "Ultimate Dice" and "Classic Dice".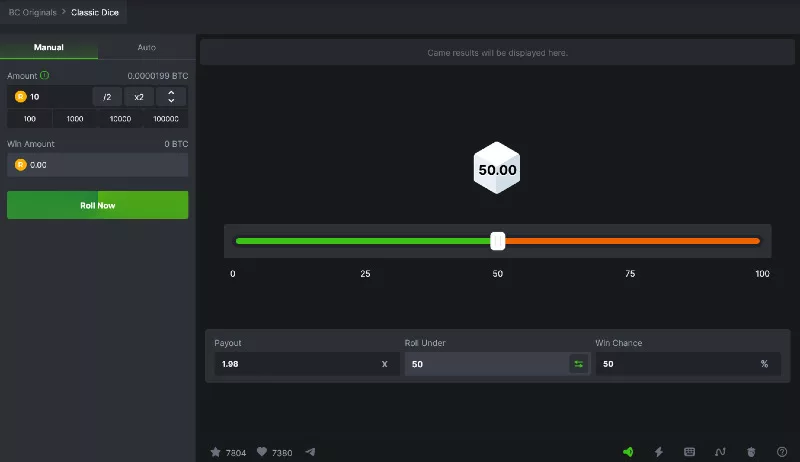 Classic Dice is quite a straightforward and intuitive Dogecoin dice game, you will need to pick a number on the slider and choose whether to roll under or over that number so nothing too special here but if you don't like a complicated game then this is the dice game for you.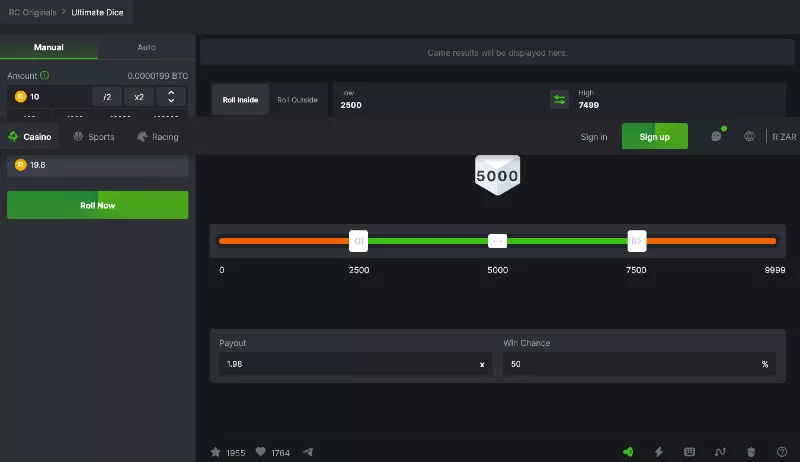 Ultimate Dice is a slight step above Classic Dice and combines Classic Dice and Hash Dice into one playable package, opening up the door for more choices and opportunities. Instead of picking one number and deciding to roll under or over it like in Classic Dice, Ultimate Dice allows you to pick two numbers and decide if you want to bet that the winning number will be inside or outside the chosen numbers.
Play BC.Game Dice
DuckDice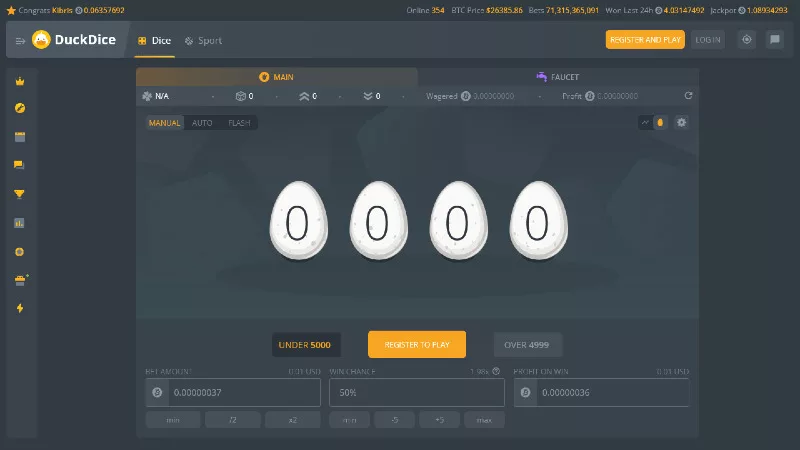 DuckDice, as the name suggests, has a soft spot for dice and that's what the casino side of the site specializes in. They have a sports betting section with loads of sports to bet on but at the casino, it's one thing and one thing only, and that's an amazing dice game.
DuckDice is a very crypto-oriented casino, accepting almost 30 cryptocurrencies at the time of writing and Dogecoin is of course on that list.
The DuckDice dice game is host to a number of incredible features that you'd be hard-pressed to find at any other dice game (TrustDice does come to mind but they, unfortunately, don't accept Dogecoin despite how popular it is among gamblers, but if you still want to check it out here's our TrustDice Review) including a faucet that allows players to claim free crypto, great payouts and bonuses and is 100% provably fair. DuckDice is aiming to become the number one crypto dice game on the internet and it shines through in the quality of their game and website.
Play DuckDice Dice
Primedice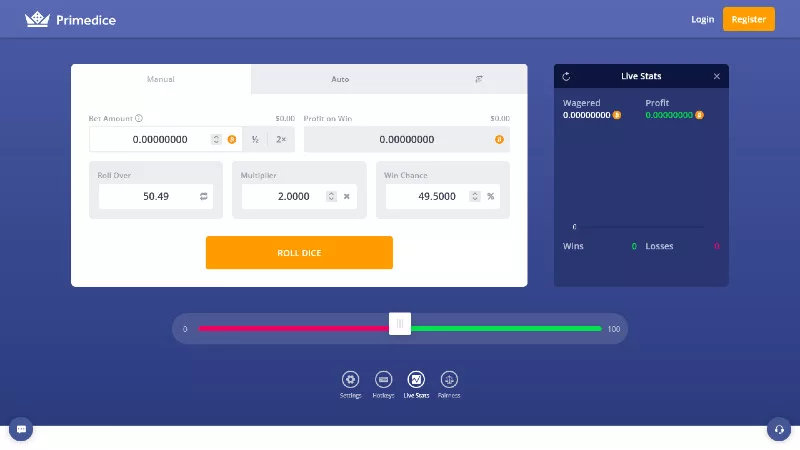 Primedice, much like DuckDice, specializes in one dice game, even more so than DuckDice as Primedice doesn't have a sports betting section, focusing solely on dice and nothing else.
Having one game on a site says a lot and what it tells us is that Primedice is confident enough in its game for it to carry the entire site, a risky manoeuvre but it seems to have paid off as Primedice is praised among the gambling community for its amazing game which is 100% provably fair, and regularly shows up on top 10 lists of the best dice games around.
Primedice doesn't just specialize in dice though, it also specializes in cryptocurrency and does not accept any other form of payment (sorry fiat players), and Dogecoin happily finds itself on that list.
Play Primedice Dice
Vave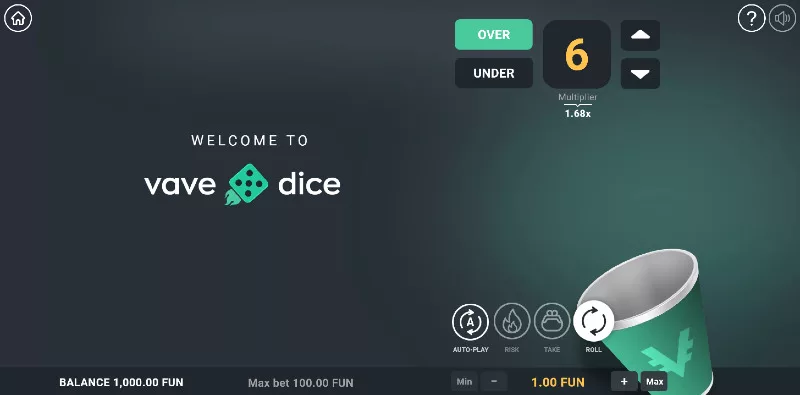 Vave is a casino & sportsbook that was released in 2022 and has been taking over the gambling scene ever since, being praised for its amazing bonuses and promotions and great selection of games.
Vave, at the time of writing, hosts five in-house games which include Vave Plinko, Vave Crash, Vave Coin, Vave Mines, and Vave Dice which is an elegantly designed, super fun dice game to sink your teeth into. Vave Dice has an awesome demo mode as well which gives players a good representation of what the game will be like before you place any real bets on it.
Just like every casino on our list of Dogecoin Dice casinos, Vave accepts Dogecoin as a payment method, making it a viable option to use when playing their in-house dice game.
Play Vave Dice
FortuneJack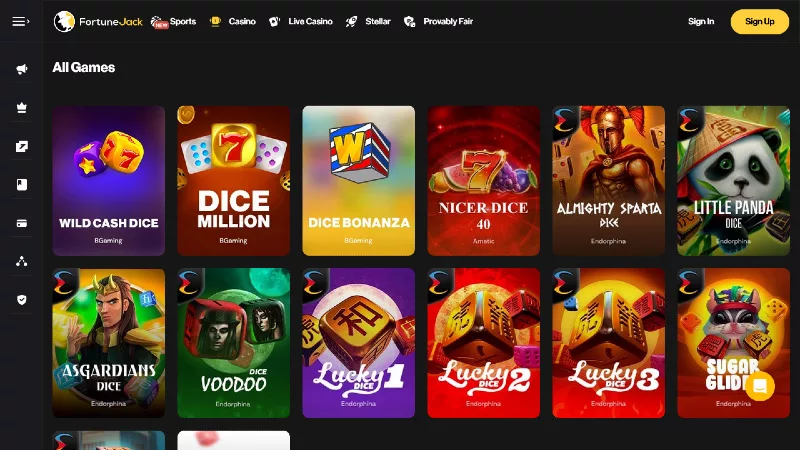 FortuneJack, one of the original Bitcoin casinos is still going incredibly strong today and is upheld as one of the best online gambling experiences a gambler can have at a casino.
FortuneJack doesn't make its own dice games like many of the other Dogecoin dice casinos on this list, however, it does host some of the most popular dice games which have been developed by extremely sought-after third-party providers such as BGaming who host "Wild Cash Dice", "Dice Million", and "Dice Bonanza", Endorphina who brought us games like "Almighty Sparta Dice", "Little Panda Dice", "Voodoo Dice", and many more dice games.
FortuneJack was one of the first crypto casinos to have launched and they've stuck to their roots, gradually adding more cryptocurrencies for players to bet with and Dogecoin is on that list so all of you Dogecoin dice bettors out there, get your Dogecoin ready!
Play FortuneJack Dice