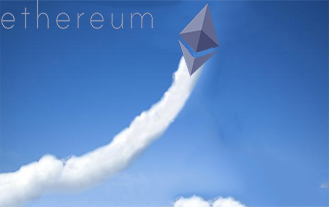 The rise of Ethereum is literally off the charts. This public blockchain project is still looking for a clear identity, but its potential to create value is taking the market by storm. Ethereum's cryptocurrency, Ether, has soared from the beginning of 2016. Ether's valuation has risen by about 1100% so far this year, and has incredible potential for additional growth. However, Ether has already been at this point before, not long ago, and its value came crashing down before the most recent surge.
Ether Charts Show Lack of Maturity
It has been 7 years since bitcoin came online. Bitcoin's roller coaster ride can shed some light into what the markets can expect will happen with Ether. Looking back at the charts, the point at which bitcoin really took off and clearly left the $1 to $10 USD range for good, is clear. It happened at the beginning of 2013, and ever since bitcoin has been a volatile asset.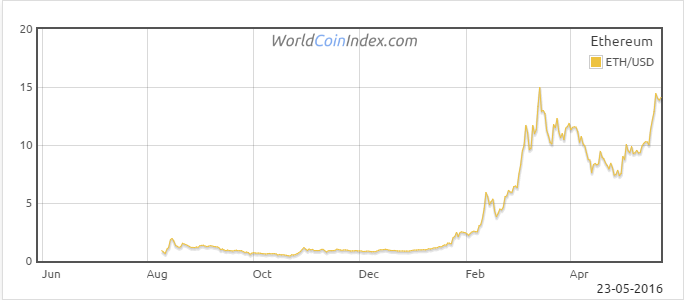 Lately, the charts show, bitcoin's volatility has softened. Ether should follow a similar pattern, although the Ethereum project is fundamentally different. The fact that Ether is still trading below its peak valuation according to World Coin Index charts, points to a certain lack of maturity in the market. Bitcoin too has been seesawing well below its all-time high, but the variation in its value has softened. When comparing bitcoin charts with those of middle income countries, the fluctuation in value bears some resemblance. That is a degree of maturity that Ether still lacks for obvious reasons, but unlike bitcoin, ether might reach that point faster. It all depends on adoption rates.
Ether Will Not Compete With Bitcoin, But…
It will take some time until enough users are generating enough value on the Ethereum blockchain for the price of Ether to have a shot at stability. Nevertheless, there have been some important steps that bring Ether closer to the broader markets, which could help promote its stability. According to reports from Reuters, Coinbase will enable Ether trading starting from Tuesday, May 24th. This means that investors eager to take a risk on Ether's current volatility, will be able to purchase the cryptocurrency.
This measure is likely to bring Ether closer to the mainstream hence increase its adoption rates. In the meantime however, it could have an effect on the price of bitcoin. Given the fact that Ether has a great upside, while Bitcoin seems to be stuck in the middle of a governance battle between different members of its community, investors might be inclined to choose the former over the latter. As much as Ethereum's creators and cryptocurrency experts point out that Ether will not compete with bitcoin, if investors see both as a digital asset, then in their minds these will be competing assets.
Ethereum Looking for Identity
The concept of Ethereum as a public blockchain that is used as a tool to codify and settle smart contracts among others, may still seem foreign to most. Thus key differences between Ethereum and Bitcoin will still escape the minds of most. Until there is a better understanding about the project and there is more adoption, both assets will seem like close substitutes. The price of Ether will certainly depend on the degree of understanding that the broader public has about the project. Until then the charts will probably show greater volatility for Ether. Hopefully, the seesawing we have seen so far, will just develop into an upward trend and will attract more attention to the Ethereum project, and will prompt more people to participate in it.