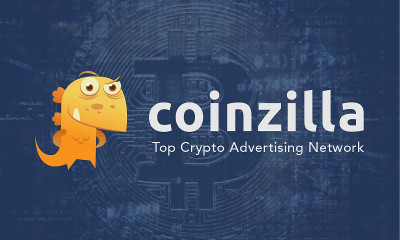 Recently, crypto related businesses have become increasingly popular, and it appears that many people are seeking to make a living out of it. This growing interest has spawned many new ways of producing income from providing crypto related services. Regardless if they are profitable or not, all of them require high quality targeted traffic.
Finding a quality traffic provider has given many problems to those involved in the crypto-currency niche, mainly due to the fact that advertisers send fake or incentivized traffic, and the revenues of ICO owners and crypto-related websites which were targeted by them. This low-traffic circumstance motivated some people to develop an advertising solution that will satisfy crypto advertisers and publishers. And thus Coinzilla was created.
Coinzilla opens a new path for advertising by offering high-quality floating and standard IAB banners that were developed with the intent of being easily noticed by visitors. This assures a high CTR. Coinzilla has an average CTR of over 0.40%, while GoogleAdwords has an average CTR around 0.10%. GoogleAdwords also sends you traffic with low engagement, as they send you only those that barely know anything about digital currencies and want to know only about bitcoin. So you basically end up paying for visitors that have been redirected to a site in which they have no interest whatsoever.
Coinzilla on the other hand ensures that its customers receive only quality traffic from top crypto referrers like coinmarketcap.com, coinranking.com, 99bitcoins.com and other relevant crypto-related websites. A partnership with Coinzilla secures a profitable and successful future for your business in a short time.
Coinzilla currently ranks among the top 3 advertising platforms in the cryptocurrency industry, delivering over 350 million ads on a monthly basis. Because the company is continuously investing in itself, their number of ads keeps on growing. By working with experienced developers and studying user behavior, the network will fulfill the demands and needs of their customers.
Coinzilla offers marketing packages that have great flexibility, which have been developed to ensure maximum exposure to every project, even if it's a newly created site or a well-established ICO. The fairness of its price-service ratio is reflected in the positive reviews and feedback from customers across the internet.
Coinzilla is about to greatly influence the advertising sector that handles crypto-related websites, since Facebook recently announced that will instate a ban on crypto-related ads. Because of this, many customers will look for other ways of advertising and Coinzilla is bound to catch their eye. Coinzilla is set to deliver to its customers a consistent return of investment, quality services (account managers for every user) and many more advantages.
Having a brilliant prospective and a plethora of new features waiting to be added to the platform, this advertising network can undoubtedly raise the status of crypto related businesses to top positions of the crypto world in a short amount of time and at a fair cost.
Network overview:
PROS:
Quality traffic
Highly competitive rates
Personal account managers
99% Fill rate
Top referrers (coinmarketcap.com, coinranking.com, 99bitcoins.com)
Payment in Bitcoin, Ethereum, and Euro bank transfers
Highly converting HTML banners created by them
CONS:
Your website must be a crypto related website
Your site must look professional (it's a problem if you are inexperienced)
Your website should be live for at least a couple of months
Your website must not be an adult content website
Contact Coinzilla through:
Links: