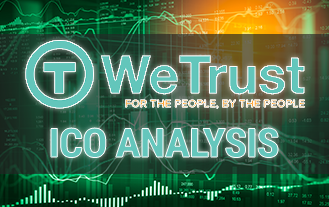 All the final details are ready for the long awaited WeTrust ICO. This project aims to make insurance as well as other financial services completely based on small groups of people – or ROSCAs – by eliminating the need for a trusted third party. WeTrust is an Ethereum based project that will replace the need of a trusted third party through the use of smart contracts. A unique system of association between trusted parties will contribute a fixed amount of money to a fund on a regular basis to support the other members of their association according to the agreed upon stipulations of these smart contracts.
ICO Rating: B (Not based on financial risk. The grade scale goes from A+ to C-)
ICO Date: Starts on March 1st, 2017 and ends 6 weeks after.
ICO Schedule and Bonuses
WeTrust has a funding target of between 1,000 and 6,000 BTC. To achieve that target, it is selling 80,000,000 Trustcoins – TRST – of the 100,000,000 in circulation. WeTrust will keep the remaining 20,000,000 for the founding team – 10,000,000 – future expenses – 8,000,000 – and bounties – 2,000,000.
WeTrust ICO Notes by Bitcoin Chasers' Analysts
WeTrust has a solid idea that could prove to be successful even if it doesn't gain scale. There is value in having a small pool of people that any given person knows, providing a safety net for that person under a system governed by smart contracts. Nevertheless, the structure of the weTrust ICO does raise some questions. Our analysts did some basic math regarding the schedule, bonuses and investment threshold above. Those calculations revealed some specifics that investors must take into account before investing.
Exchange Rate
The first unusual characteristic in the WeTrust ICO has to do with the exchange rate. Since the investment threshold is variable – anywhere between 1,000 and 6,000 BTC – there is no fixed exchange rate. Nevertheless, there is a fixed amount of Trustcoins in circulation. This means that if the WeTrust ICO raises 6,000 BTC on the first day, which is hypothetical, there will not be enough Trustcoins to give investors a bonus. The project could choose to instead give 30% of the investment back to each investor as a bonus should this hypothetical scenario play out, but no one has communicated the project's intention to do any such thing yet.
Returns
The lack of a set exchange rate and a lower and upper threshold mechanism means that the exchange rate will not be known until the end of the WeTrust ICO. The project can only establish an exchange rate after the ICO and after the bonuses are calculated, given that there is a fixed amount of Trustcoins to go around. This means that investors will not get their Trustcoins until the ICO ends, even if they invest on the first day. WeTrust has set up 3 different escrows with people who are legally in charge of keeping investors' funds until an exchange rate can be calculated at the end of the ICO. This requires a considerable amount of trust from investors in the project. Vlad Zamfir, Jae Kwon, and Joe Urgo will be legally in charge of the escrow keys until the end of the WeTrust ICO.
Communication with WeTrust
Bitcoin Chaser has communicated its concerns about the exchange rate, the schedule and the other gaps in the WeTrust ICO. the project manager replied and showed us mathematically with an example, how the bonuses will work out:
Suppose there are 100 investors.
Each investor invests 10 BTC.
The total investment amount meets the lower threshold of 1,000 BTC.
One investor invests during the first day of the ICO, which should give him/her a 30% bonus.
The rest invest during the first week of the ICO, which gives them a 25% bonus.
The Calculation that Follows
10 BTC * 1.3 (first day bonus) = 13 BTC.
990 BTC * 1.25 (first week bonus) = 1237.5 BTC.
Total Investment is taken to be 1250.5 BTC.
How many Trustcoins will each investor get?
(13/1250.5) * 80,000,000 = 831,667 TRST per investor at the 30% bonus rate.
(1237.5/1250.5) * 80,000,000 = 79,168,332 TRST which divided by 99 (number of investors investing 10 BTC each) = 799,680 TRST per investor at the 25% bonus rate.
WeTrust ICO Update
WeTrust raised $1.7 million USD through its ICO as of March 7th, 2017.
*Bitcoin Chaser is not responsible for any of your investment decisions.