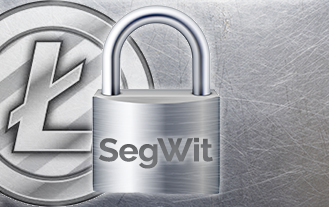 On Wednesday 26th of April 2017, Litecoin locked SegWit in. The soft fork solution to some of the transaction problems that bitcoin and other similar cryptocurrencies have been facing, is now a Litecoin network feature. Nevertheless, markets seem to have punished Litecoin for its achievement. Looking at price data, it seems that investors were buying on SegWit rumors and selling upon news of its activation.
Litecoin Prices Going Forward
Litecoin can now move onto the activation of the Lightning Network which might give it another price boost soon. Once Litecoin locked SegWit in, it took a step towards this off-chain payment method that will allow transactions to go through without on-chain confirmation. This advantage can boost demand for this cryptocurrency and thus help buoy its price after the small sell-off in the past few days. Implementing the Lightning Network however, will take some time, which means that Litecoin will have to grapple with the short term sell off.
If Litecoin Locked SegWit and could Activate the Lightning Network Soon, why are Investors Selling it?
Even though Litecoin locked SegWit in, opening the door to a myriad of other possibilities, investors will still feel inclined to sell it at least in the short term. There are several reasons that could provide an explanation for this phenomenon. The first one is probably the most counter-intuitive of them all. Litecoin locked SegWit in, so investors got cold feet. SegWit is supposed to be a sound solution for many transaction problems. Even though Bitcoin Core developers have put a lot of time and effort into it, until there is evidence that it can work on a significant cryptocurrency, SegWit is still a gamble. It is a gamble with great odds, but that small degree of uncertainty suddenly became very real for some investors, so they switched back to bitcoin.
That brings us to the second reason that might explain this small sell-off. Bitcoin Core developed SegWit. Once Litecoin locked SegWit in, Bitcoin Core developers started gaining more credibility to push for the same solution on the Bitcoin Network. Investors might be more willing to bet on the benefits of the Bitcoin Network should SegWit gain enough steam there, than on a similar SegWit-powered Litecoin network. If this is the case, why not buy those rumors on bitcoin after they sold the news on Litecoin? After all they made a quick buck doing it on the Litecoin network, so buying bitcoin while they see what happens with SegWit on the latter is perfectly logical.
Identity Issues Still Linger?
The fact that Bitcoin Core developers designed the solution, might provide an additional explanation for this small sell-off after Litecoin locked SegWit in. With SegWit activation, Litecoin basically solidified its identity as "silver to bitcoin's gold". This cryptocurrency doesn't really have a unique identity. The only trait that made it special in the eyes of the market, was its ability to take the leap on an experiment that Bitcoin Core developers have thus far failed to convince the Bitcoin community to adopt. Investors might thus find Litecoin unappealing because it is not a real disruptive force on its own.
Litecoin Prices Still have Plenty of Room to go up!
Although these drawbacks could have triggered a short term sell-off after Litecoin locked SegWit in, investors must consider the other side of the equation. This cryptocurrency might not be a disruptive force on its own, but its community was bold and nimble enough to adopt a sound solution to its transaction issues. Looking forward investors will have to take the long-term implications of this move into consideration, together with the fact that Litecoin is still far away from its previous historic highs. Bitcoin smashed its historic highs a few times already this year. Ether did the same, but if the past is any indication of what may happen in the future, then Litecoin is coiled up. That is old news that can well come back to haunt those who were too quick to dump this cryptocurrency for all the new rumors out there.