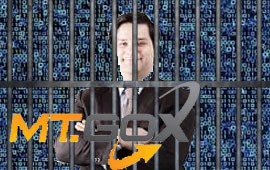 Quite possibly the biggest Bitcoin news that we've heard in a while is coming straight from Tokyo as Mark Karpeles, former founder and CEO of Mt.Gox, was arrested on Saturday and is being detained on charges of embezzlement.
If you've been following the roller coaster ride that is the existence of Bitcoin over the past few years, or if you just read the news on a regular basis, you've likely heard of Mark Karpeles, the former founder and CEO of Bitcoin exchange Mt.Gox. The site, and Karpeles himself, became famous in 2013 after the company entirely collapsed, resulting in the loss of Bitcoins worth nearly $400 million.
Many believed that while unfortunate, the Mt.Gox incident was considered a thing of the past – the Bitcoins were lost and there was nothing to be done, but Japanese police has just arrested Karpeles and he is being held in connection with the loss of funds. The option of bail is entirely null and void and according to Japanese law Karpeles could be held for up to 23 days. While it may not take that long, the Japanese police are likely hoping to make a major break in this case before letting him go.
So, why was Karpeles arrested seemingly out of the blue? According to the details of the original Mt.Gox case, the company lost 750,000 of its customers' Bitcoins and 100,000 of its own in February 2014. In March of that same year, an additional 200,000 Bitcoins were found out to be lost, and were directed into a different digital wallet – possibly owned by Karpeles himself. Through this other wallet, Karpeles manipulated the overall funds held by Mt.Gox for his own personal gain.
Of course, no Bitcoin news story would be complete without including a message board post where someone claiming to be close to the individuals involved has information to break the case open.
A person claiming to be Ashley Barr, a former employee of Mt.Gox wrote that "My statement along with other ex-employees have led the Tokyo Metro Police's arrest on embezzlement and 'illegal manipulation of accounting.'"The post continued to explain that employees within Mt.Gox eventually learned that "Mark only had one bank account, shared with Mt.Gox's customer deposits. That was the nail in the coffin."
It remains to be seen whether Karpeles will be formally charged by the Japanese Police department and what that would entail, but if this post from the person claiming to be Ashley Barr is true, the end could be near for the former Mt.Gox CEO.