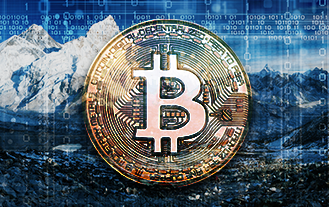 Bitcoin reached the $8,000 USD milestone earlier this week, and prices are holding above that mark. This has prompted Bitcoin into the limelight once again. The number one cryptocurrency is certainly proving itself as a holder of value in a world awash with high liquidity. Cryptocurrency markets however, tend to be fickle. Trends can change within the hour, making news worthy announcements such as these obsolete mere minutes after they are published. While the average Bitcoin holder with a moderate understanding of the technology is confident to hold the coin, in the long run, newly interested investors with little time to learn have had their doubts and tend to look at Bitcoin's volatility through the prism of traditional markets.
Bitcoin Holds Above $8,000 USD
Once Bitcoin reached $8000 USD, another wave of previous doubters started expressing their interest in investment. This seems like a move away from that traditional markets prism. Nevertheless, any investment requires understanding of the asset. In this case, technological knowledge and awareness is a basic pre-requisite for full clarity. As Bitcoin edges towards the mid-$8000s, another possible minor dump is expected, although the wave of new investors on-board should guarantee a stable value.
Onwards and Upwards – Bitcoin Price and Market Cap Analysis
On November 19th, Bitcoin rose through the $8000 USD milestone, right before dipping under again the next day. Price movement established a support point at $7900 USD, which was promising for investors and holders across the board. On the same day, Bitcoin recovered and begun its upward movement to hit a new all-time high of $8330 USD average across legitimate exchanges.
Following that new all-time high, investors decided to take their profits, selling until Bitcoin hit that support point at $7900 USD. A hasty recovery in less than a day resulted in a new all-time high of $8348 USD across the board of averages, according to Coin Market Cap. At this point, the absolute peak in total market capitalization was $139.36bn USD for Bitcoin, making it higher than the total market capitalization for all cryptocurrencies combined back in August 2017, just 3 months ago.
Unlikely Names Show Interest
These price increases have shown that prominent figures in traditional markets have wrongly assessed Bitcoin. Financial institutions are increasingly likely to backtrack on their previous assessments and are now opening up to cryptocurrency markets. JP Morgan is a clear example. Following a recent outcry by JP Morgan CEO Jamie Dimon, calling Bitcoin a "fraud" publicly, the financial institution he heads is planning to announce access to CME's new Bitcoin futures product for investment. Dimon made it clear that in his opinion people investing in Bitcoin are "stupid". This didn't stop the news of JP Morgan's interest spreading. It seems Bitcoin's sustained price growth – the price more than doubled since Dimon's remarks several weeks ago – is challenging that traditional markets prism through which the Dimons of the world look at cryptocurrency.
As Bitcoin Reached $8,000 USD, the CME Plans Advance
The CME is already locked in on Bitcoin futures, looking at a late Q4 launch in December 2017. That leaves JP Morgan and other traditional investment firms some time to decide whether they are ready to jump on the bandwagon. Bitcoin is up more than 700% this year, which makes hasty considerations from companies such as JP Morgan Chase unsurprising. In the meantime, Bitcoin is holding above that $8000 USD milestone, with support moving upwards to around $8000 USD. It seems that these prices will encourage more investors to abandon their traditional investment paradigms in favour of a more open-minded approach.