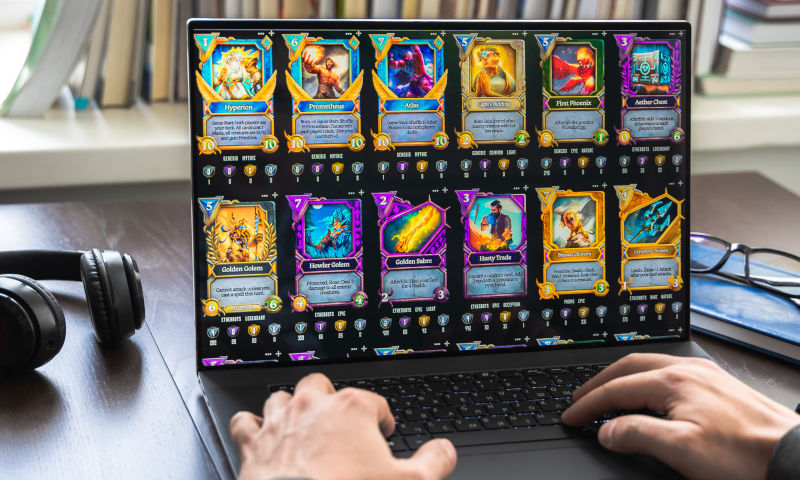 NFT card games are gaining popularity, thanks to them offering a way for users to earn cards and trade them for real-world currencies and other cards in a way that traditional digital card games like Hearthstone and Magic: The Gathering Arena do not. Here we will be discussing some of the more popular NFT card games. We will touch on how they work, a brief overview of the economy and how you can potentially earn crypto by playing.
1. Gods Unchained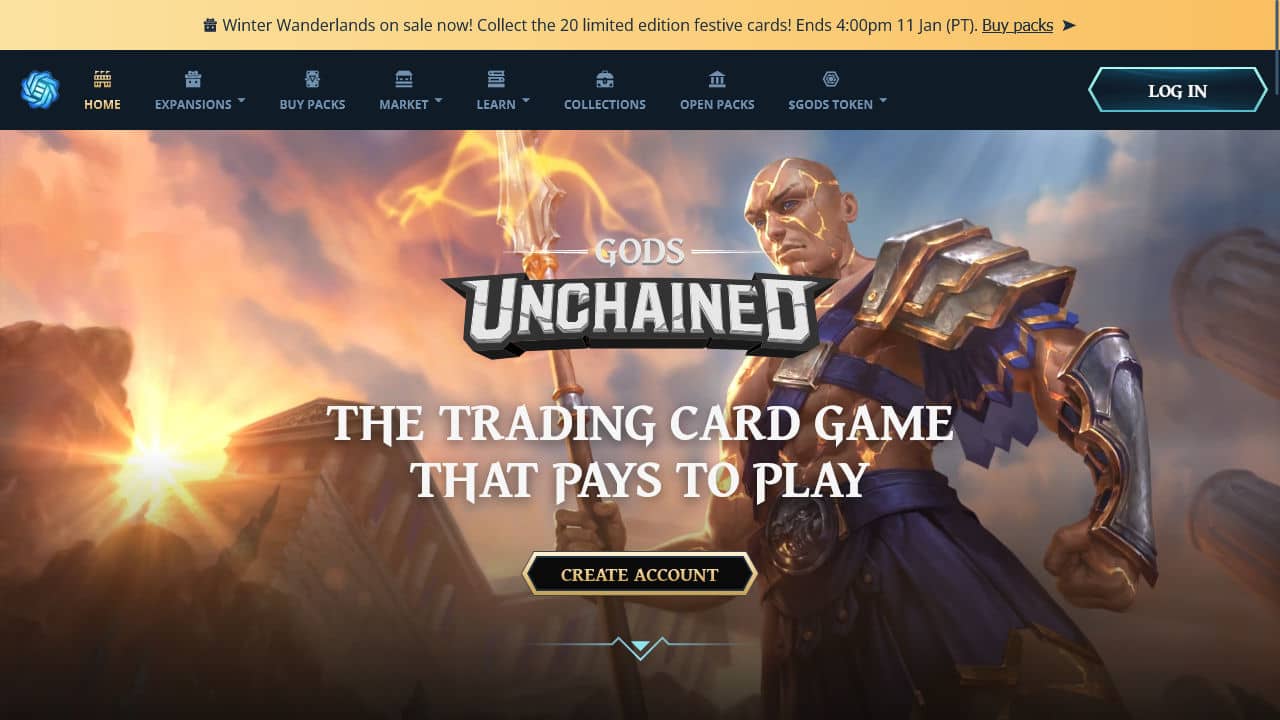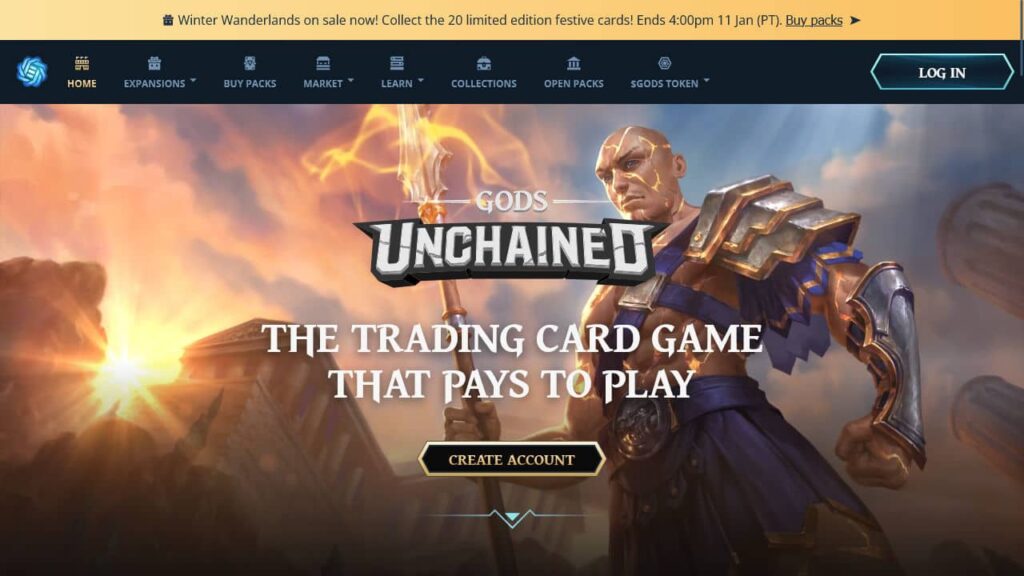 Gods Unchained is an Ethereum-based blockchain dApp. It is one of the most popular NFT trading card games (TCGs) at the moment and is free-to-play, in addition to being play-to-earn. This means that you can earn crypto just for playing the TCG.
It is currently only available on desktop, although they do plan on releasing it for Android and iOS devices in the future.
Getting started:
Before you can play, you will need to do the following:
Download the app
Register with the platform
Connect it to an Ethereum-compatible wallet, such as MetaMask
Log in to the game
Congratulations! You are ready to begin
Once you have followed these steps, you will receive six free starter decks, one for each of the in-game factions. Then, as you complete the tutorial, you will receive a total of six free packs. Each pack contains five cards. These new cards are minted on the blockchain and will be added to your wallet.
You can earn more packs as you level up in ranked mode, with the early level awarding 1-6 packs per level, as well as other in-game currencies. Your new cards can then either be added to your existing decks, used to create new decks, listed for sale or trade on a relevant marketplace or upgraded into rarer and more valuable versions of the card. There are also various modes to compete in, including the option to play against AI.
The native altcoin is the $GODS ERC-20 token, of which there is a capped total supply of 500 million. These can be used to graft NFTs, buy packs and other in-game functions. They are earned by competing in Weekend Ranked, Daily Play & Earn and events.
Website: https://godsunchained.com/
2. Doctor Who: Worlds Apart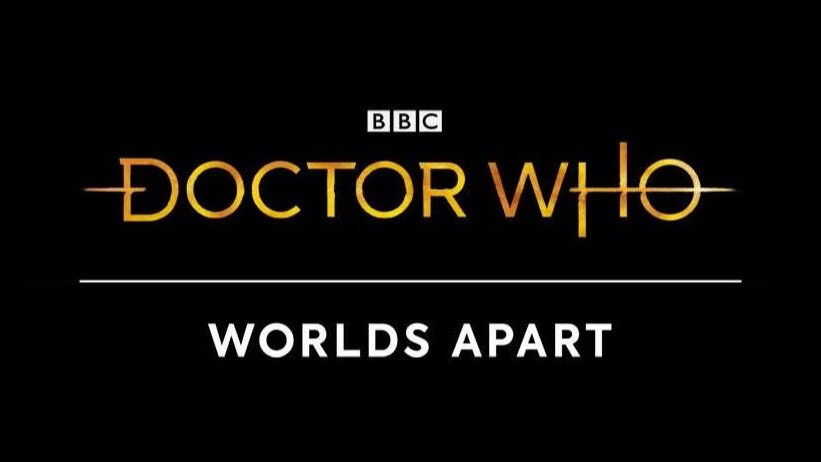 The BBC's Doctor Who: World's Apart is a licensed, F2P blockchain-based TCG proudly brought to you by Reality Gaming Group. The game features characters from the entire Dr. Who franchise, including the original series from 1963-1989. It is currently in open beta, with plans to officially release sometime in 2023. Players can earn cards through normal play or buy purchasing packs with real-world currency, or with in-game currencies called Pandaks. These are earned through in-game actions such as log-in rewards and gameplay. Founders tokens cost $1,000 USD and grant the holder special benefits, such as free exclusive cards and other airdrops, free packs and discounted purchases. The game is built on the Ethereum blockchain, so you will need an Ethereum-compatible wallet to play the game.
Getting started:
To begin with, you will need to:
Download the dApp
Unzip and install the app
Create an account, either by linking FB or Twitter or with your name and email address
Confirm your email address
Log in to the app
Congratulations! You can start playing
You will receive four of each of 65 cards to begin with, so you can now start building your first deck. There is an option to create a deck from a template, which will generate a starter deck of 50 cards for you. There is a drop-down menu of three templates for you to choose from. The downside is that there is currently no play-through tutorial, so you will need to read through the tutorial provided on the Dr. Who: World's Apart website. Additionally, there are only three modes to choose from and long wait times between matches, so we may need to wait to see the game's full potential only when it releases fully next year.
Website: https://doctorwho-worldsapart.com/
3. Splinterlands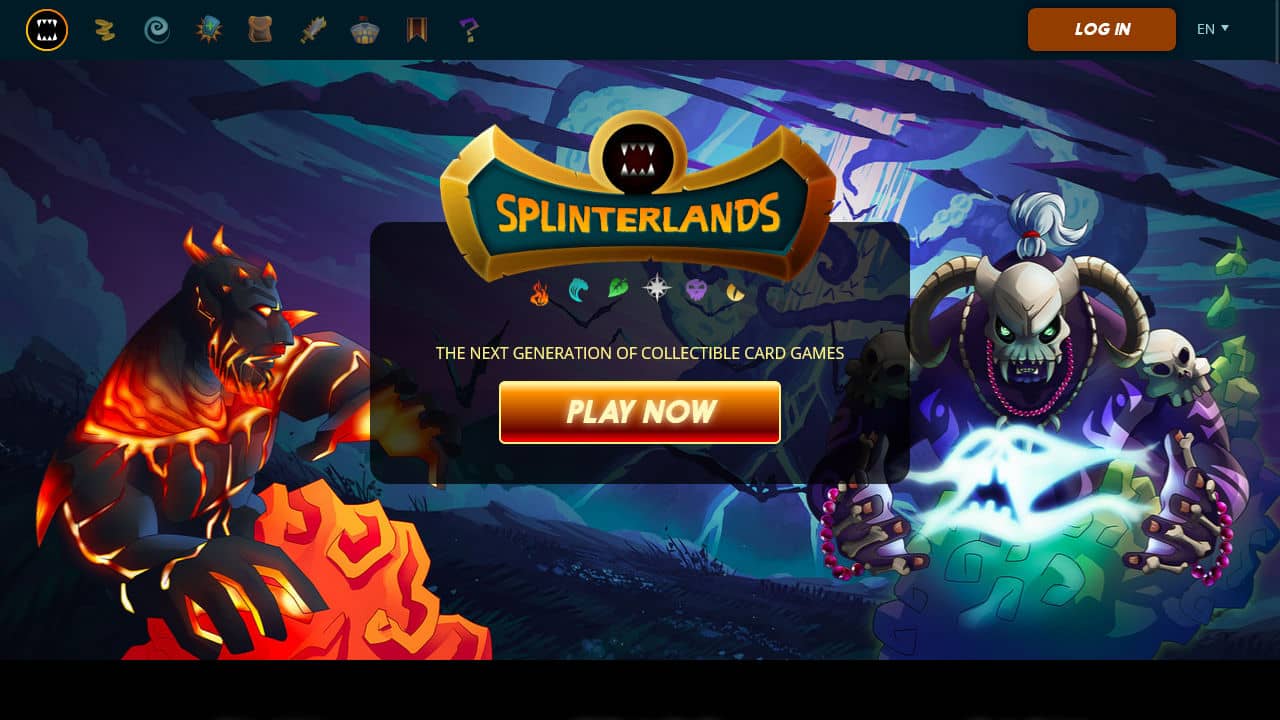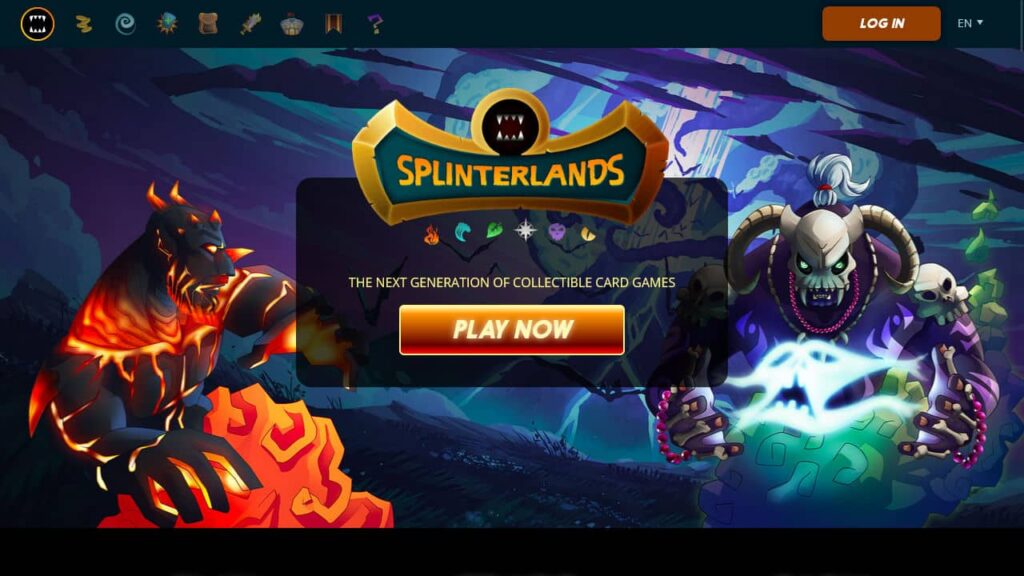 Splinterlands is a pay-to-play (P2P), play to earn P2E TCG. All cards earned are NFTs that can be sold for crypto on the marketplace. Additionally, you can opt to keep possession of your cards, but rent it out to other players for an agreed-upon timeframe. In exchange, you will receive an in-game currency called 'Dark Energy Crystals.' These too can be sold in the marketplace. Although the game is advertised as F2P, it actually has an initial cost of $10 USD for a 'Summoner's Spellbook' that grants you access to the rest of the in-game content after you have completed the tutorial. Then, you can begin to earn free cards.
Getting started:
Before you can get started you will need to:
Register with the platform
Connect with a compatible wallet such as Venly, Wombat or Metamask
Log in
Play through the tutorial
Buy a Summoner's Spellbook for $10 USD
Congratulations, you're ready to play!
After paying the initial entry fee, it is possible to earn Dark Energy Crystals by playing through daily quests and entering tournaments, among other options. These Dark Energy Crystals can be used to open packs, rent cards and upgrade cards, among other functions.
Unlike many other CCGs, Splinterlands does not offer you the rapid progression and multiple free packs that other games usually offer new players, instead, these rewards need to be earned through gameplay. The native cryptocurrency is the Splinterlands (SPS) token that is issued as a reward for ranked battles, sales and other facets of the game. It can then be used for staking and governance, or to make in-game purchases. The in-game economy can be a bit overwhelming to newcomers, but fortunately, there are many beginners guides available on YouTube to help you get started.
Splinterlands is available on desktop, Android and iOS and has cross-compatibility with other blockchains such as Ethereum, Tron, and WAX.
Website: https://splinterlands.com/
4. Skyweaver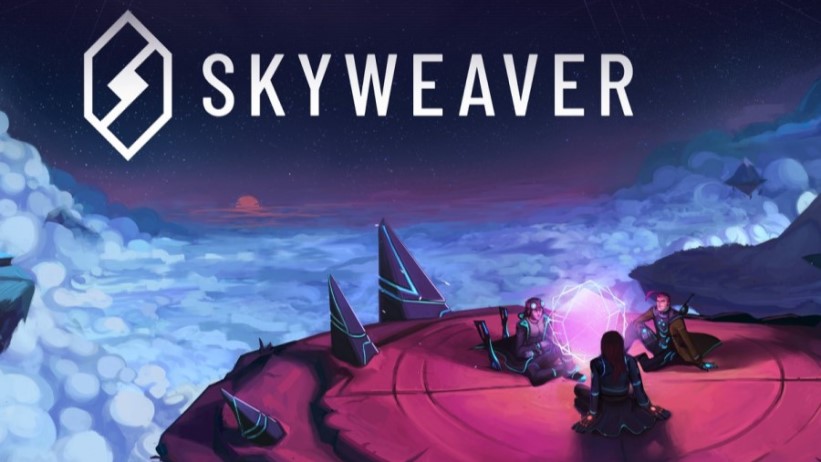 Skyweaver is a f2p TCG that is built on the Polygon blockchain. Although still in open beta, it is already quite popular in the crypto community. All cards earned, aside from those in the starting decks, are NFTs. However, the 600 Base cards cannot be traded. Only the Silver and Gold-tier cards can be sold.
Getting started:
In order to begin playing, you will first need to:
Create an account by following the steps
Download and install the dApp
Create your Sequence Wallet
Congratulations, you can start playing the game!
You can already begin playing the tutorial while your game is downloading. As you proceed through the four tutorials, you will unlock new Heroes, a starter deck and cards. At levels 3, 6, 9 and 12 you will unlock more Heroes and free starter decks. There are several modes to choose from, all of which award you XP. A notable mode includes 'Discovery' which allows you to play a randomized deck without you needing to create it yourself. Winning ranked games will earn you Silver NFT cards, while Conquest matches will earn you Gold NFT cards. Gold NFT cards are limited edition and only ever available for one week at a time, never to be made minted again. However, the Conquest mode requires either USDC or in-game currency to enter.
There are no daily quests to fulfil. Instead, the more you play, the more XP you gain and the quicker you level up to earn more free base cards. These cards can then either be added to your decks or sold on the marketplace. Once you have completed setting up your account, you can begin building your decks, buying cards and playing against other players. The base cards can be earned through regular play, while exclusive Silver and Gold cards can only be earned through Ranked and Conquest play. Skyweaver is accessible on Windows, Mac, Linux, Android and iOS.
Website: https://www.skyweaver.net/get-started/
5. Kingdom Karnage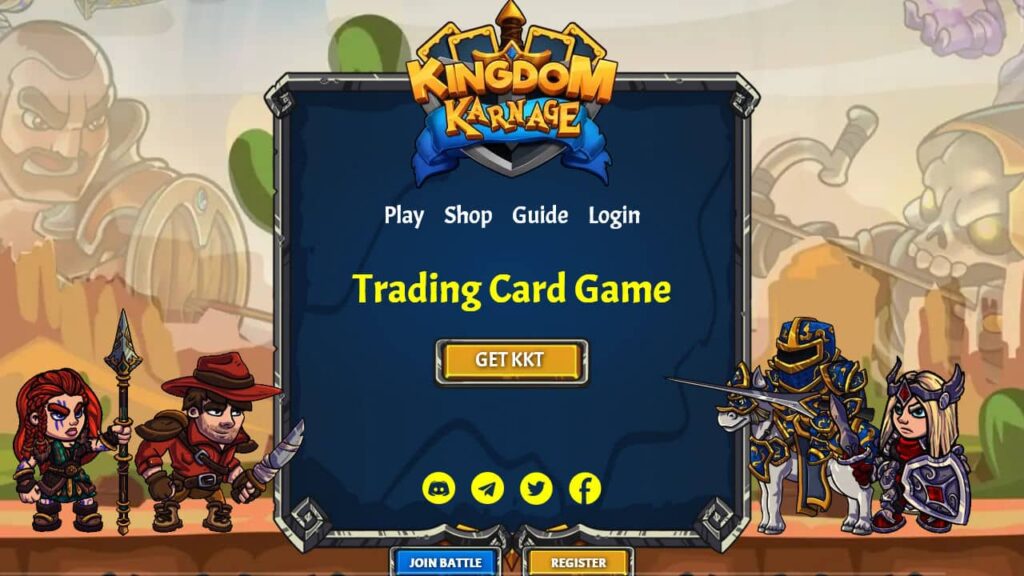 Kingdom Karnage is a combination TCG and dungeon crawler game, where cards are used to progress in the game, fight monsters and unlock new dungeons. It is built on Enjin, which is an Ethereum-based platform. Essentially, it is something like playing your cards and then watching them engage with one another physically on the screen as characters, instead of as still animations. Additionally, the character cards will slowly move towards the enemy Hero until they are close enough to strike it. The goal is to prevent any enemy characters from coming close enough to strike your Hero, while also getting your own characters within striking distance of the enemy Hero. It is currently in open beta.
Getting started:
In order to begin playing, you will first need to:
Register on the website or with the app, if you downloaded it
Confirm your email address
Login to your account
Choose your username
Congratulations, you can start playing the game!
To begin with, you will be prompted to play through the 40 Tutorial levels. Each level is very short, as it teaches you one aspect of the game at a time and earns you one more character card to add to your collection. These form the base collection with which you can begin playing the game properly. However, you can also choose to stop playing the tutorial to try the other modes if you would like. But this is inadvisable since you will not yet have the basis for a complete deck, nor will you fully understand the mechanics of the game. Other modes include solo modes, such as the Campaign and Dungeons, while there is also PVP and Challenge modes that allow you to play against other players. Progressing in these modes will award you with cards, Kingdom Karnage Tokens (KKT) and other awards. There are also other modes besides. Two copies of a card can be merged to upgrade them into a more powerful card.
It is available on browser, Android, Steam, iOS and Abyss. An advantage to playing on Mobile over desktop is that you have the option to watch an advert to earn 'prize power.' This can then be used to enter ranked gameplay and dungeons. Full details of the game's economy and progression system can be found on the website and in YouTube tutorials.
Website: https://www.kingdomkarnage.com/
6. Beserk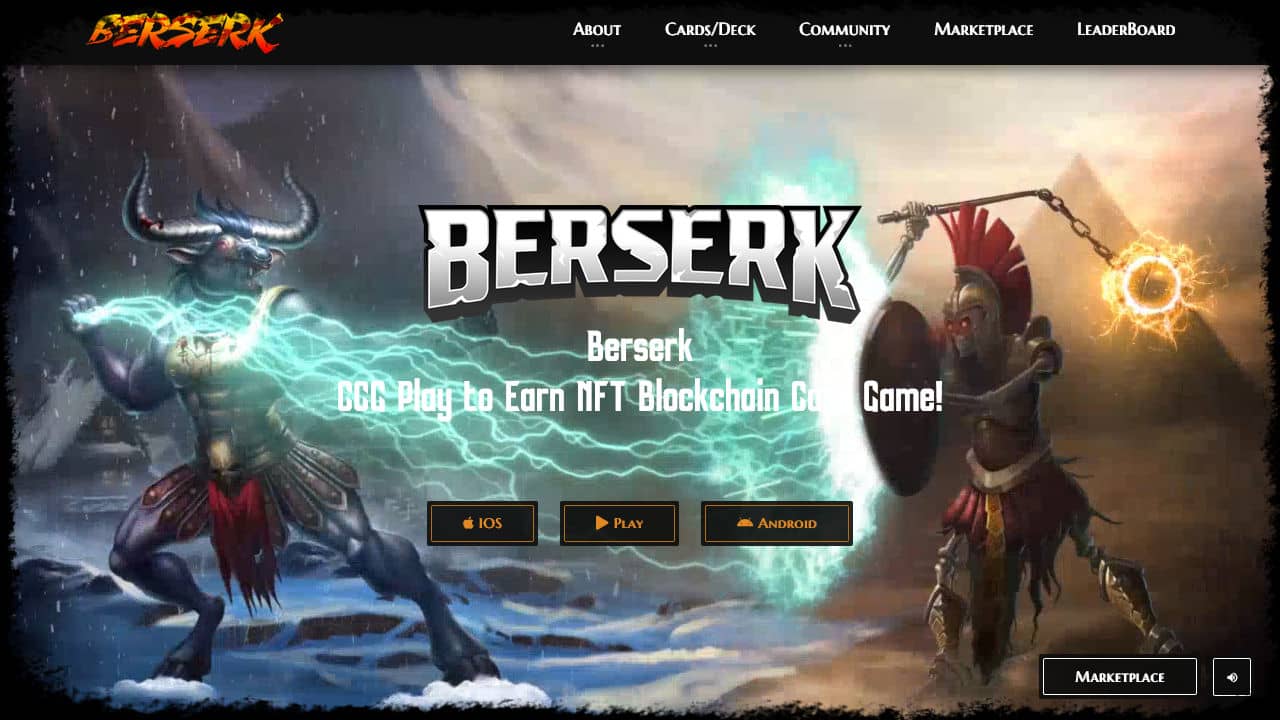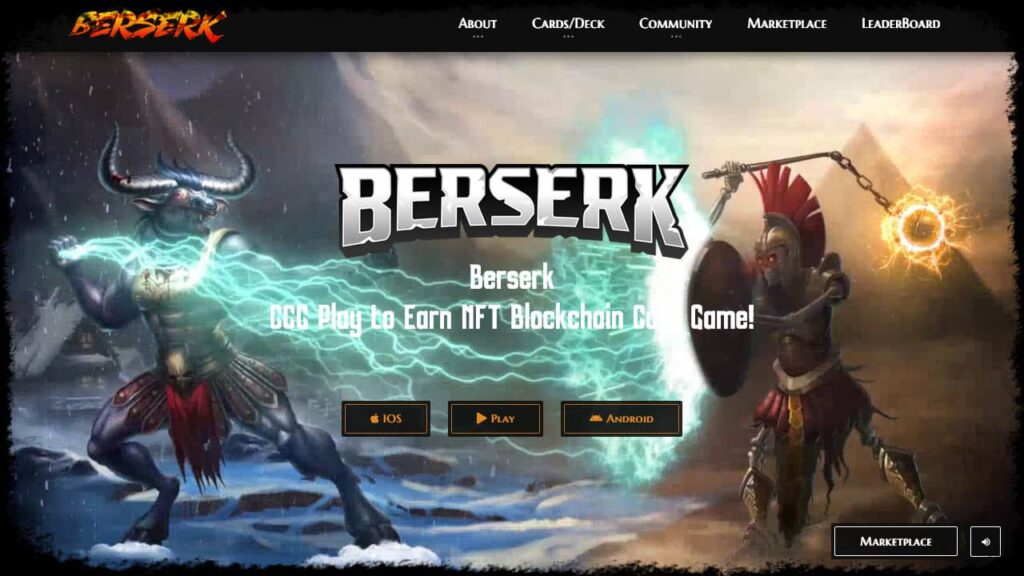 Beserk is an F2P, P2E blockchain-based TCG that was developed by Vulcan Forged and built on the Polygon blockchain. It is a fast-paced strategy game that is inspired by Greco-Roman fantasy settings. When you sign up, the game will automatically create an on-platform Venly wallet for you. You will only need to connect another wallet if you would like to trade off-platform. Its native token is $LAVA, which is earned through winning ranked matches. $LAVA can be traded for $PYR or $USDC in Vulcan Forged's cross-chain exchange, VulcnaDex. $PYR is the cryptocurrency of all games that are developed by Vulcan Chain, meaning that any $PYR earned in-game can also be used in any of their other titles as well, since the Venly wallet is connected to VulcanForged.
Getting started:
Before you can begin playing Beserk on your PC, you will first need to:
Register on VulcanForged's website. This will allow you to pay all of their NFT games, including Beserk
Confirm your email address
Create a Venly wallet (automatic prompt)
Use Google Authenticator mobile app to complete authentication
Login to your VulcanForged account
At the top of the page, click the 'Games' tab
Scroll down to 'Install Launcher' under the games selection and then download and install the launcher
Scroll down to select and install 'Beserk'
Congratulations, you can start playing the game!
Once you have logged into the dApp, you will be prompted to choose between one of eight avatars called 'Vulcanites.' This will remain your avatar during every match you play. You begin with two free 30-card decks that are associated with the avatar that you chose. There is no tutorial nor free packs to start out with, but you can read the game rules here. There are currently only two types of cards in the game, namely Creature cards and Spell cards, with 5 rarity levels.
When you begin playing, you can begin in the 'Starter league,' which is only for 'common NFTs and Vulcanites up to level 1' so you do not need to be worried about facing advanced players right off the bat. Additionally, as there is a small player base, you are more likely to be paired up with bots to begin with. That said, it is still not so easy to win when you start out. As you win matches, you will be awarded XP and $LAVA. Each turn cannot exceed 62 seconds, which keeps the game fast-paced, with no room for analysis paralysis. It is available on Desktop, Android and iOS.
VulcanForged website: https://vulcanforged.com/
Beserk website: https://berserk.vulcanforged.com/#
7. Spells of Genesis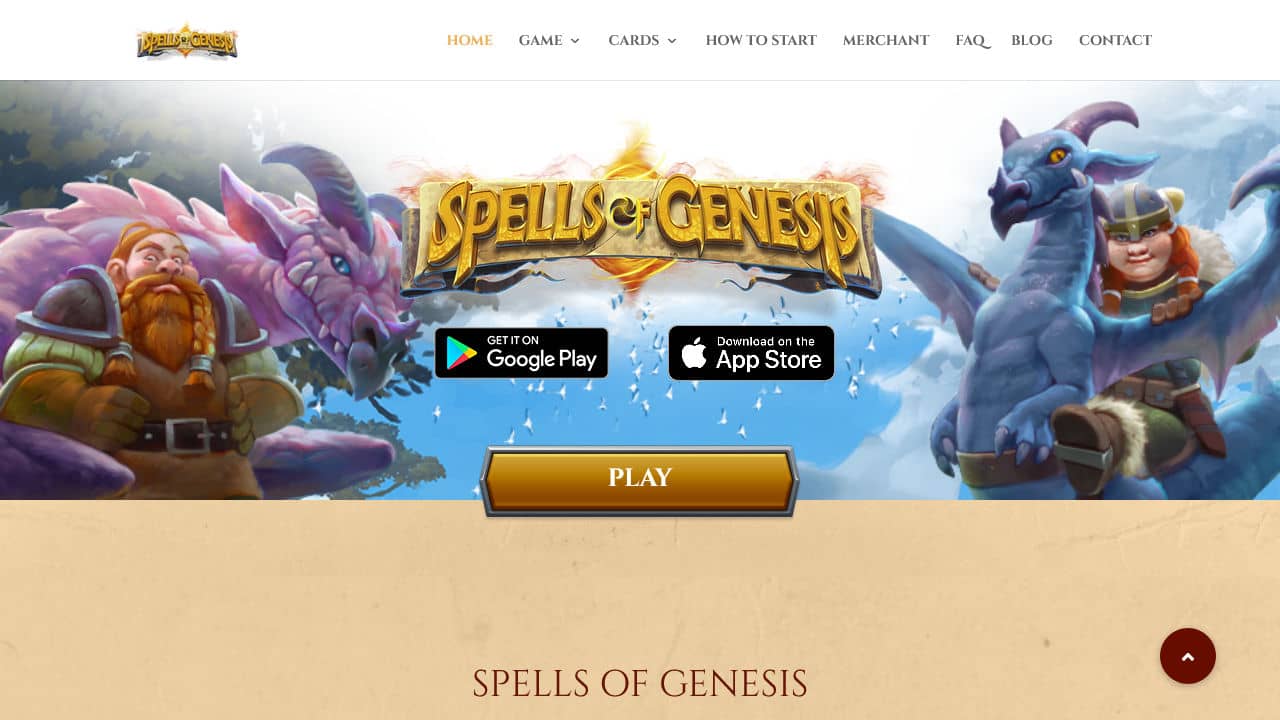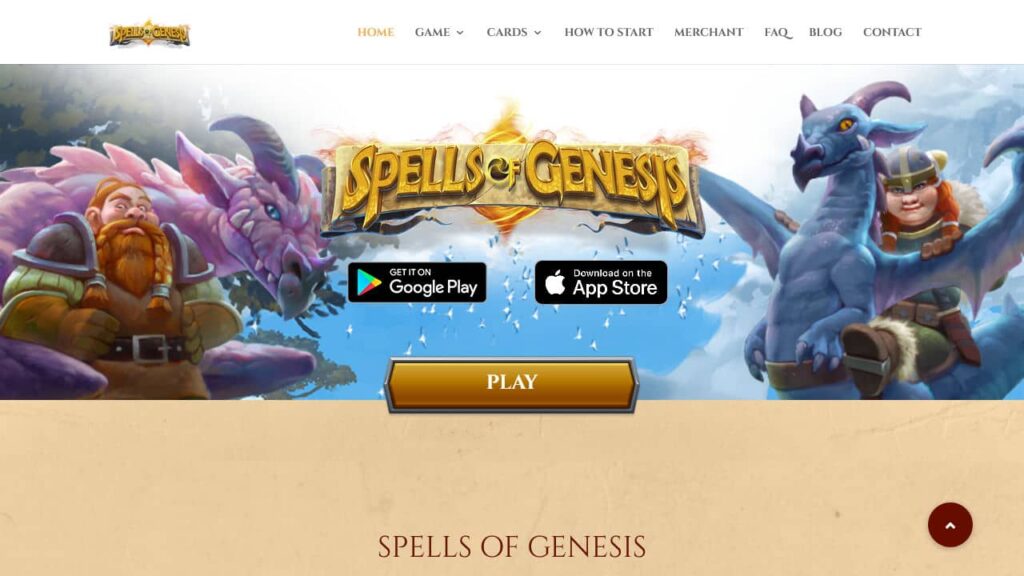 Spells of Genesis is an F2P, P2E PvE and PvP semi-blockchain based game that uses an interesting spin on the TCG genre, in that it combines TCG with a point and shoot mechanic. It has been around since 2015, and plays a bit like using a combination of pinball and pool skills to line up good shots, kill the nearest threats while factoring in your cards' effects. It is a multi-chain game that supports Ethereum, Counterparty (based on Bitcoin blockchain) and Klaytn.
Getting started:
• Scroll down and select 'Play on Desktop' on the website's homepage
• Agree to T&Cs
• Play the Tutorial
• Register with the platform (Yes, you can play through the first few levels, earn gold, unlock cards and upgrade cards without registering first. However, once the tutorial is complete, you will need to register to proceed.)
The game design is obviously optimized for mobile devices, but it is still legible on a desktop computer. In this game, users build a four-card deck to complete PvE campaigns which will reward them with gold and XP. Gold can be used to unlock new random cards that can be of any rarity, while XP will help them to level up for levelling rewards. Each card provides different skills that will pop-up during gameplay and only activate when hit. This adds an extra layer of skill and strategy, as you might want to keep an ability for a bigger monster, since each card's ability only appears once per round. Players can play through the campaign mode to unlock base cards and use the other rewards to unlock new cards. Howeverr, progress is slowed down by the need for energy to perform campaigns, raids and PvP challenges. Energy is gained through waiting for restoration, or by using gems to unlock energy.
Other in-game rewards are awarded for completing daily quests and achievements. These include crystals that can be used to upgrade your card. Unwanted cards can also be sold for crystals through a process called 'crystallization.' The higher the rarity of the card that you crystalize, the more crystals you will receive. Cards can be upgraded through levelling them up with gems and then fusing two max-level version of that card. Another in-game currency is gems. These can be used to purchase rare and epic-tier cards. The P2E and trading aspect is not a major aspect of the game, as cards collected are not automatically NFTs. This means that you do not need a wallet to play. Rather, it is only when a card is 'blockchainized' and transferred to an off-platform wallet that it can be traded either on the on-platform store or elsewhere for crypto. Once it is transferred to a wallet, that card will no longer be available in your card pool, so you will not be able to play it. This game is available on desktop, Android and iOS.
Website: https://spellsofgenesis.com/
8. Contract Servant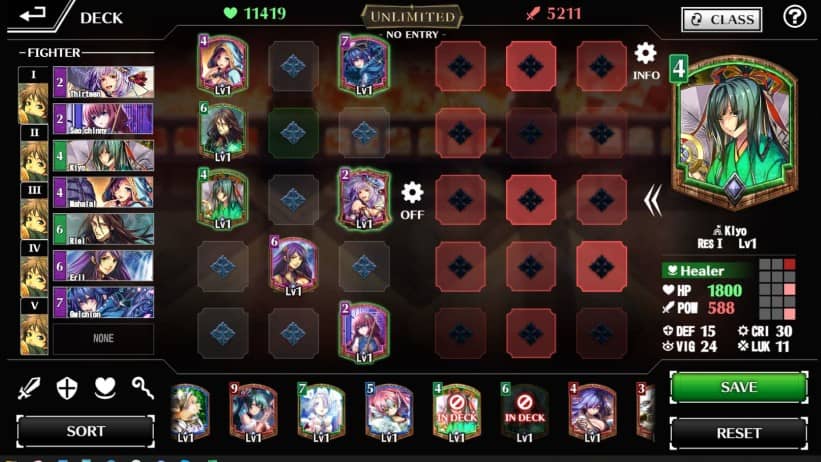 Contract Servant is an f2P, P2E strategy TCG that originally launched in February 2020, and is built on the Ethereum blockchain. It is an anime-style Japanese TCG with a mythology that incorporates Judeo-Christian theology very loosely into the Contract Servant's fantasy world. Be warned, the English reads a little second-language, but it is understandable. The female characters also have a standard waifu design. It also combines elements of auto-chess games in that card placement matters as once placed, the match will automatically play out between you and your opponent with card placement determining which of your opponents' cards will be hit by your cards' (contract servants') abilities and vice versa, as well as the fact that duplicate copies of a card will automatically combine to form a more powerful version.
Getting started:
Connect your MetaMask wallet to the site
Click 'New Game'
Follow the registration steps
Sign In with your wallet
The goal of the game is to contract servants, in the form of cards, and to build a deck of them in order to progress through the PvE tower in order to become one of the 13 top challengers in the kingdom. As you win matches, you will receive rewards in the form of more cards, experience and in-game currencies called 'Servant Souls' and 'Tower coins.' Servant Souls can be used to form contracts with new souls, meaning you can buy more cards.
Since each card interacts with different squares on the board, card placement requires a lot of consideration and skill. The playing field is called the 'deck' and each player can choose up to 8 cards to include in their deck for each match. Each match comprises eight rounds, and whoever has the most cards remaining at the end of the match, wins. Cards can also be levelled up with Contract Servant Coins (CSC) that are earned through gameplay, as well as through playing through the card's story mode. Cards can also be bred through 'mixing' to create new cards. This can only be done once per servant.
During PvP or non-tower PvP play, you will not be able to see the opponents' card placement until the match beings, which makes covering as many of your opponent's board squares as possible for attacks more important, as well as covering as much of your own board with healing abilities more important. Additionally, cards can be traded and sold on the marketplace for ETH. This game is available for Google Chrome, Firefox and iOS.
Website: https://cscg.jp/#unsupported