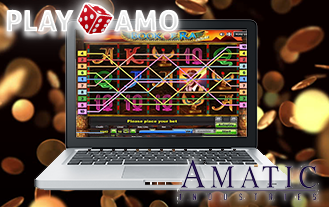 Time to play on Amatic slots and get your piece of the €5,000 in prizes with Playamo's Maximum Madness! Winning is simple and fun. You just need to follow some simple rules while you kick back, relax and play your favorite Amatic slot games. You can take advantage of this special promo from now until January 16th, 2017, so just take a look at the instructions to win bigger with Playamo!
Playamo's Amatic Maximum Madness Promo
Participating in this huge event is quite simple. The only thing you have to do is follow these instructions while you play on any Amatic slot:
Land a prize/bonus game on any Amatic slot.
Get your bet multiplier in the prize/bonus round.
If that multiplier is over x100, take a screen shot.
Send a copy of your screen shot to affiliate@playamo.com, within 24 hours of taking it.
The minimum bet valid to participate is $0.5 / €5 / 5 NOK / 5 SEK / 30 RUR / 0.0025 BTC.
You can send as many screenshots as you can until January 16th, so make sure you catch them all! All the multipliers you get and send a screen shot of, keep adding up and the amount you can send is unlimited. Playamo will keep score of the top multiplier getters on their Amatic score table.
What are the prizes?
If you have the most multipliers by January 16th, you can win up to €700. Here is how the distribution of prizes among winners will go:
First place – €700
Second place – €500
Third place – €400
Fourth place – €250
Fifth place – €110
Sixth to tenth place – €90 each.
Eleventh to twentieth place – €80 each.
Twenty-first to thirtieth place – €70 each.
Thirty-first to thirty-ninth place – €60 each.
Forty-first to fiftieth place – €50 each.
So what are you waiting for? This is an amazing opportunity to win and then win some more with Playamo and Amatic. Start accumulating multipliers today, and make your winnings bigger with Maximum Madness! It is time to make those jackpots fatter, win, and then win some more!