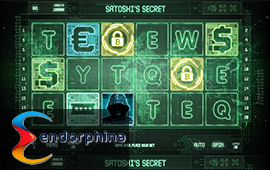 The day has finally arrived: the world is now able to experience the first ever Bitcoin-themed casino slot game, Satoshi's Secret.
Casino gaming provider Endorphina has released its much anticipated new casino slot game that will be focused on the cryptic and mysterious world of Bitcoin. The goal is to secure the passwords of unsuspecting people and essentially 'hack' your way towards winning their Bitcoins. It's a playful take on the dark and mysterious world of Bitcoin and cryptocurrency, which is sure to excite many players new and old. Players will feel like they are thrust into the world of cryptocurrency and computer hacking in order to secure passwords through the slot's reels where they can win big.
For a company with some very interesting games already, Endorphina has really stepped up to the plate in a big way to create a very cool game that is sure to attract many Bitcoin enthusiasts to the casinos. There has always been a mystery to the man behind Bitcoin – Satoshi Nakamoto – and this new game aims to take advantage of that.
We're always looking for new and exciting games that don't fall into the classic cookie cutter mold of Bitcoin casino games, and Satoshi's Secret is just that – a fun and new type of game with an exciting and dark theme that just draws you in. What more could you want?
Currently, Satoshi's secret is only available on a few Bitcoin casino sites, including BetChain Bitcoin Casino, which was the first Softswiss casino site to adopt Endorphina games.