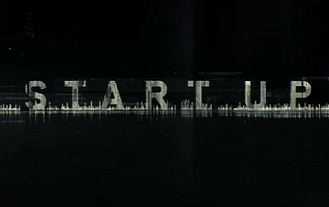 Imagine Satoshi Nakamoto hitting the pavement, knocking on every single door asking for the biggest financial institutions to fund this new currency that would put them out of business. That more or less where the plot of Crackle's new series 'StartUp' starts. Sony's very own streaming subsidiary is trying to get in the streaming game where well-established giants like Netflix roam, and this latest addition to its repertoire of original series, is quite fitting.
The Plot
The basic story line gets to the core of all the misperceptions, wrongdoings and the potential to materially change the fate of those who do not have access to the financial system that bitcoin's existence has brought to the fore. A university dropout with a brand new cryptocurrency named GenCoin, runs into a financier at a bank who is being followed by a federal agent that is after his father. His father has given him some money from illegitimate business, which he takes to GenCoin's creator after the bank turns her down. GenCoin's creator has no other option but to take the money in order to get her project started. In the middle there is also a little-Haiti gangster who is brought into the whole mess, attempting to get a better life for him and his family.
Beyond the Plot
StartUp may or may not enjoy commercial success, nevertheless it is the first attempt at depicting bitcoin and the whole cryptourrency movement in a TV series without going into the misconceptions outright. The first episode presents a balanced approach and depicts GenCoin as a potential solution for many of the world's financial woes. It also presents a balanced picture of how cryptocurrencies have been used by people for various motives.
The best line in the first episode that shows the degree of openness towards cryptocurrencies that has been lacking so far in TV series like CSI Cyber, is when the creator of GenCoin tells the bankers that money corrupts people basically as much as people corrupt money. That is certainly a line of thought that would go well with the members of bitcoin community and cryptocurrency enthusiasts, given how they have been vilified by people with a limited understanding of what the stand for.
Sony's Crackle pulls Bitcoin out of the Shadows
By centering the whole series on the invention, funding, launching and implementation of a cryptocurrency that would serve the greater good for the sake of mankind – despite that it was funded with dirty money – Sony's Crackle is doing bitcoin some cultural justice. This portrayal of the financial industry and the need for better systems that can give financial coverage to those who do not have it, helps vindicate the values of bitcoin and other cryptocurrencies.
Hopefully this series will have commercial success and will become a major positive cultural reference to bitcoin and other cryptocurrencies, which have been bashed because a few users with obscure intentions used these wonderful instruments to commit their crimes. It is only fair that this series succeeds and that its viewers remember that people can corrupt money as well.