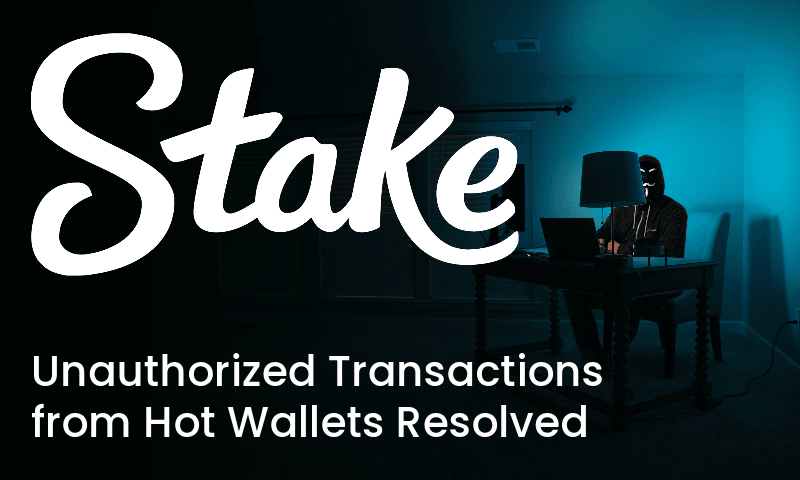 Stake has successfully addressed unauthorized transactions that occurred hours ago from its Ethereum (ETH) and Binance Smart Chain (BSC) hot wallets. The security breach was met with a swift response from Stake's team, resulting in the investigation and resolution of the issue.
The popular online crypto gambling site temporarily suspended all deposits and withdrawals following a significant security breach which resulted in the theft of over $41.3 million. This incident, stemming from the exploitation of a private key leak, has sent shockwaves throughout the crypto community.
The unauthorized transactions temporarily affected the accessibility of these hot wallets, causing concern among Stake's users. However, Stake has assured its community that user funds are safe, and all necessary measures have been taken to secure the wallets.
Stake has a robust security infrastructure in place to safeguard user assets. Hot wallets hold just a small share of crypto reserves, yet the incident has emphasized the value of being consistently watchful and swiftly addressing safety concerns.
A welcome development, Stake shares that its services are currently operating normally. With each transaction, instant processing of deposits and withdrawals is achieved. The team at Stake and Ed Craven recognizes the annoyance this issue might have caused and thanks its users for their perseverance and confidence.
According to Stake and its founder Ed Craven, none of their wallets, including those for Bitcoin (BTC), Litecoin (LTC), Ripple (XRP), and EOS (EOS), have been affected by the recent situation.
The incident underscores the importance of prioritizing user protection and security in an environment marked by innovation and potential.