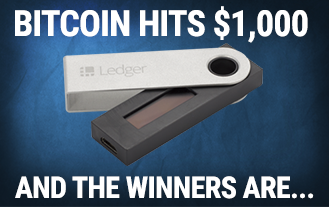 It finally happened. Bitcoin surprised everyone on January 1st, 2017 when it surpassed the $1,000 USD mark, and two of our readers who made the most accurate predictions, won a Ledger Nano S wallet. Both readers were the most accurate in their predictions and had the closest guess in terms of the time and date in which bitcoin finally climbed back above $1,000 – at 8:29 pm UTC.
One prediction on Facebook and another through Twitter
We were supposed to reward one winner only, but we decided that we had to give out two prizes because both readers gave very accurate predictions over 2 different channels. One of our readers made a prediction on our Facebook page and the other did so through twitter. We are more than happy to reward both of them.
The winners are…
The readers who had the closest predictions are Harry Hamilton, who made his prediction on Facebook, and @Cleverfruit, who made a clever and pretty accurate prediction on Twitter. Our staff will contact both readers to get the details necessary in order to deliver the Ledger Nano S wallets. Hopefully they will both use their skills to earn more coins and keep them in their new wallets, where they will be safe in cold storage.
More Bitcoin Chaser Games to Come
This Bitcoin Chaser game which was the first of its kind was a lot of fun and got a lot of great responses from our readers. We will be coming up with more games for you to participate in, with cool bitcoin and cryptocurrency prizes for the winners. Everyone will be able to participate including Harry and Cleverfruit. We look forward to launching our next game and we hope that you will enjoy participating in it as much as we do, so make sure you follow us on our site and on social media.