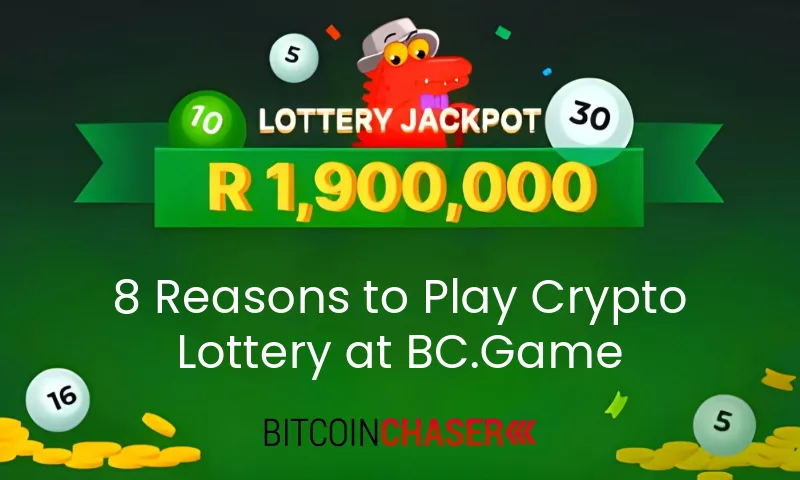 BC.Game, renowned for its original games, sports partnerships, and diverse cryptocurrency options, offers an often overlooked gem on its platform: BC.Game lottery.
There are a growing number of good crypto lottery sites out there. From all the casinos we have reviewed on BitcoinChaser, we count at least 42 different gambling sites offering lottery. And some of these offer original lottery games with unique features like BC.Game.
But allow us to shed light on why BC.Game lottery is among, if not, the best crypto lotteries you can play.
1. Provably fair lottery experience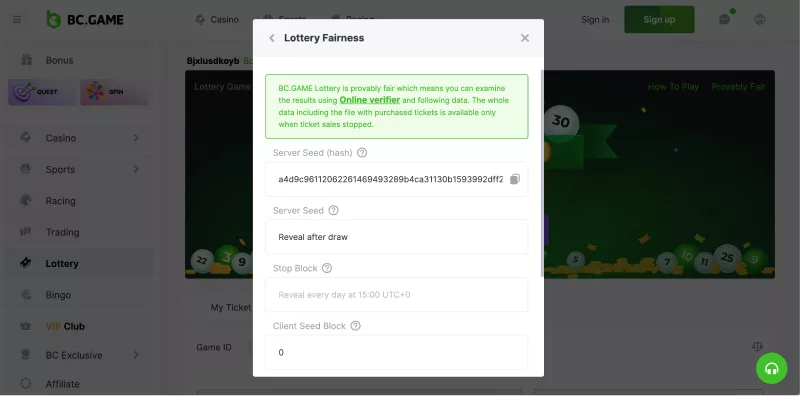 BC.Game's lottery employs provably fair gambling technology, ensuring complete fairness and transparency in the draw. You have the power to verify the results of the draw yourself using the tool right on the website.
From our experience of online gambling sites that use provably fair technology, BC.Game does a good job of explaining how the technology works and how a new user can use it to check results.
2. Start small and win big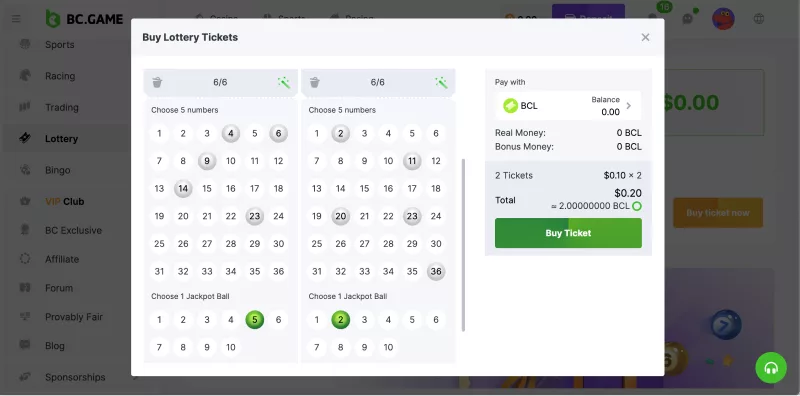 In true BC.Game fashion, their lottery is incredibly accessible. It isn't restricted by a leveling system or exorbitant costs. With a mere $0.10, you can secure a ticket. Whether you opt for one or a hundred, the choice is entirely yours.
3. Cryptocurrency convenience
The platform offers the flexibility to purchase tickets with any cryptocurrency that is supported on BC.Game. This is especially noteworthy when you consider the fact that BC.Game accepts over 100 different crypto coins.
At BC.Game you can deposit and play in everything from Bitcoin and Ethereum to Binance Coin and Matic. This is a lottery for whatever cryptocurrency you want to use.
4. Chase the $100,000 jackpot
While the entry fee remains modest, the potential jackpot prize of $100,000 is anything but. Already, four fortunate players have claimed this life-changing sum. Imagine, all from a small lottery game.
To clinch the jackpot, you must match all five numbers along with the Jackpot Ball.
5. Share the thrill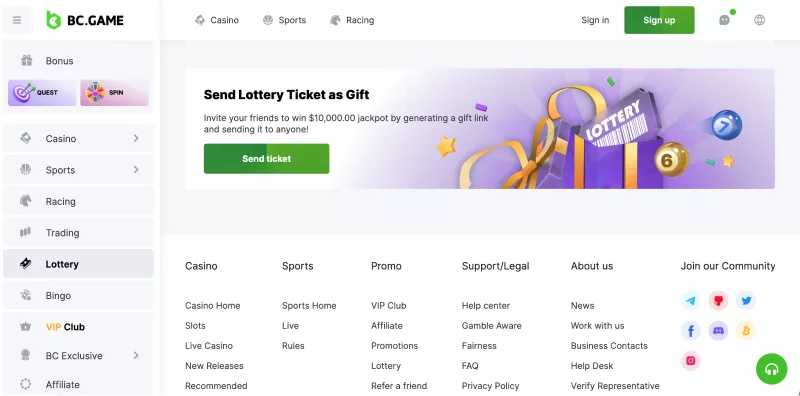 Gifting a lottery ticket to a friend is a breeze. Simply visit the lottery page, purchase a ticket, and receive a shareable link. It's a thoughtful present that's both convenient and quick, making BC.Game your go-to for those last-minute birthday surprises.
6. Enter the world of BCL tokens
BC.Game introduces BCL (BC Lottery) tokens exclusively for the lottery. You can exchange BCL for lottery tickets, swap them through BC Swap for other cryptocurrencies, or even share them with fellow community members or on social media.
Notably, 1 BCL is equivalent to $0.10, the same price as a lottery ticket.
7. Daily lottery draws
You can play the lottery at BC.Game every day. There are actually three draws per day, occurring every 8 hours: at 00:00, 08:00, and 16:00 UTC+0. So you can play whenever you like, which is especially good for those days when you feel like you have luck on your side.
8. Easy to track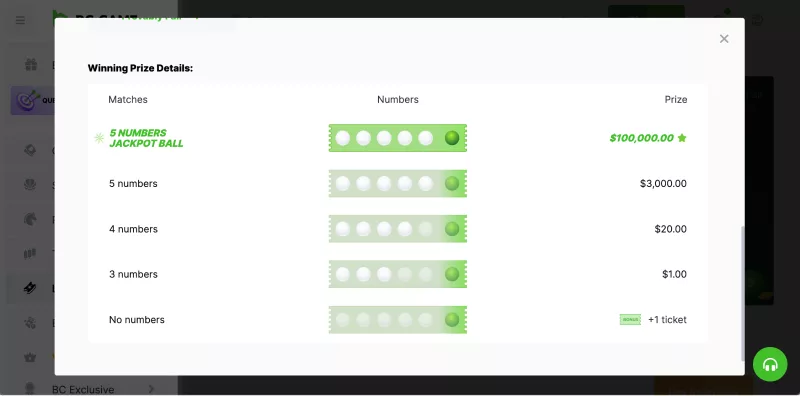 We have all heard horror stories of lottery tickets being destroyed in the washing machine and lost (including one curious case where a man in Tennessee lost and then found his ticket), but with BC.Game's easy-to-use website, it is easy to track all tickets you purchased in the past and track any winnings.
Steps to play BC.Game lottery
Now that we have explained everything we love about BC.Game lottery, let us walk you through how to take part in the next draw:
Create an account on BC.Game.
Deposit cryptocurrency into your account.
Head over to the BC.Game lottery page and select 'Buy ticket now'.
Choose 5 regular numbers and one Jackpot Ball number per ticket. Feel free to purchase as many tickets as you like.
Select the cryptocurrency you wish to use for purchasing your lottery tickets.
Await the announcement of the winning numbers and check if you're a winner.
Discover more casino games at BC.Game
On top of the lottery, BC.Game offers a whole range of original casino games for you to choose from. The standout titles include crash, limbo, classic dice, and plinko (to name just a few of the 30+ original titles).
One thing we love about BC.Game is the attention they give their games. The rules are clear, the games run smoothly, the provably fair tools are explained, and they look great.
Explore our picks for the best games at BC.Game, and get some inspiration for what to play next time you open the site.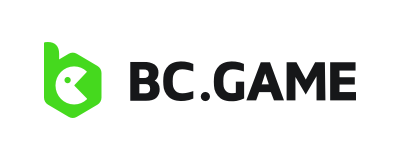 Bonus
Up to 180% first deposit bonus