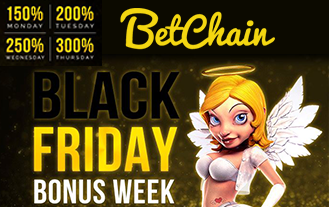 It is that time of the year again. Black Friday Bonus Week is here and our team at Betchain is ready to give you a high voltage jolt of bonuses! Our cyber geniuses have come up with a hack that will take this shopping season by storm! In the best spirit of the shopping season, we want you to win more during the week so you can spend more in the weekend. So we've come up with the perfect solution to help you unwind and win big: a lightning of generosity for our customers! Come and take advantage of our Black Friday Bonus Week bonus frenzy and get a chance to win big.
We decided that your deposit bonus will only be headed in one direction, and you know which! We took advantage of the spending craze to design the perfect bonus for you, the bonus you were shopping for. We are offering a progressive bonus for the first deposit you make every day on this Black Friday Bonus Week, so you can play, win and go spend with your earnings! Every day the voltage on our bonus will be higher, until it explodes! Start Black Friday Bonus Week off with a 150% bonus on your first deposit on Monday, follow it with a 200% bonus on your first deposit on Tuesday, top it off with a 250% bonus on your first deposit on Wednesday, and make it explode like a huge jackpot win with a 300% bonus on your first deposit on Thursday!
As if that wasn't enough, we are offering a surprise bonus. We are going to surprise the first 100 customers who make a deposit on any given day with a special weekend bonus. Come, deposit, get your daily bonus on the first deposit, and if you are within the lucky first 100 customers to deposit on that day, you will win an additional bonus on the weekend. Just make your deposit, then log into your account during the weekend and surprise! See if you were one of the lucky few to win an additional bonus!
You read it right! We decided to increase the amount of our bonuses as online retailers drop the prices of their products, and then we decided to surprise the first 100 customers to make a deposit, for a bigger chance to win! This lightning power play allows you to win more during the week so you can spend more during the weekend, and then you might win a little surprise over the weekend to go along with this exceptional Black Friday Bonus Week special. Tell your friends as well! This promo is a secret that even Satoshi will not be able to keep! But hang on, there's more voltage for everyone! Make a deposit in Euros or US Dollars and get the same progressive bonus this cyber week on your first deposit, and get a chance to get your surprise weekend bonus as well. So come and make your deposit for your chance to win, so you can spend on all the crazy deals you want over the weekend! Deposit, get your bonus, spin, and win, day after day after day until shopping weekend comes, and then some more!