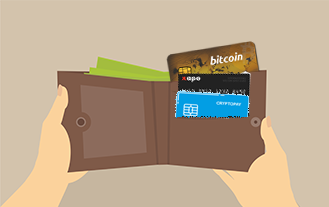 Chinese New Year is around the corner and the previous gift giving season stats are out. It would be interesting to see if gift giving for the year of the monkey, takes on the Bitcoin dimension that Christmas gift giving took on about a month ago. It seems that a more traditional tool gained importance among the bitcoin gift givers this season, at least in the US. Bitcoin cards, which function basically as a debit card, accounted for a significant amount of transactions leading up to the holiday season. The numbers from Coinbase's Shift card for example, hit a $1 million bitcoin spending equivalent since they were launched in November.
Shift cards would be perfect to purchase Chinese New Year gifts. It is customary in China to settle debts to welcome the New Year, so gift giving with debit cards should fit well with the customs. Unfortunately shift cards are only available for US customers. That leaves the field wide open for Xapo, Cryptopay and Bitplastic cards could cater to the gift giver in China. But regardless of the geographic limitations, there are other aspects that shoppers must look for in order to eclipse that $1 million bench mark set by shift card.
Costs and Fees
Geographic considerations aside, not all bitcoin cards were created equal. The costs of getting and operating these cards are different. As much as the world of Bitcoin is associated with the lack of fees, the truth is that many financial institutions that provide bitcoin related services charge fees. When it comes to cards, there is just no way of avoiding these costs. In other words, going mainstream has its costs. Fortunately there seems to be enough competition out there already to keep these costs in check, and at least these costs don't seem to exceed the costs of operating traditional fiat cards. Here is a brief description of each card's operating costs:
Shift Card
Card Issuance: $10.00 USD
Annual Fee: Free
Domestic Transactions / BTC to USD Conversion Fee: Free
Domestic ATM Withdrawal: $2.50 (depending on the ATM operator, additional fees may apply)
International Transactions: 3%
International ATM Withdrawal: $3.50 (depending on the ATM operator, additional fees may apply)
Notice that although Shift cards are only available to customers in certain US states, it can be used overseas as well as on purchases from overseas vendors.
Bitplastic
Card Issuance: 0.25 BTC
Annual Fee: Free
Conversion Fee: 5% BTC to Fiat
ATM Fee: $1.50 or equivalent
Withdrawal Limit: $200 USD or equivalent
XAPO
Card Issuance: €18.00 / £13.00 / $20.00
Annual Fee: €10.00 / £7.00 / $12.00
Purchase in Card's Spending Currency: €0.00 / £0.00 / $0.00
Foreign Exchange Purchase: 3%
ATM Withdrawal in Card's Spending Currency: €2.25 / £1.75 / $2.50
ATM Withdrawal in Other Currencies: €2.75 / £2.25 / $3.50
Pin Change Fee: €0.80 / £0.60 / $1.00
Card Replacement Fee: €10.00 / £7.00 / $12.00
Expedited DHL Card Replacement: €50.00 / £35.00 / $55.00
Cryptopay
Card Issuance: €15.00 / £15.00 / $15.00
Delivery World Wide: Free
Express Delivery World Wide: €70.00 / £50.00 / $75.00
Domestic ATM Transaction: €2.25 / £1.75 / $2.50
International ATM Transaction: €2.75 / £2.25 / $3.50
Foreign Transaction Fee: 3%
Monthly Service Fee: €1.00 / £1.00 / $1.00
Loading Fee: 1%
Now that the costs are clear, Chinese New Year gift giving with bitcoin can commence. Hopefully spending will eclipse that $1 million benchmark set by Shift card. It would be a significant step towards the mainstream for bitcoin.