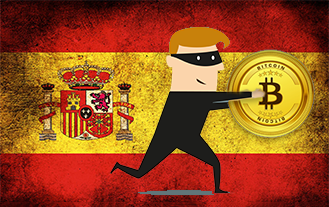 In yet another instance in which bitcoin is tied to criminal intent, a group of 30 people, operating out of 6 different cities in Spain, was detained this week. Europol official press releases sustain that the gang allegedly sold TV services illegally and could have sought to use the proceeds from their illegal activities to fund a bitcoin mining operation. The bitcoin mining operation is perceived to be the money laundering tool in their plan. However, even if this criminal association would have succeeded in setting up their bitcoin mining operation, they carried out their criminal activity using fiat. This should be the focus of the reports.
Bitcoin is not the Only Tool Available to Launder Money
The Spanish police raid, supported by Europol and other police agencies across Europe, highlights the fact that the primary laundering tool used, was not bitcoin. In fact Spanish police impounded more than 10 luxury vehicles as well as over €180,000. The assets in fiat and other durable goods seized, pale in comparison to the measly 73 BTC and bitcoin mining equipment that the alleged criminals possessed. This shows that bitcoin was not even the primary tool of the money laundering crime the detainees are going to be charged with.
Don't Drag Bitcoin's Reputation Down
The Europol report also states clearly that the money laundering operation did not hinge solely on the bitcoin component. However, bitcoin is singled out in the report and in subsequent media coverage about the incident. This again shows how officials and mainstream media are biased against the cryptocurrency, damaging bitcoin's reputation. The cryptocurrency is clearly not to blame for the incident, but it seems that highlighting its use by alleged criminals, helps the headlines.
Bitcoin Sells
This is probably how CNBC came up with its headline. It could also be the reason why Reuters uses the word 'bitcoin' 6 times in their short report as compared to the word 'money', which only appears twice. Even the term 'laundering' or 'laundered' is less frequently used in the report, getting 4 mentions. The Reuters note quoted by CNBC, uses the word 'Euros' only once, and it uses it in reference to the amount of bitcoin seized, completely ignoring the fact that Europol reported finding more than €180,000 in cash.
The Emphasis is not on the News
It is clear that due to the abuse of the word 'bitcoin' to sell the news, its reputation is tainted. Nevertheless, the way in which this incident was covered by some mainstream media outlets, shows how objectivity is the main victim here. The emphasis of these media outlets was clearly not on the news. If it were, then the dirty word should be 'Euros' and not 'bitcoin'.
Click here to read the Europol report, and here to read the CNBC report