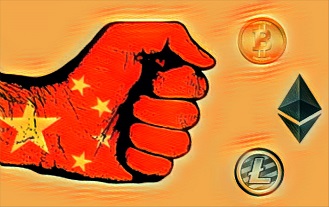 We all woke up this morning to yet another dip in bitcoin and altcoin markets. It seems that reports about a Chinese ban on Renminbi-cryptocurrency trading is doing the damage. Reports about a DDoS on Bittrex certainly didn't help either. Nevertheless, these are likely to be just hiccups in the long run. Bitcoin is technically stable for the foreseeable future, and so are other altcoins like Litecoin, Monero and Dash. So, who cares if bitcoin and other altcoin prices take a hit now?
Not Easy Waking Up to a 10% Loss
The answer to that question has to do more with the psychology of loss – as temporary as it may be. Bitcoin prices dipped by as much as 8.6% on Friday, while Ether went down by as much as 11% and Litecoin followed, bottoming at around $63 USD or 19% lower. Those who have a significant part of their funds in cryptocurrencies, felt the pain, and that is a powerful psychological driver. On average, losses affect us twice as much as gains make us happy. But besides the psychology of loss and the fact that this is the second time in about 6 days that this happens, is there anything else that should really scare us?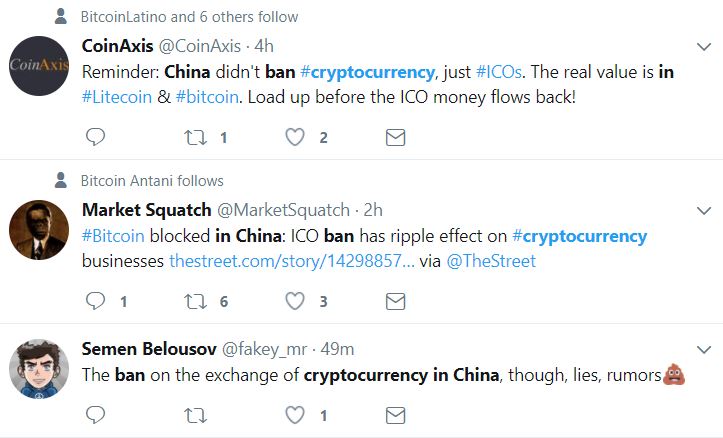 Choose the Degree of Risk you are Willing to Take and HODL!
At this point people must ask themselves how much they can stomach and have their portfolios reflect that. History has shown time and again that the main cryptocurrencies will recover, and although making a judgement based on history only can be perilous, there are more encouraging factors than discouraging ones. If China bans trading on Renminbi-cryptocurrency pairs, and if Bittrex suffers a DDoS attack, the long-term ramifications don't necessarily justify panic selling. In fact, there are traders who are just waiting for these market hiccups to buy more bitcoin or more altcoins.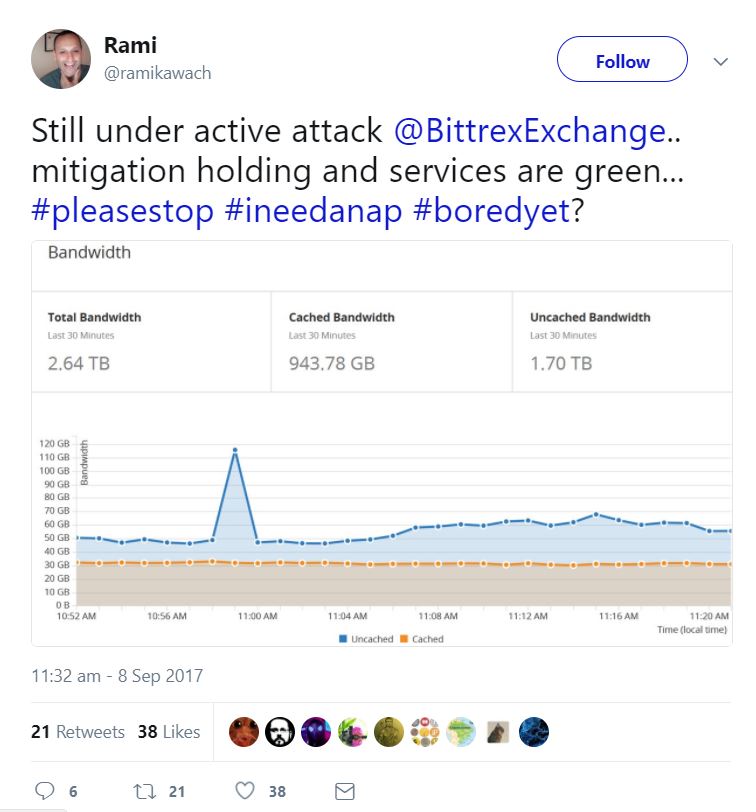 Because the World Hasn't Changed!
These traders might be outsmarting the sellers out there, because the focus of cryptocurrency prices shifted from endogenous to exogenous factors. This means every exogenous factor is at play, not only Chinese cryptocurrency trading bans. This week we wrote about tensions in the Korean peninsula as well as other better-known exogenous factors that can easily buoy cryptocurrency prices. A deeper look might reveal other exogenous factors that should be positioning bitcoin and other altcoins for a jump.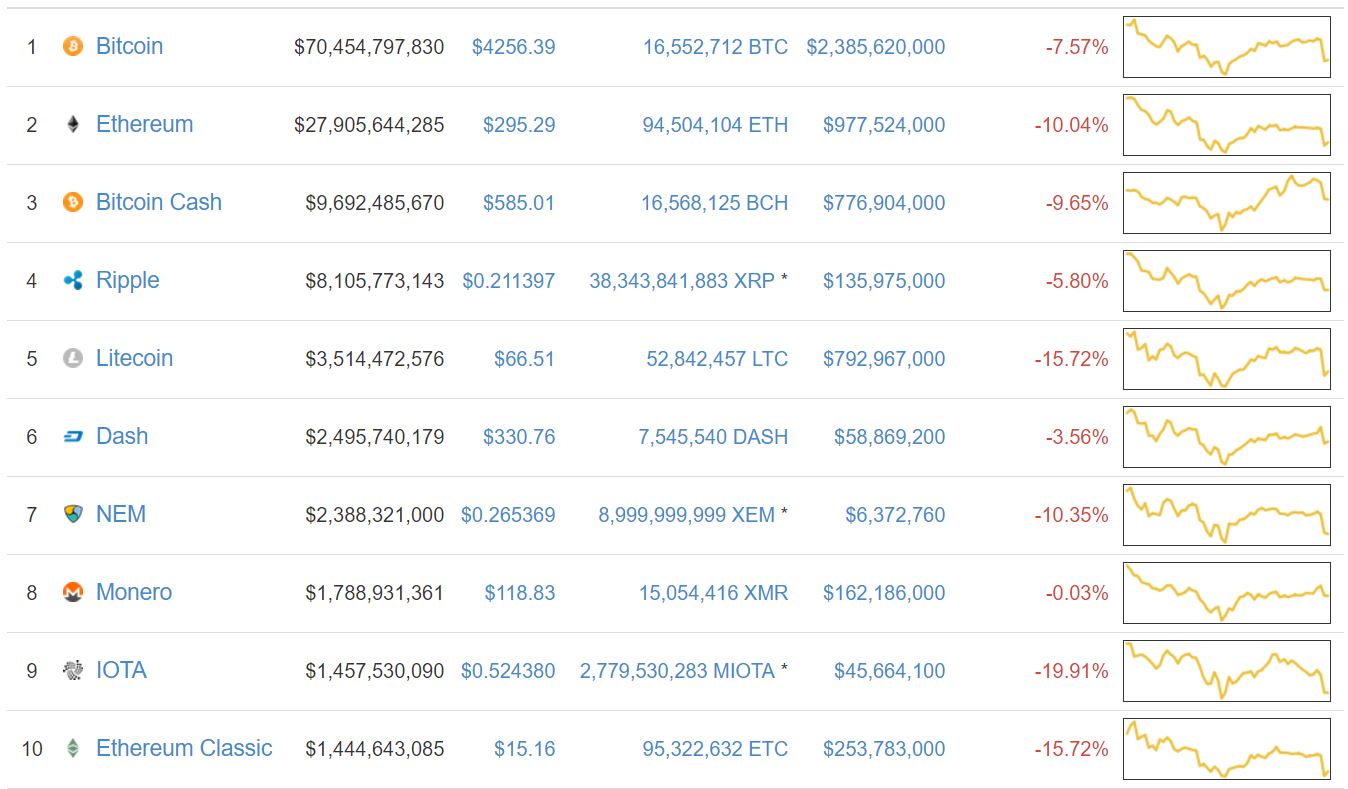 One of these exogenous factors is simply that the world and its financial system have not changed since bitcoin's inception. Back in 2008, financial markets crumbled. The ensuing financial melt-down was labelled the worse since 1929. Over-leveraged home owners and reckless Wall Street behavior coupled with the utter incompetence of regulators, brought us the crash. Bitcoin was designed to provide an alternative economic system. Believers should buy into that and understand it is a hedge, and they are likely to reap a reward because Wall Street is back at it, selling junk debt for billions.
Frank Partnoy Issues a Warning
It is easy for bitcoin and cryptocurrency enthusiasts to develop tunnel vision to an extent. To avoid this, it is helpful to understand where the conventional economy and financial systems stand right now. Frank Partnoy wrote an article about the overall health of these financial systems in the US, about a month and a half ago. While we were all consumed with questions about the hard fork and SegWit, Partnoy issued a stark warning. He told the world that Wall Street is selling rebranded toxic debt packages again.
Three Words for you: Exogenous, Exogenous, Exogenous!
So, the risk for another melt-down is there. If it happens, China's cryptocurrency trading ban and all the DDoS attacks on all the exchanges combined, will not be able to stop the meteoric rise of cryptocurrencies. Those who sell their holdings now, fleeing in panic, might live to regret it. Nevertheless, that is entirely a personal issue; it is all about people's appetite for risk and their ability to deal with the psychology of loss.
There is no way to tell what will happen in the future. Everyone has to come to terms with what they do, but all of us should be considering every exogenous factor. Governments can cause trouble, but somehow, they tend to wreak more havoc in the markets they should be able to control, than in those they can't. So, who cares if bitcoin and altcoin prices take a hit now?
Click here to read the reports about China's ban on the exchange of Renminbi-cryptocurrency pairs.
Click here to read Frank Partnoy's warning on toxic loan selling by Wall Street.