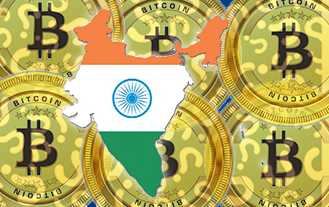 Bitcoin regulation in India might arrive before this summer, according to the latest reports.This move would contemplate also new taxation on the digital currency. The committee recently created by India's Reserve Bank to study cryptocurrencies and related efforts, will explain its considerations between May 15th and 20th. Then, the local government will be able to communicate its official decision about bitcoin regulation in India.
According to a press release officially published in Hindi and translated by Cointelegraph: "The government is planning to give Bitcoin a legal status. As per the exclusive information received by CNBC Awaaz, the government is planning to regulate Bitcoin and have necessary taxes on it. The common virtual currency, Bitcoin, is not currently regulated and the government has plans to do so. That means all the activities related to Bitcoin should be properly monitored (and) applicable taxes should be added. The RBI should have guidelines for investing in Bitcoin, sending and receiving money from abroad through Bitcoin should have guidelines from FEMA. Some members (of the committee) also say it should be banned. But the majority wants to regulate it. The proper regulations will be out by mid-May."
Digital Asset and Blockchain Foundation of India
A new group called Digital Asset and Blockchain Foundation of India – established with the main goal of representing the local bitcoin-related interests – is asking to play a role in the decision about the bitcoin regulation in India. Bitcoin exchanges Unocoin and Coinsecure, wallet service Zebpay and startup Searchtrade are among the members of this group. Now it is up to the government to decide whether or not it will consider the opinions of the members of the Digital Asset and Blockchain Foundation of India.
In a statement, the group explains the reasons behind its petitions: "We request the committee to give us an opportunity to meet them and showcase the benefits of this technology for our country. Financial inclusion, cheaper cross-border remittance, full trace and track on the movement of value on the blockchain network, and the potential for India to become a financial hub are key benefits that can be derived using virtual currencies."
Massive Bitcoin Adoption in India
Recently, Unocoin co‐founder Sunny Ray said that his company recorded 200,000 new users in the last six months. In the second half of 2016, Unocoin recorded the same number of new users it did during three years. In a recent interview, Ray explained: "It took 2 years and 10 months for Unocoin to reach 100,000 users. It only took another 6 months to reach 200,000 users."
A Country Without Cash
Probably, one of the main reasons for this fast increase of bitcoin users within the country is its disastrous financial and monetary system. Prime Minister Narendra Modi announced the removal of 500 and 1,000 banknotes, and the country's ATMs began to run out of cash. Over 90% of the local ATMs cannot provide cash anymore. As a result, Indian citizens decided to invest in bitcoin, so right now bitcoin regulation in India became as important for the local government as it is for its local users.