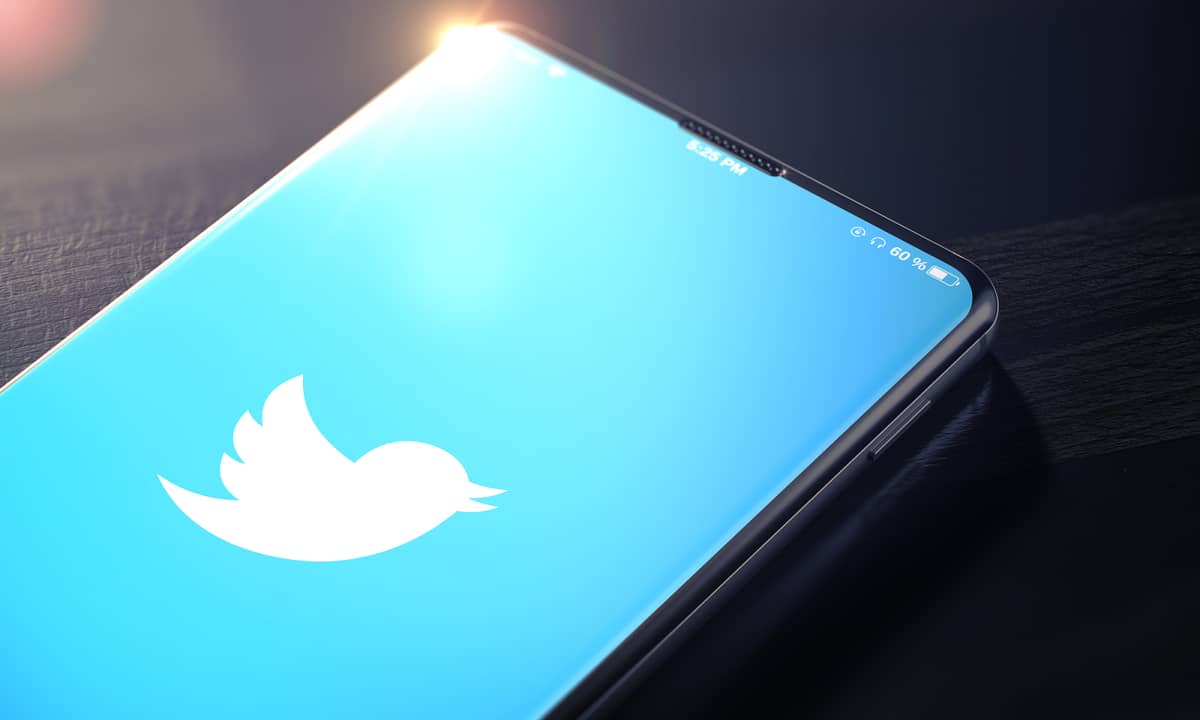 Catching the latest deal or special offer from online crypto casinos is not always the easiest thing to do. We make it our mission at BitcoinChaser to bring you the latest bitcoin casino promotions, but even we manage to miss some of the deals out there. Some of the best giveaways can be finished in a matter of hours.
This is why it is a great idea for anyone seeking the freshest and most exciting cryptocurrency casinos giveaways to follow the most active casino Twitter accounts. The benefits of this is you get the news direct and you can enter straight away.
Here are a number of casino Twitter profiles we recommend following, with examples of the type of Tweets you are likely to see from them and data from SocialBlade.com to give you a sense of how active they are.
Stake
Stake casino regularly light up the Twitter timeline with interesting promotions. Their latest was a giveaway of $10,000 to 100 people who bought a feature on Hacksaw's newly released game, The Bowery Boys.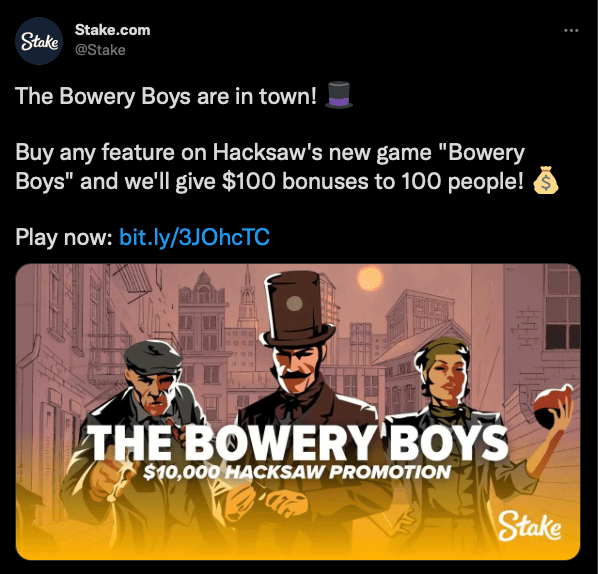 On top of event like this Stake share news of big wins on their platform as well as regular Premier League and UFC news thanks to their sponsorship deals with both competitions and their sport betting site.
We can see from SocialBlade just how regular Stake are on Twitter, averaging around 30-70 Tweets per week.

FortuneJack
FortuneJack is one of the biggest cryptocurrency casinos around and they are active on Twitter with competitions and giveaways.
They also publish Premier League news regularly, reminding users about their unique Majestic 7 competition, as well as seasonal offers like special deals at Christmas and other dates throughout the year.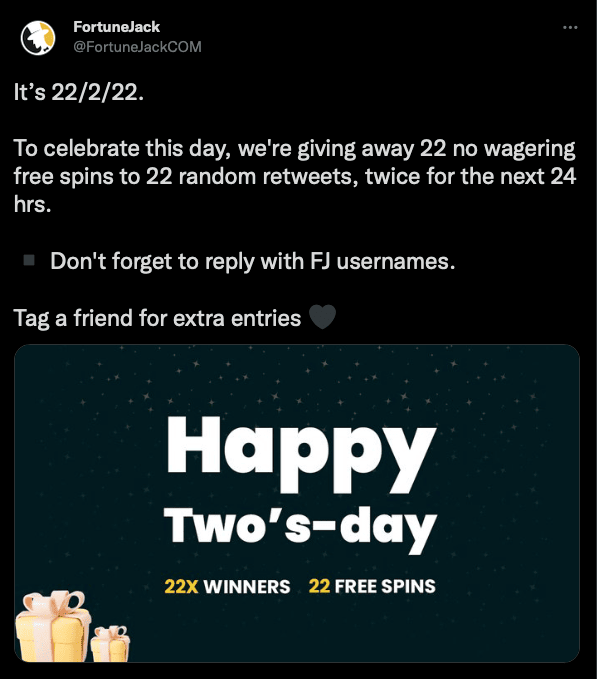 We can see from SocialBlade that FortuneJack have not always been active on Twitter, but in the past year they have clearly taken the decision to engage more with their community on the platform. And right now they are doing a great job of that.

CryptoWild
CryptoWild casino is another crypto casino that we really like and well worth a follow on Twitter. Their timeline on the social platform is filled with weekly bonus offers and special deals.
One that caught our eye recently was an offer of 50 free spins for each deposit on Mascot's slot Red Horde. This offer was only active for one day, so it would have been easy to miss it if you were not an active follower.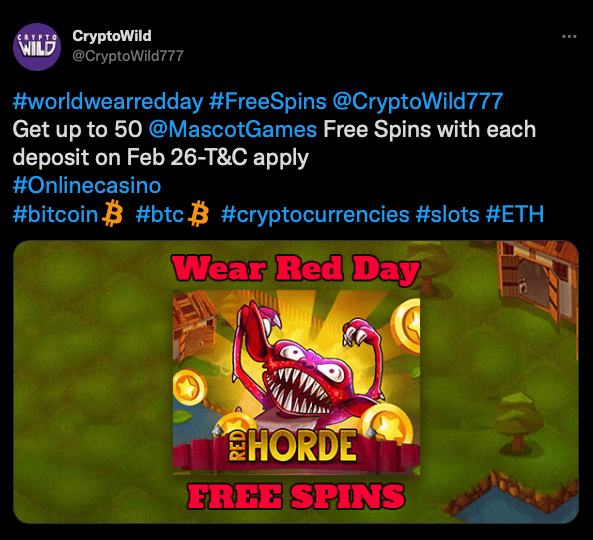 These sort of events are a regular occurrence on CryptoWild's Twitter timeline and the big reason why we recommend following them.
There is currently not data for CryptoWild on SocialBlade, but from being a long-term follower of them on Twitter ourselves we know they Tweet almost daily and always have something exciting lined up.
BitDice
We first came across BitDice years ago when we reviewed them and they have been a constant presence in the cryptocurrency gambling scene since the very beginning, founded way back in 2014.
And they are a constant presence in the crypto gambling Twitter scene as well, with giveaways for simple tasks and alerts that they will be dropping coins in their casino chat. If you catch one of these announcements on Twitter and head over to their website, you are in with a good chance of getting some free coins.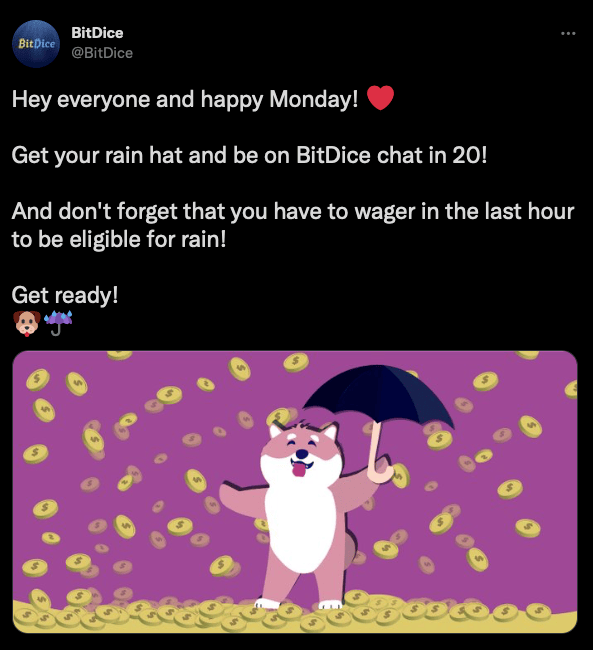 BitDice were not always active on Twitter, but clearly took the decision last summer to engage on the platform, and right now average around 30-60 Tweets per week.

With slots, one of our favorite lotteries, great bonuses, and sports betting, BitDice are a great follow.
TrustDice
TrustDice is an anonymous casino and another casino worth following if you are interested in regular giveaways and promos on Twitter.
On TrustDice's Twitter feed they feature $50 giveaways, announce newly released games, send out promo codes, and run surveys so the community have their say in how the platform is run.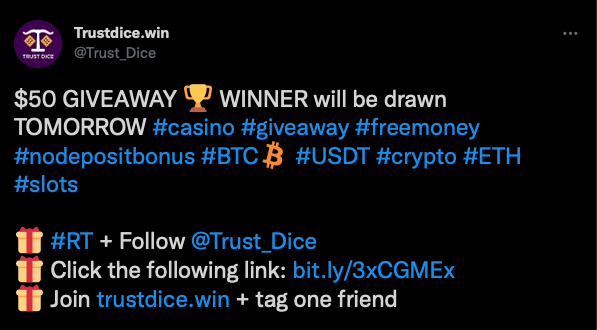 And if you are active on other social media platforms then TrustDice is one casino worth checking out with a presence on Facebook, Telegram, Instagram, BitcoinTalk, and elsewhere.

Founded in 2018, TrustDice have been active on Twitter since the beginning, and currently average 10-20 Tweets per week.
BitcoinChaser
We could not finish this post of the most exciting Twitter accouts without mentioning our own!
BitcoinChaser is active on Twitter with news, promotions, surveys, and much more. So give us a follow and keep up to date with the latest in the crypto casino world.