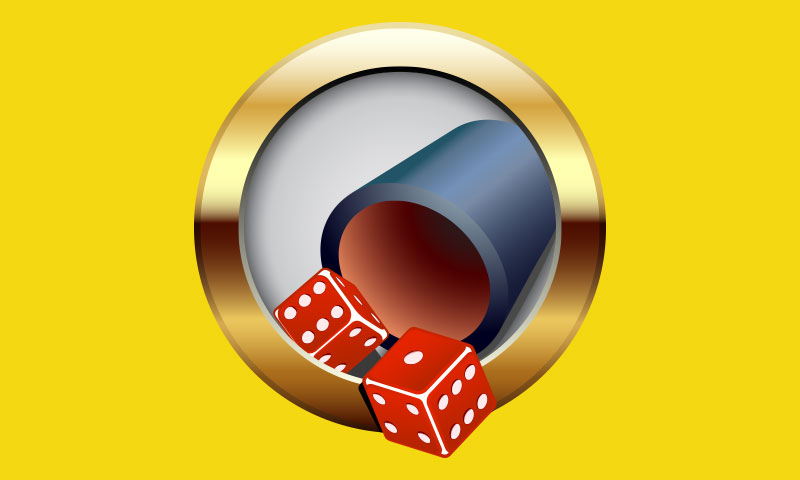 Bitcoin dice games are one of the most popular forms of Bitcoin gambling with millions of dollars worth of coins bet every month online. But choosing the best Bitcoin dice game or casino is not easy, there is a lot of competition out there and how do you know which casino to trust?
And what makes the best BTC dice game? Most sites are based on the same gameplay with betting on the outcome of each roll. They also offer the ability to parlay bets and keep rolling to build up the biggest possible bankroll. We're diving into the world of Bitcoin dice games to uncover the top picks for all you enthusiasts.
BTC dice games are known for their fairness and anonymity, but some casinos bring their own flair to the risk and reward. While different casinos might offer different variations, the core concept remains the same, and it remains simple.
Best Places to Play Bitcoin Dice
We've tried and tested many Bitcoin dice games so that we could find the best sites in the world for you to play online. These are our favorite places to play Bitcoin dice games, as each provides a great gaming experience, are on trusted platforms and offer a good house edge.
Best Dice Site For Provable Fairness

Having launched in 2013, PrimeDice is a true OG in the online casino scene. Some have even gone as far as to say that is is the undisputed, most popular and trusted bitcoin game in the world.
The layout is minimalistic, simple, and executed to a tee. Their game is provably fair, with a 99% RTP
Best Dice Site For Faucet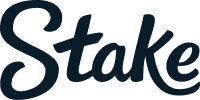 Stake is a unique and refreshing take on the traditional online casino formula, hosting proprietary games, as well as offering both a casino and a sports betting section on their site.
Stake has an amazing feature called a Bitcoin Faucet, which allows players to claim free crypto to try out on games before they fully commit to them.
Bonus
$100,000 Weekly Giveaway
Best Dice Site For Crypto

When DuckDice launched in 2016, they only had one game which was their dice game, but now they have three more games for players to try out. DuckDice is fully licensed and provably fair casino so players can feel safe when using DuckDice.
DuckDice accepts a multitude of cryptocurrencies, and their list seems to be ever-growing. At the time of writing, they accept over 20 different cryptocurrencies!
Bonus
Claim daily from the DuckDice crypto faucet
Best Dice Site for Bonuses

Launched in 2019, BetFlip is fully licensed and registered by the Government of Curacao. They offer a wide selection of games, so you aren't just limited to playing Dice at this site.
BetFlip offers incredible bonuses for players to take advantage of. Their welcome package is insanely generous and adds up to 550% up to 10 BTC + 500 free spins.
Bonus
550% up to 10 BTC + 500 free spins
Best Dice Site for Mobile

BetChain is well-established in the crypto casino world, and even though they recently adopted fiat currencies as payment methods, they are sticking to their Bitcoin roots.
BetChain works amazingly on both desktop and mobile. Its sleek design carries over to mobile wonderfully, ensuring you have the best mobile gaming experience.
Bonus
100% welcome bonus up to 1 BTC
History and Importance of Bitcoin Dice
Did you know that this was the first gambling game on the Bitcoin network? Thanks to the powers that be, Bitcoin dice games are still to this day the cornerstone of the Bitcoin gambling industry.
These games didn't only enable the development of Bitcoin gambling, but served to develop many other unique gambling features, and even highlighted some of the now widely known shortcomings of the Bitcoin network.
Here are a few interesting facts that you might not know:
The concept of provably fair gaming was developed through BTC dice games. The idea is that you can check the statistical likelihood of the outcome of every roll, to make sure that the provider is not manipulating the outcome.
Some of the biggest wallets belong to dice providers.
Some members of the Bitcoin network claim that the development of blockchain-dependent dice games was meant as a DDoS attack on the network.
The idea behind the DDoS theory – debunked now – is that the sheer volume of insignificant transactions that BTC dice game providers and players would engage in, would overload the network's processing capacity.
In hindsight, although dice were never meant to be a DDoS attack on the Bitcoin network, it did highlight the now well-known block size problem.
The fact that operators and players alike pay the small network fees on every transfer, make them a legitimate and legal transaction. These transactions helped pave the way for the development of all bitcoin gambling activity.
Evolution After Satoshi Dice
After Satoshi Dice had such a huge success and took the whole network by surprise, Bitcoin dice games started becoming more sophisticated. Graphics were improved, sound was enhanced and many games started coming out with their own new unique twist, on top of the traditional shake and roll function. Nowadays these dice games are among the most entertaining games available for Bitcoin casino players, reaching a level of sophistication that was unthinkable a few years ago.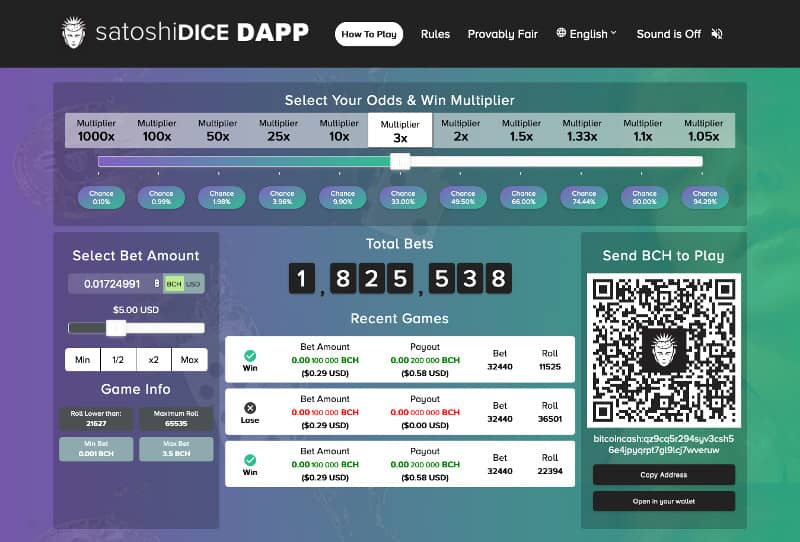 The Heritage of Bitcoin Dice
The development of BTC dice games, and features such as provably fair, have driven gaming developers into the Bitcoin scene. Now there are exclusive games designed only for Bitcoin users.
The fact that BTC dice games were the first games played on blockchain, highlights the great opportunity that this cryptocurrency has opened for players around the world. This allowed the industry to grow and take on markets that are completely blocked out from fiat currency gambling.
Secure gambling, unique games, truly free international transactions, high security features that make sure every roll is fair, and the lowest house edges in the online casino industry, make these games a great choice for entertainment. Come and try one of our recommended sites offering the top Bitcoin dice games and stand a chance to win the OG cryptocurrency!
BTC Dice Game Strategies
And to help you along a little further, we've got two classic BTC dice game strategies for you to use to your advantage:
Doubling Down Strategy – also known as the martingale strategy, if you lose a bet, double the next one. If you lose again, double again. Once you win, return to the original wager. This way you make up your losses by increasing your wagers.
Passwords Strategy – this strategy involves doubling your wager when you win. After three consecutive wins or a loss, you should return to your original wager.