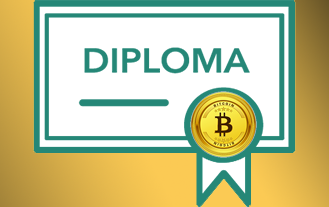 MIT's media lab has been conducting tests on the application of blockchain technologies in many fields. Probably one of the fields that are closest to MIT's core interests – certification – stands out as one of the fields that our analysts have invested the least amount of thought on. Considering the possibility to have your degrees or certifications secured by a blockchain and readily available for some key customers – like potential employers – to see wherever they are in the world, instantly, makes a lot of sense. This task however, requires a lot of thought, and MIT has invested many resources in generating an academic certificates system based on bitcoin's blockchain, for others to try out as well.
Open Source Blockchain Solution for Certificates
The advantages of this project are clear. People who get certifications will be able to view them, and show them to anyone at any time on the blockchain. The blockchain will serve to secure the validity of the certificate, which will make forfeiting nearly impossible. The certificate will also remain permanently within the blockchain, preventing most data mishaps that might result in the loss of the certificate. The advantages in terms of requesting copies of certificates and even grades at a more advanced stage, will disappear.
Trustless Systems to Rely on
The profound effect that this experiment may have, goes beyond what most people imagine. It addresses one of the key features that facilitates peer to peer – P2P – money transfers online, while putting people's careers at the center of it all. Employers or fellow project collaborators would be able to corroborate the credentials of anyone applying for a position or joining a project, regardless of where they are on earth. This trust-less feature has the potential to democratize the global work place in many ways, and open up opportunities for recruiters to be sure of the credentials that anyone in the world presents, in a reliable manner.
Final Thoughts
Hopefully this experiment will succeed and educational organizations or professional associations will be able to integrate it soon. Before they do so however, it is necessary to be completely certain of how it works and how it may impact the professional life of those getting their certifications. Blockchain data cannot be easily erased or changed, meaning that any mistake may be perpetuated to the detriment of the parties involved. As is often the case with technology, the amazing advantages that it brings have to be taken with added caution for the potential pitfalls. Nevertheless the potential is great and it is being developed with intellectual rigor and caution by experts at the MIT media lab, so hopefully we will see the solution to any potential shortfalls before full implementation is considered.
Click here to read MIT's media lab blog post on the subject.