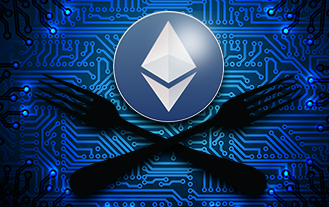 Those who follow Ethereum aren't surprised by Ether's sudden rise in prices after being stuck around the $300 USD level for some time. Ether edging towards $500, marks a break away from recent stagnation, with the cryptocurrency hitting the $480 mark on the 25th November. Following a recent hard fork, the rise in Ether prices have been overshadowed by recent events on the Bitcoin sphere, not to mention the whole Bitcoin Cash movement. Ethereum is often not given enough credit when it comes to scalability, transaction capacity, and efficiency, which are the themes dominating the often toxic discourse around BTC and BCH. Moreover, the Ethereum network processes more transactions than all Cryptocurrencies combined.
Ethereum Edging Towards $500
Ether is currently sitting around $470 USD. Ether holders are eager to see where the price ventures to next. Well-known mogul and billionaire investor Mike Novogratz has been publicly voicing his expectation for Ethereum to carry on with the bullish ascent, even though there wasn't much movement throughout October. Soon Ethereum could be edging towards $500.
Vitalik Buterin Sets Clear Roadmap For Hopeful Development
These recent price increases have a lot to do with stewardship. Having recently appeared at a major Taipei conference, Vitalik Buterin provided information regarding the future of Ethereum. Following the most recent hard fork, Ethereum has clearly been addressing improvements in terms of network efficiency, allowing plenty of room to get ahead considering scalability. Vitalik Buterin did not shy away from stating how Ethereum's biggest competitors are in-fact based on the Ethereum Blockchain, commenting "The Ethereum killer is Ethereum". Competitors like NEO, which was indeed branded as China's Ethereum, is living on the Ethereum Blockchain, validating Buterin's comment up to a certain extent.
Scalability and Limitations
Since addressing scalability limitations is the first issue to solve for the Ethereum team, Buterin took time to elaborate in Taipei. In order to penetrate a new bracket of efficiency, Ethereum must be able to handle thousands of on-chain transactions every second. Solutions will include the malleability to upgrade side-chains while keeping the main chain untouched.
What Can We Expect from the End of this Year in Terms of Price
As of the recent Byzantium hard-fork, Ethereum Network's transaction capacity was successfully increased to over half a million transactions a day, breaking a major milestone. Investors, coin holders, and enthusiasts are obviously paying attention to the coin, with a major still-phase throughout October and some of November. Ethereum had a solid run around $300 for over a month, no major 'coin dumps' happened.
Since Bitcoin's incredible rally close to $10,000, new buyers have been paying attention to the second most popular cryptocurrency in the world, with easy-access exchanges such as Coinbase providing a simple quick-buy solution. It is safe to say Ethereum has recovered after the initial $100 drop following the ICO ban in China, and is now edging towards the $500 mark before the New Year. We can most certainly expect another influx of traders, buyers and investors to come onboard, especially after the overall cryptocurrency market capitalization breached $300bn USD, alongside a moderately successful hard-fork with no major complications.
Final Thoughts
With Ethereum's recent peak of $493 USD, we can expect a strong close above $500 for 2017, settling with a potential resistance point near the high $500s. With strong, well thought out development, the Ethereum team has been and will continue to make major leaps both in marketability and technical advancements. Ethereum edging towards $500 USD in the next few days should not be a surprise to anyone.