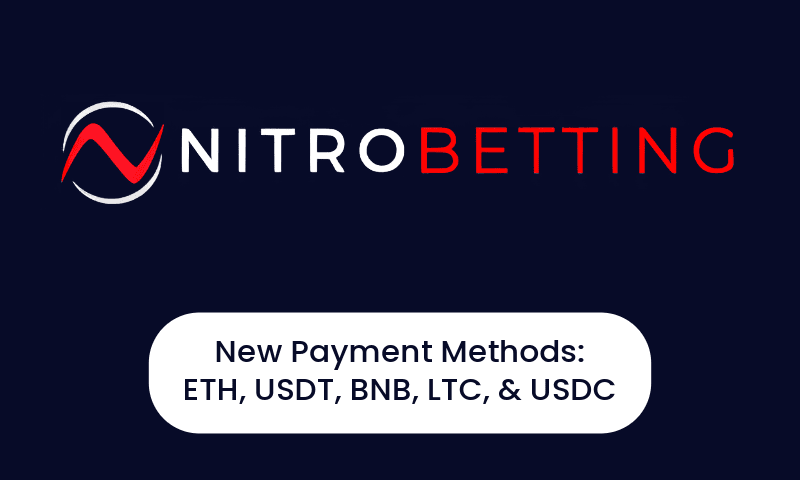 Nitrobetting has been a reliable name in gambling for the last 10 years, having launched in 2012. For the last decade, Nitrobetting has provided its players with a top-tier sportsbook and some great casino games too.
Nitrobetting has stayed up to date on the trends and kept up with the times, ensuring a user-friendly and effective platform for all its players. But after 10 years in the space, Nitrobetting made a change they should have made years ago; they started accepting more cryptocurrencies. Don't get us wrong, Nitrobetting has accepted Bitcoin as a payment method for years. While they were ahead of their time then, they have since paled in comparison, especially considering the fact that platforms like BC.Game accept hundreds of crypto coins and tokens. 
Well, Nitrobetting is stepping up to bat with their latest announcement. Nitrobetting will welcome 5 more cryptocurrencies to its deposit arsenal. Players will now be able to deposit at Nitrobetting using Ethereum, Litecoin, Tether, USD Coin, and Binance Coin. You heard us right, you can now deposit on Nitrobetting with BTC, ETH(BEP-20), LTC, USDT(BEP-20), USDC(BEP-20), and BNB(BEP-20). But there is a twist.

For all those Bitcoin maximalists out there, worry not, as all cryptocurrency deposits will be converted into a BTC balance. Meaning no matter the cryptocurrency you deposit, your balance will be converted at the current exchange rate and delivered to your casino wallet as a Satoshi balance. Players will however only be able to withdraw using BTC.
Regardless of the loyalty to BTC, which we can't fault, Nitrobetting is still going out of there way to provide its players with flexibility and more accessibility through these new deposit methods. Another interesting question though, is why did they decide to go with only BEP-20 tokens? Is this a standard set by their payment processor or are they choosing this blockchain because it is cheaper and faster than ERC-20? We would love to know.
But what we do know is that even after 10 years of phenomenal betting services, Nitrobetting still makes it a priority to do better. We believe that this move is not only in the best interest of their players but also them. As incredible as BTC has been and is, it is hard to be a Bitcoin maximalist casino when you are running a company in an ever-evolving industry like crypto. So good on Nitrobetting, we wish them the best on their latest endeavor.
Want to learn more about Nitrobetting? Head over to our Nitrobetting Review for all the details.
Visit Nitrobetting