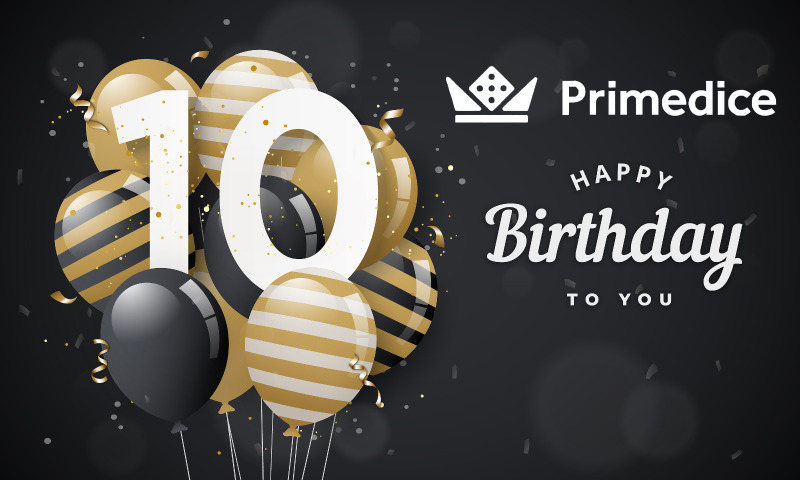 It may not sound that old, but given that crypto only make its debut in 2009, Primedice is ancient in the ever-growing crypto casino industry.
Primedice has taken to Twitter to hype up their upcoming birthday this week. Starting on May 11th, 2023, Primedice has been doing social competitions and giving away casino credits. They are doing 3 social competitions per day to lead up to their big day. We all love a birthday week, but Primedice is doing it better than anyone has. Their first competition was a giveaway to the player with the oldest account, the winner will receive $50 in Primedice credits.
The oldest existing players created their accounts in 2014, a year after the launch of Primedice. There are a few 2014 registered players so the winner will come down to the earliest date. It is crazy that Primedice has been around for 10 years, but it is even crazier to see that their players have stuck around through the years. It just goes to show that a casino that provides for its players is a casino that will stand the test of time.
Some of the other social competitions have included asking players about their best birthday presents, biggest casino wins, favorite birthday games, the music they listen to while gambling, and three famous people they would invite to their birthdays. Some have been as simple as commenting on a dice emoji. With such fun questions, Primedice has made winning easy for their players.
Primedice was originally founded by none other than Stake.com founder, Ed Craven, as well as Bijan Tehrani and Christopher Freeman. It is now owned by Slice Media N.V. What's even more interesting is Mladen Vučković is the CEO of both Stake.com and Primedice, a man who knows how to succeed clearly. You can also find a link to Stake.com from the "About us" section at the footer of the Primedice homepage. Regardless of its history, Primedice continues to pull in and retain its customers because of its provably fair experience and great VIP program.
The future is bright for Primedice Casino, and if the last 10 years have proved anything, Primedice is in its prime. There is no way of saying what we can expect from Primedice over the next 10 years, but we are sure they will maintain their quality services and focus on customer satisfaction. Happy Birthday, Primedice, we wish you many more years of success.
You can learn more about Primedice in our comprehensive Primedice Casino Review.
Visit Primedice