CoolCat casino is one of the red hot casinos out there. It has been in the business way past the point at which most casinos lose their cool, but CoolCat has beaten them all out and it keeps on getting cooler by the minute. In fact, it has probably the single best welcome bonus in the industry, together with the single best currency acceptance policy. Recently, CoolCat has added to its coolness by integrating bitcoin payments, making it automatically one of the top 5 hybrid casinos, and the one with the most experience in customer care. As a result, CoolCat provides unrivalled gaming experience.
Casino games on CoolCat Casino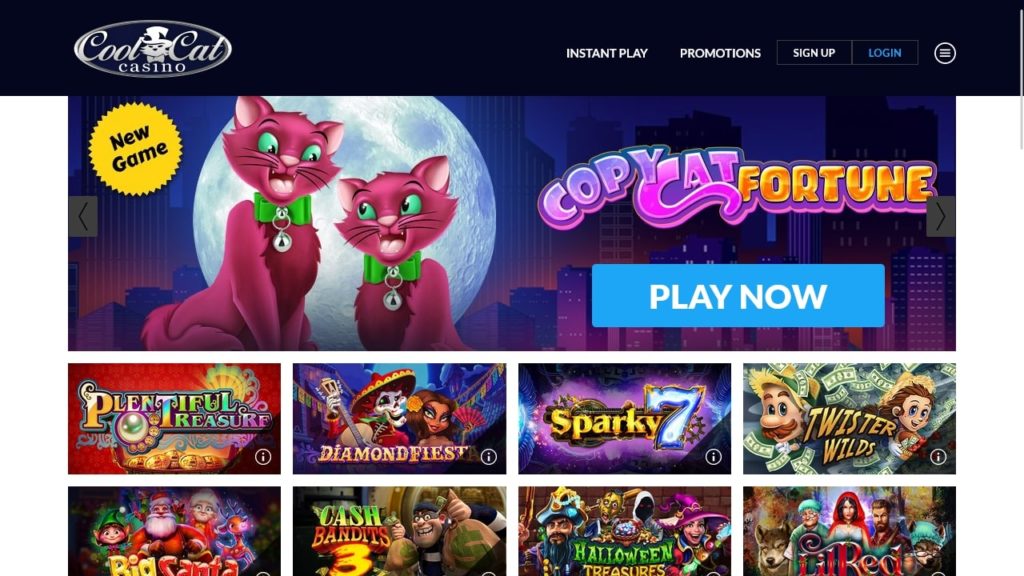 Of the 271 games it offers, Cool Cat has 200+ slots. Nevertheless, it has a very strong presence in some classic casino games such as blackjack, roulette and video poker. CoolCat casino is also a great casino for rare games and multiplayer games. It offers a French roulette multiplayer, as well as a unique scratch card game.
To round everything up, it has 2 live dealer games: roulette and live casino hold 'em. This is definitely a well-balanced and very strong game selection that offers something for everyone, including those players who are always on the lookout for unique games.
The best part of it all is that CoolCat Casino is strongly entering the mobile gaming scene, so players can now enjoy all of its incredible gaming experience on the go.
CoolCat Casino crypto & payment methods
Players have a wide variety of options to choose from for their deposits and withdrawals. CoolCat Casino works primarily with Visa, MasterCard, Amex, Neteller and bitcoin payments.
Any deposit is automatically converted to USD within the CoolCat system, and when withdrawals come through, they are converted back to the player's currency of choice.
Withdrawals are also processed very quickly, and depend mostly on transfer times determined by the withdrawal method that the player chooses.
CoolCat Casino bonuses
CoolCat casino has probably the best bonuses in the industry. Their sign-up bonus of 330% may well be the most valuable welcome package in the online casino industry, Bitcoin and fiat. Apart from their welcome bonus, CoolCat has a range of extremely generous bonuses all throughout the year. Depending on the season, CoolCat's management designs special bonuses, so for example, the casino offers great Christmas bonuses. These bonuses mainly include deposit matches and free spins, but there are also special occasions in which CoolCat casino offers other kinds of bonuses, gifts and surprises. This is definitely one of the casinos to keep an eye on for its seasonal bonuses.
Support
CoolCat casino has a long standing tradition of customer care. Its staff is among the most experienced in the industry, and they handle every player inquiry with exceptional professionalism. CoolCat offers support around the clock throughout the year. Players have 24/7 access to customer service through phone, email and live chat. To contact CoolCat's customer service representatives, players just need to click on the LIVE HELP button on the website.
Languages
CoolCat Casino supports 1 languages.
Why play at CoolCat Casino?
CoolCat is simply an exceptional casino. Its bonuses are literally out of this world, its customer care can well be the gold standard for the industry and the gaming experience it provides to its players is amazing. This is definitely one of those casinos that players have to try out in order to really grasp its greatness. So just go ahead and try it out, the only risk is never wanting to play anywhere else!