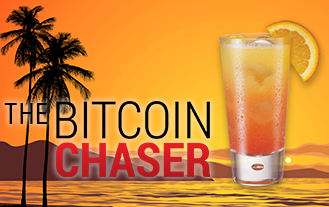 In a long list of drinks, there are many that have shaped a period of time. Some of them had an effect that nowadays we would call 'viral'. The up and coming world of cryptocurrency is devoid of its own signature drinks.
This is why our staff has decided to start with a simple step to introduce what we hope will be the first of many bitcoin or crypto cocktails.
We are launching the Bitcoin Chaser to celebrate the fact that the price of bitcoin went over $1,000 USD.
The Idea Behind The Bitcoin Chaser
Coming up with the idea of launching a bitcoin themed drink was pretty instinctive. We wanted to celebrate bitcoin hitting $1,000 USD, so we decided to make a special drink inspired on our site. That is how the idea for the Bitcoin Chaser was born.
Then came the hard part. There was a lot of research involved to make sure that there were no other widely recognized bitcoin themed drinks out there with the same name, and a lot of fiddling with the right formula as we created a unique drink.
Bitcoin Chaser Recipe
After a lot of trial and error, and a lot of research to make sure that no one out there has a similar cocktail, our specialists came up with the following recipe:
A full shot of silver spiced rum over ice.
1 full shot of white rum over ice.
Add cold orange juice.
Add a splash of grenadine in the end to give it the color gradient.
Garnish with a slice of orange, and a small plastic cocktail fork.
Enjoy your Bitcoin Chaser!
It is as simple as it is unique, and as tasty as it is eye catching. The colors remind you of all those bitcoin images around the web, depicting the cryptocurrency as a golden coin, and according to our experts, both bitcoin and the Bitcoin Chaser are golden!
The Signature Crypto Cocktail
Now we all hope that the Bitcoin Chaser will go viral, at least within the community of cryptocurrency enthusiasts around the world. We want everyone who is interested to celebrate the $1,000 USD mark with us. Feel free to use the recipe, make your own modifications and share it with your friends.
Hopefully it will become a huge success and maybe even some day it will be identified with a given era, just like the Old Fashioned, the Martini and the Tom Collins. Let us know if you liked the Bitcoin Chaser, and if you have any comments or you wish to publish your own cocktails inspired by your experience with cryptocurrency, let us know.
You can contact us through social media or through email and share pictures of your very own Bitcoin Chasers.