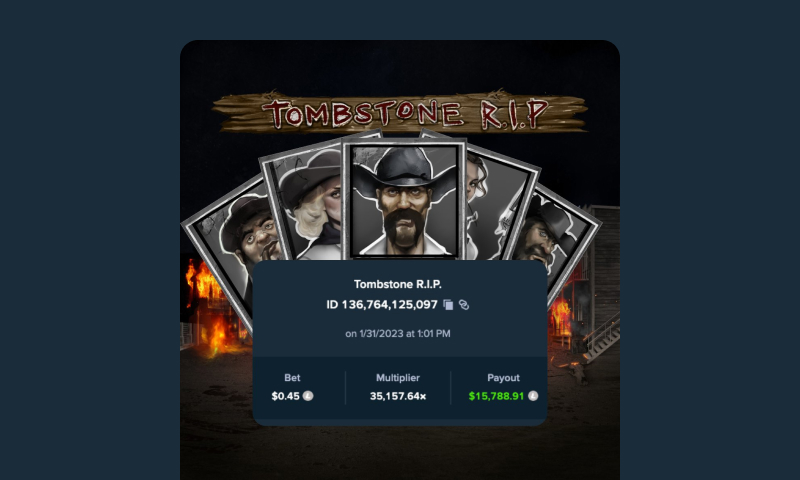 While casinos are mostly fun and games, there comes a time when players get the chance to claim big wins, and this is especially true for this lucky winner at Stake casino.
Starting February off with a bang, this player managed to score a multiplier of x35,157.64. Playing on a bet of $0.45 on the slot game Tombstone R.I.P, this player walked away with a payout of $15,788. It's not always about how big the win is, if you are betting $100,000 and you get a $1,000,000 payout, it's going to seem like a gargantuan win but in reality, it is only a x10 multiplier. This win is especially exciting due to its small bet amount, massive multiplier, and enormous win in proportion.
What's even more interesting is the fact that this bet and win were in an LTC balance. Stake casino announced in their "Stake Wrapped" 2022 series that LTC was the most popular cryptocurrency at their casino. 32% of transactions at Stake casino are done in LTC.
Stake casino is known for big wins, so this news comes as no surprise, but it is still something to be celebrated. It's not often you see the little guy, or bet, win big. We have seen popular artists like Drake win $25 million on a single roulette spin, with a bet amount of $950,000, which is not as impressive when seen as a roughly x25 multiplier. But then we see players betting €0.04 and scoring a multiplier of x5,148,297, this is a much more exciting win in our opinion.
Regardless of whether the bet or win amount is big or small, most players would give an arm or leg to hit a x35,000 multiplier. Stake casino shared this big win on social media, and the community celebrated their fellow Stake player with congratulations, jealousy, and even a poem.
Wow that's a huge multi and massive win from cents base. pic.twitter.com/DsmxR9kP1A

— Cybervince (@Cybervince11) February 1, 2023
eddie send me a win like that please i also dream of the max win pic.twitter.com/RTcvG0OFp8

— eddiepalusa (@Cristia14383652) February 1, 2023
The Tombstone slot, with a name so dark,
A bet of 45 cents, what a curious mark.
35k times the wager, a win so grand,
A tale to tell, of a victory that shall not be forgotten

— Salt Pepa (@SaltnCayenne) February 1, 2023