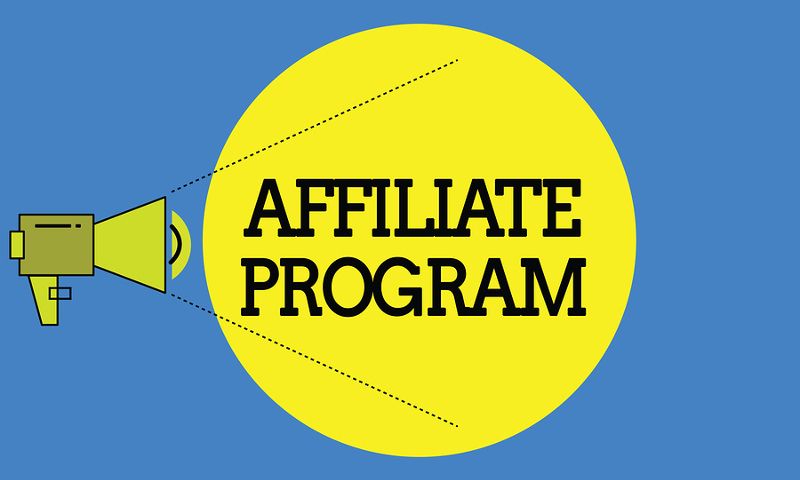 One of the easiest ways to earn Bitcoin without the hassle of mining or expenditure is by making use of Bitcoin affiliate programs that offer rewards for referrals.
Many Bitcoin sites now have lucrative affiliate programs where you can easily sign up and start bringing in the BTC.
Bitcoin Gambling Affiliate Programs
---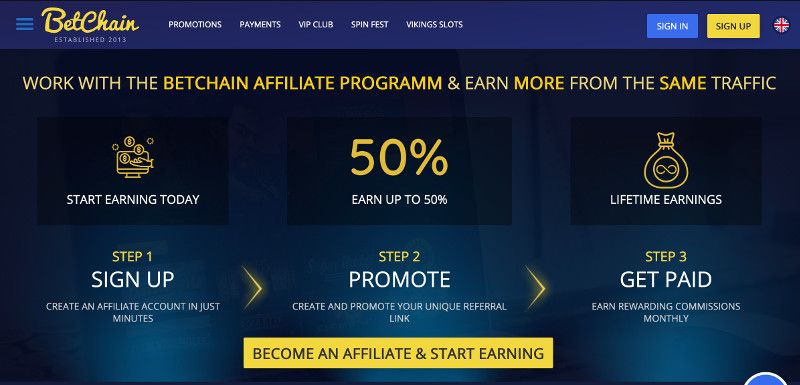 BetChain Casino
BetChain is a Bitcoin casino which features thousands of games and some of the best bonuses in the business. BetChain offers marketing material such as banners to help you spread the word. To get started open an account at BetChain and goto 'My Account'.
Commission: BetChain casino affiliate program commission begins at 25% and can rise all the way up to 50%.
CryptoWild Casino
CryptoWild cryptocurrency casino comes with a great reputation for customer service and affiliate support. On CryptoWild you can play or earn affiliate commission in Bitcoin, Litecoin, Ethereum, Dogecoin, and Tether. Their simple to use affiliate account makes it easy to keep track of your affiliate links and money earned. Create an account on CryptoWild to get started.
Commission: CryptoWild affiliate commission begins at 25%.
1xBit Casino and Sportsbook
1xBit Bitcoin Casino and Sportsbook is bursting with casino games and live sports. When you register with 1xBit affiliate program you have to wait up to 24-48 hours to receive a confirmation that your account has been approved. When you have been accepted they have tons of marketing material for you to make good use of.
Commission: You can earn up to 40% commission on traffic you send their way
Bitcoin Exchange Affiliate Programs
---

LocalBitcoins
LocalBitcoins is a long running where you can buy and sell Bitcoins both online and in person. LocalBitcoins has a long-running affiliate program that allows you to link directly to any deal, such as a country listing or a particular seller, making it really flexible.
Commission: You earn 20% commission on trade from any buyer or seller you refer to LocalBitcoins with your affiliate link.
Cex.io
CEX.io is a leading cryptocurrency exchange where you can trade Bitcoins and all the top altcoins. The users have a chance to earn a lifetime up to 30% commission of all the fees from all exchange transactions.
Commission: Earn 30% of the transaction fee on any transactions a referred customer makes.
Binance
The biggest exchange in the business – Binance is the market leader when it comes to exchanging cryptocurrency.
Commission: You will earn 50% of a referred trader's fees.
Mining Affiliate Programs
---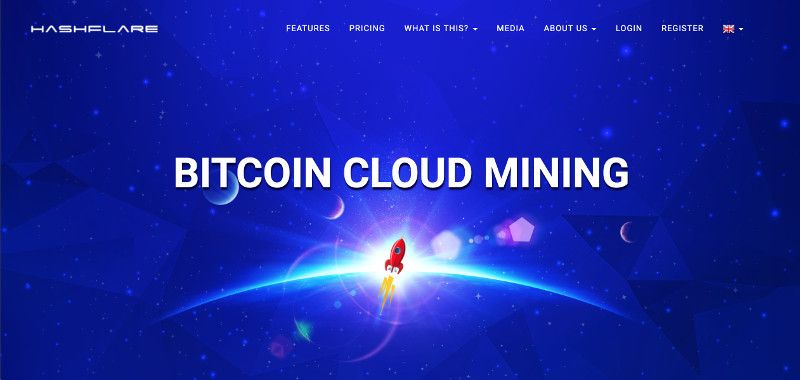 Hashflare
HashFlare is a Bitcoin and cryptocurrency cloud mining service which has a company motto of making mining accessible for not only crypto professionals but also common users as well. In return for promoting their Bitcoin and cryptocurrency cloud mining service.
Commission: Hashflare affiliate programs rewards with 10% commission.
Bitcoin Wallet Affiliate Programs
---

Treznor
Treznor create the most trusted hardware wallets which can be used to securely store Bitcoin and over 1000 other cryptocurrencies. Their affiliate program comes with support on hand and banners, text and other promotional materials for you to work with to promote the Treznor wallets.
Commission: With the Treznor affiliate program you earn 12-15% referral commission for each sale you make. You receive payments monthly.
Ledger
The Ledger Nano S and Ledger Blue are two of the most impressive hardward wallets on the market, allowing you to secure numerous cryptocurrencies backed up with easy to use software.
Commission: Earn 10% commission for every sale your referred customer makes on Ledger's website.
---
How Bitcoin Affiliate Programs Work
Bitcoin affiliate programs are no different to normal affiliate programs, with the great bonus that they give you the opportunity to be paid in BTC directly to your Bitcoin wallet.
To get started as a Bitcoin affiliate, follow these easy steps:
Sign up on the website. Some affiliate programs will only require you to create a normal user account. Others will ask for more specific information such as how you plan to promote the product. Some sign-ups are instantaneous while others require up to 48 hours for your account to be approved.
Create a unique affiliate link. An affiliate link (also called a referral link) is a unique url that informs the website that you sent the customer. Use this when linking to the business or product you are promoting. Many affiliate programs allow you to create as many affiliate links as you like.
Promote the business with your affiliate link. Review the business or product to which you wish to refer people.
Track your income. You can check how much commission you have earned by signing back into the account you created.
Withdraw your earnings. Link your Bitcoin wallet to withdraw your earnings. Some affiliate accounts will allow you to withdraw your money at any time. Others will have a set time for this.