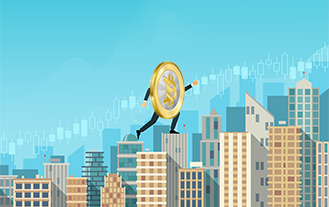 Just a few weeks ago, bitcoin was trading at around $450 USD. Then suddenly by the end of May, one of the most memorable rallies in the cryptocurrency's short history, started shattering charts and expectations. Taking into account that bitcoin is a much more mature asset now than when it hit its peak valuation north of $1,100, it is even possible to think that it can hit $800 USD within a week or two.
Making Bitcoin More Palatable
Apart from the over quoted reasons for the sudden rise – demand from China, the halving and general economic fears – there are a whole host of structural aspects that have enabled bitcoin's rise which have not gotten enough attention. These are the main reasons that have enabled bitcoin to flourish and come back strong from the 2014 debacle:
Deeper understanding of its technology
An explosion in bitcoin business ventures, with high profile people at their helm
Increased acceptance in commerce
Exchange and wallet services that have designed proper interfaces which make bitcoin more user friendly
Increased government regulation by organizations that are highly respected in financial markets like the CFTC
Risk of Crypto-Bubbles are lower
All these structural changes that made bitcoin a bigger part of mainstream financial and forex markets, are the pillars on which bitcoin's price grows. These solid foundations also make bitcoin less susceptible to sudden bubbles. Knowledge about bitcoin's intricacies has played a crucial role in solidifying its value as an investment tool. Bitcoin's flaws are well known; they are discussed widely and openly, and have been the subject of very high profile intellectual quarrels about its future.
All the Cards are on the Table
This policy of openness and the belief in the benefits of a decentralized collaborative project, have helped Bitcoin evolve. From a simple yet highly sophisticated system of peer to peer transactions that sought to make the exchange of goods and services cheaper, bitcoin became a powerful tool for all kinds of people. It is also widely known that its network faces transaction volume problems, and organizational issues which make it hard to solve those problems. Still, no other cryptocurrency has been able to replace it so far. None have come even close despite overcoming bitcoin's own flaws.
A Platform to Reach $800
Given that bitcoin is widely known, regulated by major regulators, increasingly accepted and has inspired a whole blockchain and FinTech revolution, it is possible to imagine a scenario in which it will reach or even surpass the $800 mark. Despite its shortcomings, people are pouring more and more funds into bitcoin, pushing its market capitalization above $10 billion USD. That figure is still below historic highs of $14 billion, but it seems that bitcoin has the maturity level necessary as an asset, to reach those levels once again.