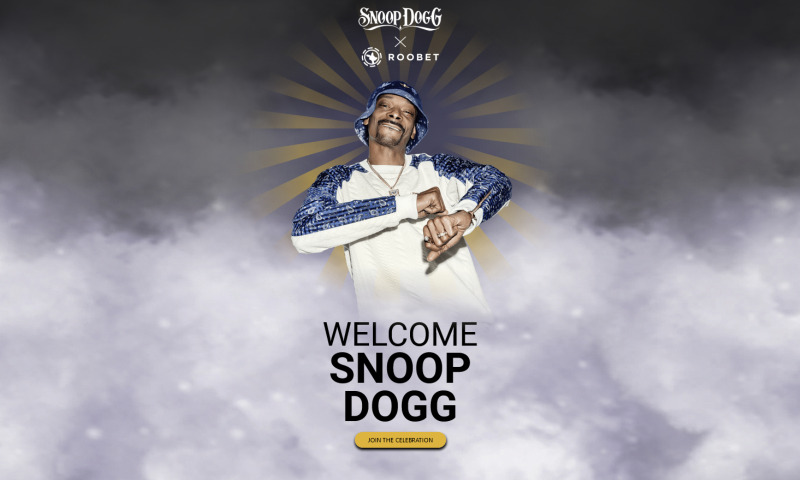 Da, da, da, da, da. It's the motherfriggen D-O-double-G, Snoop Dogg! As we have spoken about before, Snoop Dogg has partnered with industry-leading crypto casino Roobet.
This is both surprising but also kind of expected. We have seen more celebrities becoming involved within the crypto gambling industry, but this Roobet partnership is still special. Snoop Dogg's incorporation has come with a range of interactive features for users to take part in. Aside from the social media giveaways and the exclusive "Snoop's HotBox" game, players can enjoy a ton of incredible promotions. Snoop has been a long-time gambler and very vocal about his support for cryptocurrencies, especially BTC, since 2013. But with all that said, what Snoop Dogg promotions can players take advantage of? Let's find out.
Snoop Dogg Casino Promotions
On the Wheel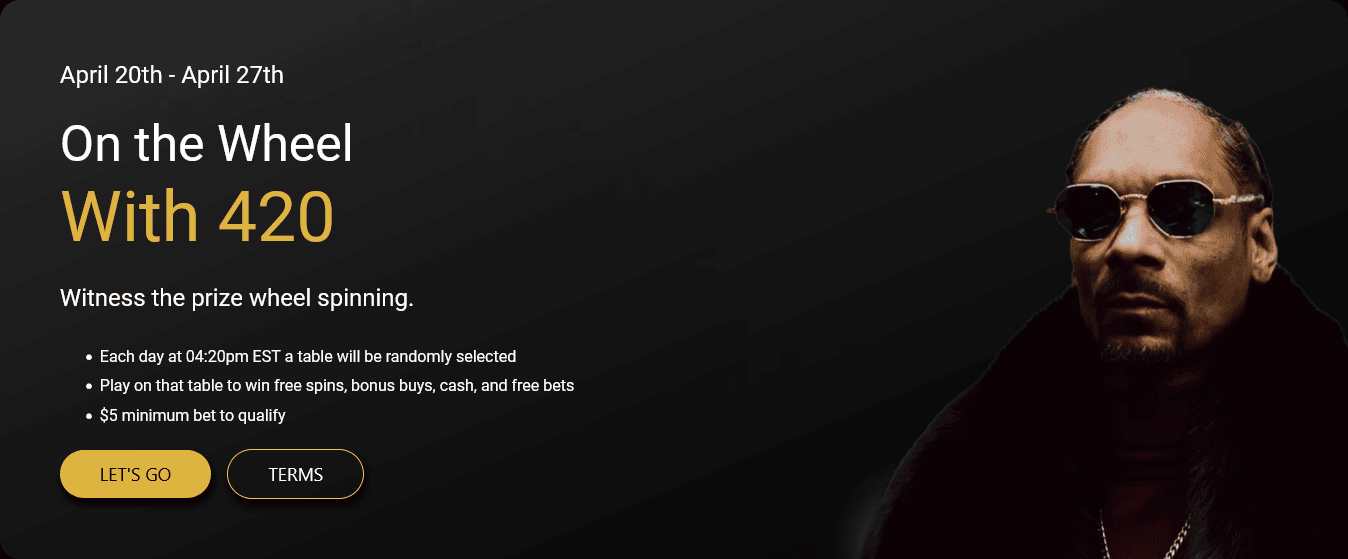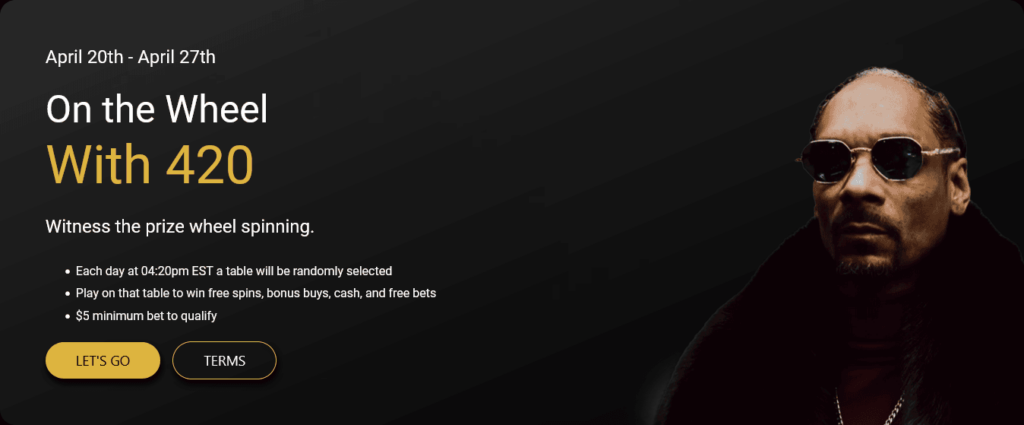 From 4/20 players will get the chance to claim a free spin from the Roobet wheel of fortune where they could win one of the seven prizes on offer. Players will need to be playing on one of the participating blackjack tables, these include: Roo's VIP Blackjack, Roo's Blackjack One, Roo's Blackjack Two, and Roo's Blackjack Three. Players will need to be betting a minimum of 5 Rollion. The prizes claimable are free spins, bonus buy features, cash drops, free sports bets, and more. Each day at 4:20 pm EST a table will be randomly selected.
Claim Bonus
Make it Rain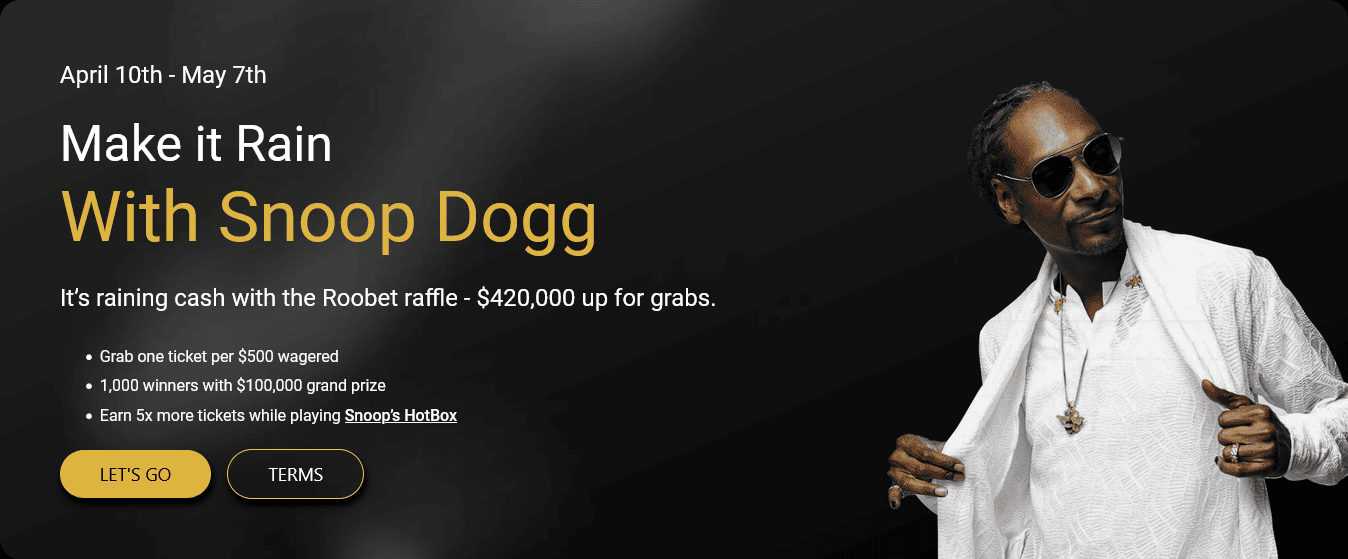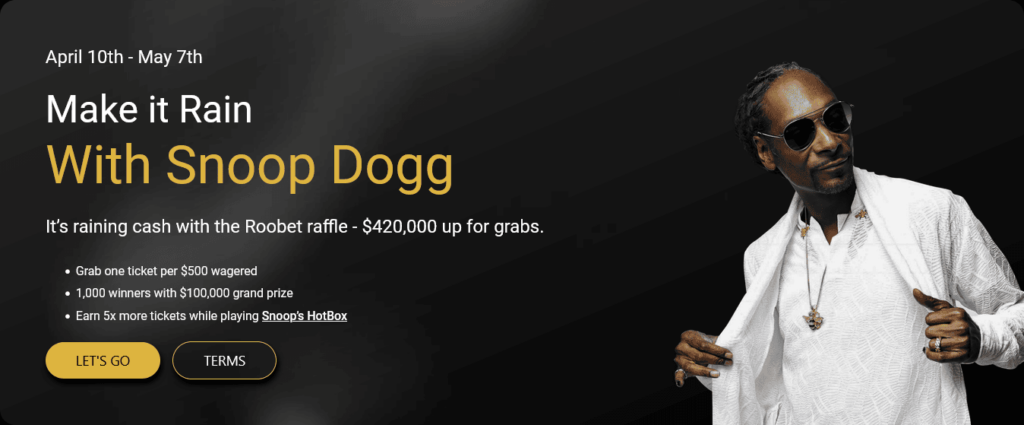 Roobet is bringing you the biggest raffle in the history of their platform, with Snoop as the face of the campaign, and of course it features a total cash prize of $420,000. To claim a raffle ticket players must wager $500, and can claim additional raffle tickets for every extra $500 they wager. Players can wager on all the games available on Roobet casino before the final day of May 7th. The prize pool will be broken up amongst 1,000 players, with the grand prize coming in at $100,000. There are plenty of chances it make it rain with this raffle.
Claim Bonus
Backstage


Win an in-person backstage pass with none other than Snoop Dogg himself. Entering is so simple. Players are required to have made a minimum lifetime of at least $10. All you have to do is email backstage@roobet.com from the same registered email you are signed up with, provide your Roobet username, and let them know why you want to meet Snoop Dogg. Players must also choose their preferred tour location. There will be 5 winners in total and each will be awarded a ticket for two to join Roobet backstage with Snoop Dogg as well as $5000 to cover travel expenses and accommodations.
Claim Bonus
Snoop Dogg partners with Roobet
This has been one of the biggest crypto gambling partnerships to date, not forgetting the iconic Stake and Drake collaboration.
This partnership is especially exciting because it's more than just a couple of live streams on Twitch. Roobet made the industry proud by utilizing this partnership to the maximum. From social media giveaways, to an exclusive game, tons of rewards, and even a backstage experience with Snoop himself. This is truly top-tier marketing and we are so happy to see Roobet thriving after a long bear market. This partnership is still very new, and while so much has already happened, we are excited to see what else Roobet and Snoop have in store for their players.
You can learn more about Roobet casino in our all-encompassing and comprehensive Roobet Casino Review.