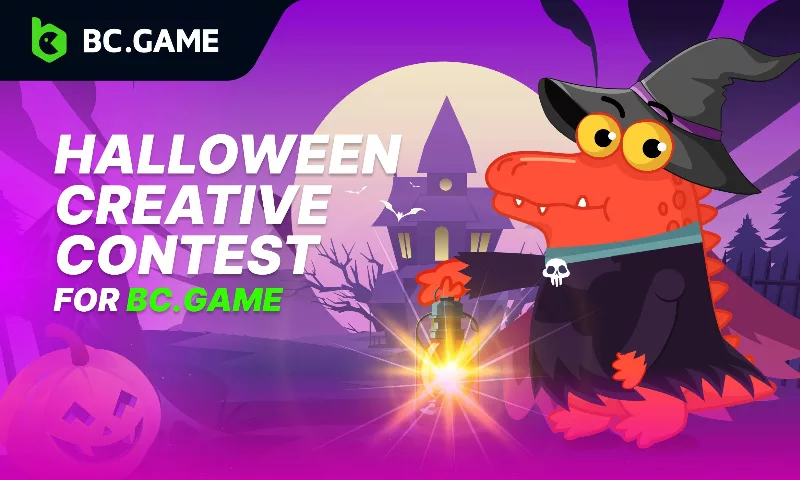 With Halloween approaching, the creative juices are no doubt flowing. BC.Game, the cryptocurrency gambling platform, is giving you the chance to share those creative ideas with them and in the process win a Halloween prize.
BC.Game is celebrating the spooky day this year by inviting players to share their most inventive Halloween ideas on X, formerly known as Twitter.
You can share any Halloween-themed idea you have, whether it be a:
Halloween costume
BC.Game spooky website theme
A horrific game makeover
So whether you are good with your hands, a creative coder, or more of a visual artist, there is a chance for everyone to get involved.
Here is what you need to do to take part in the Halloween Creative Contest from BC.Game:
Follow @BCGameOfficial
Share your spooky idea and tag @BCGameOfficial
Like and share their post about the event on X
So while you are generating ideas for the annual event, share some of your darkest, creepiest, and scariest ideas with BC.Game.
If your idea is selected as the winner, you will receive a prize which is currently shrouded in mystery. We are sure it'll be great.
If you need any ideas about the event, then we recommend checking out our guide to the best crypto Halloween costumes.
BC.Game Halloween ideas
We have some ideas to help with content. Here are the spookiest, creepiest ideas the BitcoinChaser team could come up with:
Haunted game theme: A live version of roulette held in a spooky mansion with eerie sounds like creaking floorboards. That will keep the players on their toes.
Hellish website theme: BC.Game already has a dark theme. But we are talking pitch-black, so dark you can barely make out anything. This makes more sense when you are at our next idea!
Jump scares!: Ghosts, goblins, and all things spooky jump out of nowhere, giving players the fright of their lives. Perfectly combined with some creepy sound effects.
Cryptocurrency treasure hunts: Hide crypto rewards in different games, encouraging players to embark on a spooky treasure hunt.
Creepy chatbot interactions: Customize the BC.Game chatbot with Halloween-themed responses and interactions to engage users.
Trick-or-treat bonuses: Spice up BC.Game's bonuses with a trick-or-treat wheel, giving players the chance to spin for random crypto bonuses, or maybe some nasty shocks.
And on the spookiest day of the year, head to BC.Game on Twitter to see who is crowned the winner and take a look at all the other creative ideas that users shared.
It is also worth visiting BC.Game leading up to Halloween. Cryptocurrency gambling sites take particular delight in celebrating Halloween and are known to share some of their most heinous bonuses on that night of the year.
We will, as we always do, be putting together a list of the best Halloween bonuses.
So get involved in the Halloween goings-on with BC.Game by taking part in their creative contest.
Visit BC.Game