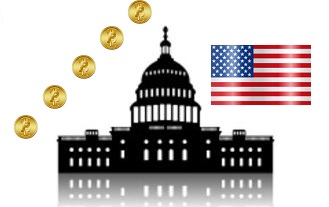 According to a memorandum published a few days ago, the US House of Representatives Financial Services Committee organized a new Bitcoin Congressional Hearing. The event – dubbed "Virtual Currency: Financial Innovation and National Security Implications" – was held on Thursday (June 8th, 2017) and hosted by the Terrorism and Illicit Finance Subcommittee.
This Bitcoin congressional hearing organized at the Rayburn House Office Building saw the presence of Jerry Brito, executive director of the non-profit advocacy group CoinCenter; Scott Dueweke, president of the Identity and Payments Association; Kathryn Haun, assistant US Attorney and Digital Currency Coordinator for the Department of Justice; Jonathan Levin of Chainalysis; and Luke Wilson of Elliptic.
Focus of Bitcoin Congressional Hearing
According to the published memorandum, this bitcoin congressional hearing focused on exploring how terrorists use of Fintech and bitcoin:
"This hearing will explore terrorists and illicit use of financial technology (FinTech), the national security implications of virtual currencies such as Bitcoin, and the use of "blockchain" technologies to record transactions and uncover illicit activities. Witnesses will provide testimony about the exploitation of virtual currency by terrorists and transnational criminal groups, as well as provide risk assessments and policy considerations to mitigate illicit financing but not to impede the development of FinTech innovations".
Another Topic for the Bitcoin Congressional Hearing
This Bitcoin congressional hearing was also announced on the Coin Center website and according to their blog post two different Congressional committees were "holding hearings about the technology at exactly the same time". The first was the one dubbed "Virtual Currency: Financial Innovation and National Security Implications" mentioned above. The other one was called "Improving Consumer's Financial Options With FinTech." This one was organized by the Digital Commerce and Consumer Protection subcommittee of the House Energy and Commerce Committee.
What are the Reasons Behind the Bitcoin Congressional Hearing?
Unfortunately, at press time there is scant information about the bitcoin congressional hearing. Nevertheless, zeroing in on the topic of terrorism, FinTech, Bitcoin and Blockchain Technology, might induce the Financial Services Committee to follow a biased approach. Hopefully the members of that committee can keep even keeled judgement, and consider testimony from bitcoin advocates. Crime and terrorism predate bitcoin, and criminal elements have done a lot more harm using cash than using cryptocurrencies.
We will follow up on the developments at this bitcoin congressional hearing, and will bring you updates as soon as they become available. Hopefully we will have more information soon.
Click here to read the official memo on the Bitcoin Congressional Hearing